This Mansion Has Its Own Waterpark!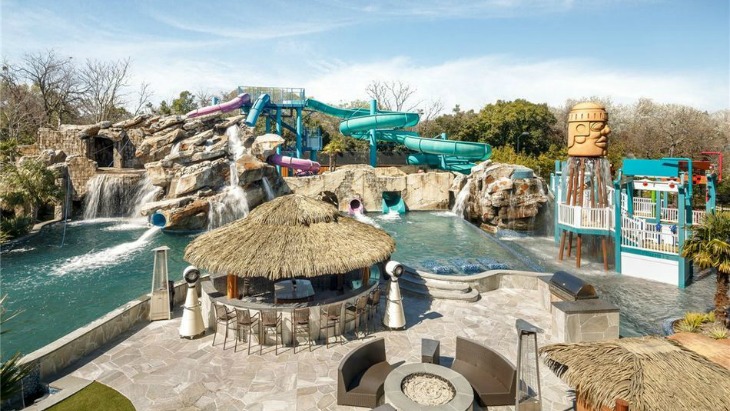 By: Phoebe Ackland, ellaslist
Check out this mega-mansion in Texas that has it all....and then some. Sprawling across 2,787 square meters and with an asking price of over AUD $42 million, this home has its own luxurious cinema, basketball court, and most enviably- a waterpark!
Imagine The Birthday Parties
We couldn't imagine the kids living in this house (if there are any) ever needing to leave for entertainment purposes. School holidays could be blissfully spent bowling in the 2-lane bowling alley, having friends over for sleepovers in one of the eight, crystal chandelier-adorned bedrooms, having a pretty epic bathtime in one of the 17.5 bathrooms, playing tennis outside, bouncing on the ground-level trampoline, playing basketball inside, and of course, sliding, climbing and splashing around the epic water park/backyard. It's complete with super slides, waterfalls, a huge swimming pool, 2 cabanas, water play equipment and is utterly palm tree laden to make it feel like you're in a resort, rather than somebody's house. Imagine the birthday parties....
The interiors of the house are utterly breathtaking, the mix of elegant indoors and party-style outdoors creating what we believe to be the dream home of all dream homes. It is currently on the market, owned by orthodontist Richard Malouf, who also bought the place next door to turn into a 10-car garage and super-gymnasium, according to Stuff. We're kind of wishing we had have gone into Malouf's line of work....
Check out these ridiculous photos. All photos courtesy of Ebby/Curbed.