This Is Really What Mums Look Like When Sleeping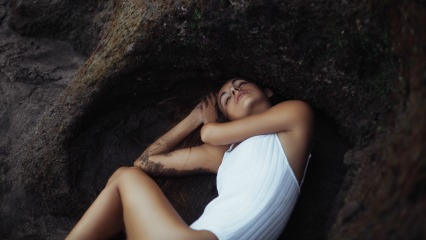 By: Phoebe Ackland, ellaslist
The ever-shirtless Channing Tatum recently shared an intimate photo of his wife Jenna to his Instagram account, causing a chorus of both "awwws" and groans from mums everywhere.
Whilst it is no doubt a beautiful picture, many mums feel it is not a realistic portrayal of what mothers really look like when exhausted and sleeping. Furthermore, some felt a risque photo such as this should only have been shared with his wife's permission (we hope it was Channing, because we really want to keeping adoring you). The photo has been liked over 500,000 times, flooded with comments ranging from "Beautiful" to "Shame u posted such an intimate moment with your wife and shared it with the world."
This Is How We Really Look
But trust, whenever there is a celebrity romanticising the reality of motherhood, Aussie comedian Celeste Barber will be there to set things straight. We just love Barber, her parodies of glamorous shots by famous Instagram celebrities bring us back down to earth, and help us feel not quite so alone. This is, according to her, what many mums out there might really look like when sleeping:
Here are some more of our recent favourites from Celeste Barber:
1. Fashion…Or Just Plain Uncomfortable?
2. The Real Announcement We've Been Waiting For
3. Not So Graceful
4. But Seriously…Who Can Really Make Teeth Whitening Sexy?!
5. Celeste, We Love You