Thinking The Unthinkable; Is Your Family Covered If You Or Your Partner Die?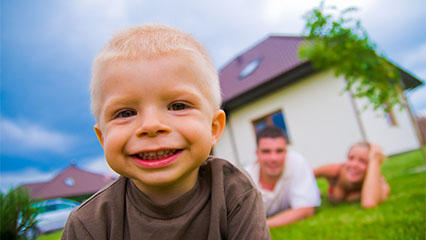 By: Marie Ashworth, ellaslist
It's almost too awful to contemplate. Death is not one of those conversations we like to talk about or even think about. Considering family life without you or your partner can be too painful. Unfortunately it's not just the emotional turmoil families go through when they lose someone, these tragedies can have terrible financial consequences for the partner left behind and their children.
I took out life insurance in my early-30s. I was motivated by a combination of losing my mother at a very young age and buying a property with my partner, knowing he would struggle to meet the mortgage payments and bills on his own.
Now with a young child and working part-time, I see life insurance as even more of a necessity. It's going to safeguard my son's future and not leave my husband struggling to cope.
My cover is the same now as when I was working full-time. Unfortunately, many families make the mistake of only insuring working parents. If a stay-at-home parent dies, the surviving parent has to deal with not only the emotions, but also the financial responsibilities, running of the household and childcare. This may mean needing to reduce hours, get additional paid help or leaving their job altogether.
It's Needn't Be Difficult

Let's be honest, most of us would rather fill in a tax return than go on the lengthy, complex quest to find the right life insurance policy. There are an overwhelming number of options on the market and finding the right one can take hours, if not weeks, of calling insurers, filling in endless forms and comparing numerous quotes. Time us parents just don't have.
Try A Free Comparison Service

That's where Choosi, a free insurance comparison service, comes in. They work with a range of reputable insurance brands to save you time and effort. You simply fill in your details online and they come back with a number of policies so you can compare the benefits and prices, make an informed choice based on your situation and apply online.
It's So Simple

The process is quick and hassle-free. You can compare, choose and apply for the right life insurance to suit your needs and budget within a few minutes. Before you know it, you've provided financial security for your family.
Protection Whatever Your Situation

Choosi's featured life insurance policies are available to Australian Residents aged 18 to 65 years (age limits vary for different insurers), with many policies offering a level of cover to stay-at-home parents and part-time working parents, not just the main income earner.
Compare & Win $4000 Worth of Handyman Services!

Choosi is all about making life easier by doing the hard work for you. Go ahead and compare life, health, funeral, income protection or pet insurance for your chance to Win $4000 worth of Handyman Services – making things easier at home too! Competition T&Cs apply.
Don't take a risk on your family's future, apply for Life Insurance now.
This article was brought to you by Choosi. Choosi Pty Ltd ABN 15 147 630 886, AFSL 402397. This is general information only. Choosi does not provide information, or offer cover, for all products available in the market.