There❜s A Sydney Cafe Serving All Things Doughnuts and Cookie Dough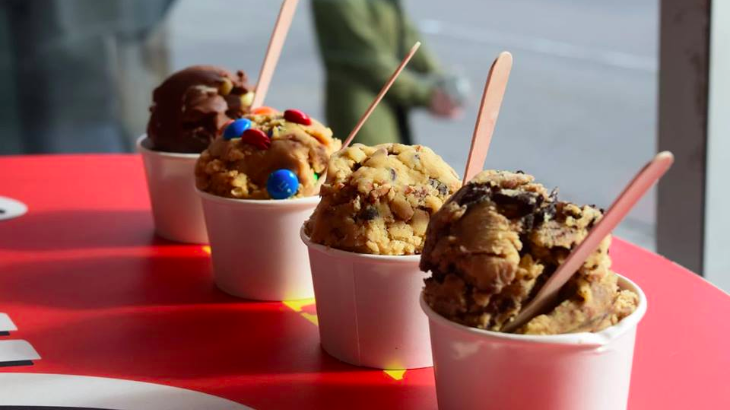 By: Phoebe Ackland, ellaslist
There's a Sydney diner where cookie dough, doughnuts and burgers take centre stage, meaning your family-friendly dining experience for this weekend is SORTED!
Joe Dough's in Darlinghurst is the latest venue of dough-connoisseur, Michigan-raised Dan McGuirt. All his creations are classic American-style, like yeast-raised doughnuts with glaze, sans the over-the-top toppings and extras that often detract from the pastry. He grew up eating simple doughnuts, and those early impressions shaped what is now the focal point of his eateries. McGuirt told Broadsheet: "I really, really like doughnuts. As a child I grew up eating some of the best. Now you see these doughnuts going around and they have all these funky toppings on them like Oreo cookies and tributes to all this stuff. The doughnuts I grew up with are really simple. The most complex was chocolate with nuts on top."
But Wait...It's Closing!
What began as an intended 2-month pop-up shop turned into a 5-month long run which will end on Saturday, 28 October 2017. According to a FB post, chef Dan will be cranking out all the classics plus some much-loved American style dishes. Get there before it's too late!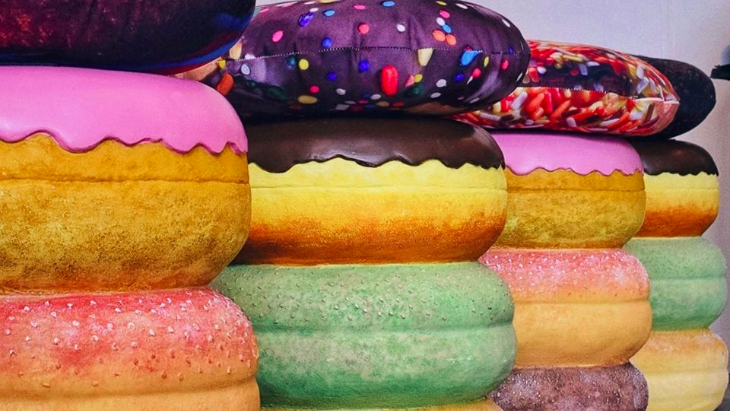 Decorated with funky doughnut cushions
D'oh! That's A Lot Of Dough
Joe Dough's follows McGuirt's now closed Sydney venues, Jazz City BBQ (he's a BBQ meat specialist, too), Jazz City Diner and Jazz City Joe Dough. Joe Dough's in Darlinghurst, though, we feel has the exact right vibe, and we're picking it to be a local favourite for a long time to come.
McGuirt, according to Broadsheet, has now nailed the perfect doughnut recipe, which they report took him seven months worth of days off to perfect. Dough is, of course, the focal point for pretty much everything on the menu (burger buns, sandwich bread, doughnuts, cookie dough) and all of it is cooked onsite. McGuirt said: "We're also doing [yeast-raised] doughpucks, a small hockey-puck-shaped doughnut; long johns (pictured below), elongated doughnuts that we add cream or jelly to; and buttermilk crescent doughnuts." You'll also find Mississipi-style tamales, filter coffee like the stuff they do in American diners, and scoops of cookie dough (that you can even get to-go), which we are guessing will be one of the diner's biggest drawcards for customers. The Cookie dough is safe to eat, has no eggs, pasteurised flour, and comes in Oreo cookies and cream, chocolate chip and pecans, peanut butter with chocolate and white chocolate chips.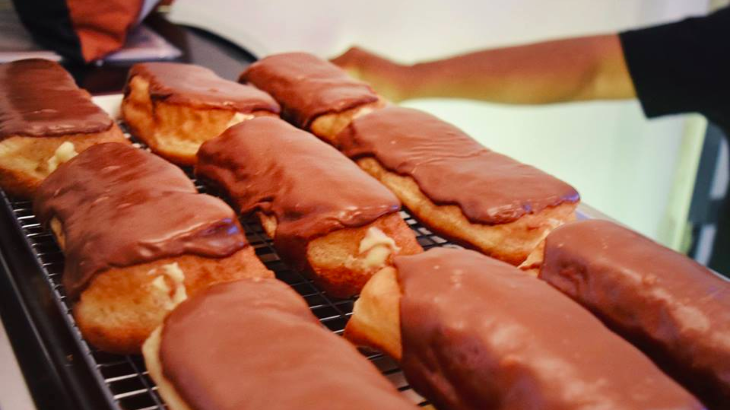 You can find Joe Dough's cosy yet impressive and delicious space at 4/106 Darlinghurst Road, Darlinghurst. They're open Tuesday-Friday from 1-9pm and Saturday from 8am-9pm.