The Tramsheds- Trendy, But No So Child-Friendly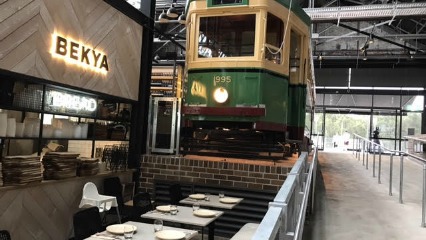 A few weeks ago, the Inner West was once again buzzing over the hype of another über trendy eatery grand opening taking place. Billed as a foodies paradise (and let's face, who in Sydney isn't a self proclaimed foodie), everyone was just a little excited to see how the Tramsheds would turn out.
Rich In History

For me, I was certainly intrigued by how they would transform this historic building. I had the honour of seeing inside those Tramsheds as a teenager. I'd scored an amazing work experience gig with the Sydney Theatre Company that saw me enthusiastically manning the spotlight for an event that had Andrew Denton entering on an elephant. The elephant was particularly not pleased with my appalling lighting skills and needless to say, I was never offered a second chance with the company.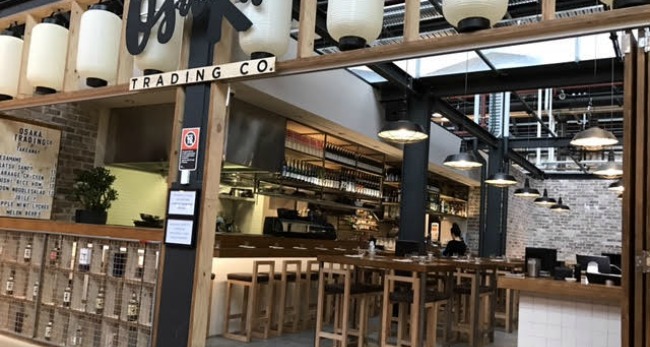 A Trip To The Sheds- With Little Ones
Fast forward 20 plus years later and I am now a local mum, living within walking distance of the Tramsheds. This was going to be the glorious new excuse for my expanding hips.
Like many of my neighbours, I packed my kids into the pram and excitedly walked down to check out the "Sheds" on opening day. I entered off The Crescent and walked across the new bridge that we had watched being installed only a few short weeks earlier. To our surprise, once we crossed the bridge we noticed that the entrance is via stairs! "That's odd, I really hope they rectify this," I thought to myself as the lady in a wheelchair next me and I took turns dashing up the road between cars. (We have written to The Tramsheds to ask about when this will change but they are currently unable to comment).
This was the start of my love/hate relationship with "The Sheds".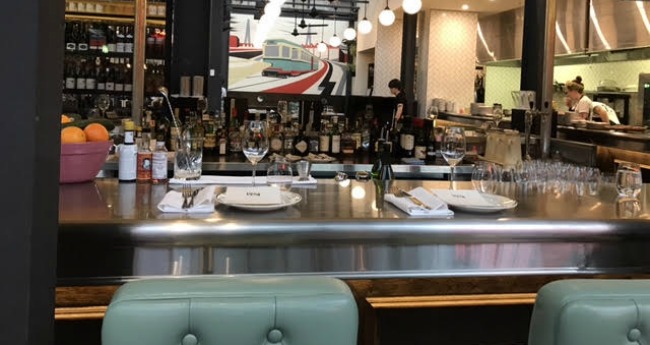 A Foodie's Heaven
Once you're inside the Tramsheds, it really is a foodie haven with a restored historic tram overlooking the eateries like a symbolic idol. If you love good food, you will enjoy this place. If you enjoy clever aesthetics and modern architecture, you will enjoy this place. But if, like me, you are a parent of little ones, you may just struggle in this place.
Bustling With Kids
The suburbs of Annandale and Forest Lodge surround where the Tramsheds are located, and are a thriving haven for young families. The popularity of the area has grown so significantly in recent years that there is now more kids in the public school catchment zones than places at available schools. As a community, we do a great job catering for our kids, especially thanks to City of Sydney Council who maintain the wonderful Bicentennial Park with its award winning playgrounds, plus the local PCYC and of course, the plethora of playgroups.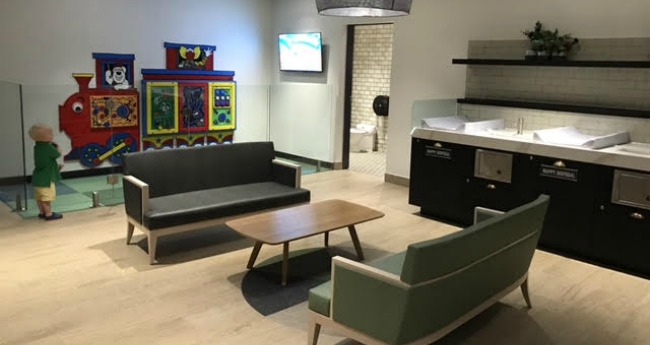 Not So Family-Friendly Eateries
I have now visited the Sheds a number of times and can honestly say that although it seems the owners (Mirvac) may have taken the local demographics into consideration when they transformed the Sheds, the eateries who rent space within its walls have not. The catering v not-catering for kids (especially really little kids) is an interesting oxymoron, and I really hope (fingers crossed) it will be ironed out over the coming months.
Here's What We Like About The Sheds


There are ramps throughout the building, allowing for easy pram push-ability


A very clean, well equipped parent's room that is a genuine pleasure to feed your baby in (though I will note that on three separate occasions now, younger male restaurant staff have come into use the facilities then left quickly on sighting me…awkward)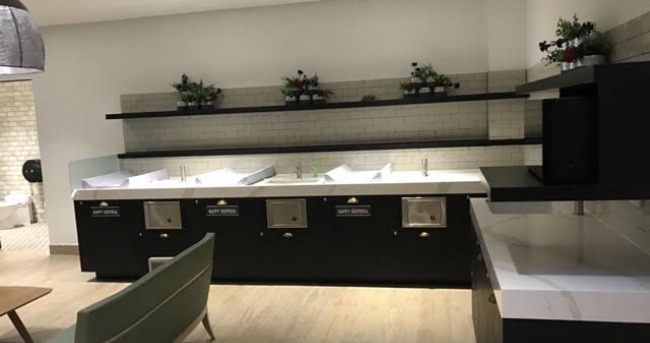 There is a Medical centre (which offers Bulk billing for kiddos, too!) and a pharmacy!


There's a space available to hire for private events (kids parties perhaps?). It's a 500sqm facility called the 'Community Room' and is managed by City of Sydney council


Some restaurants such a 'The Farmer & the Butcher', 'Bekya' and 'Fish and Co' also offer kids menus. [Side note: The lamb at Bekya is So good. So SO So good…] Note: If you want to ride the tram, you'll need to enter through The Farmer and the Butcher restaurant


The supermarket is very well stocked (although it's a tad expensive)


You can duck in for a cheeky mani/pedi at The Depot Nail Bar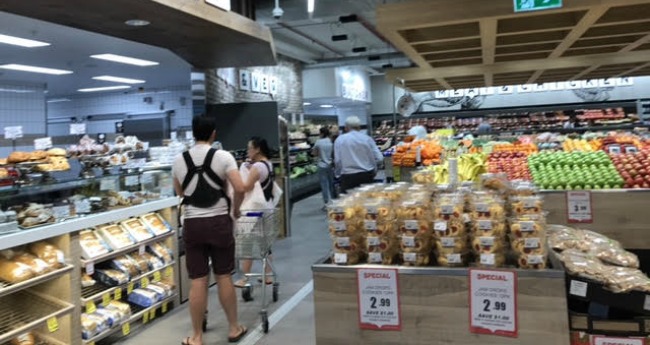 Here's What We Don't Like


And this is my biggest gripe— the eateries are so trendy in design that it's just not comfortable to sit there with your little ones. There are very few high-chairs and a lot of the seating is on stools and benches


There's very limited room for the pram (or wheelchair for that matter!). Belles Hot Chicken is a toddlers dream – Southern chicken tenders and chips yet they do not have any high chairs, not one and they make no apologies about it either


Messina is another surprise- it's an amazing ice creamery, but it only takes cash (take note in case you're there on witching hour) and it doesn't have any "kid friendly" flavours…


It has a very trendy/hipster vibe. I find that much of the food reflects that vibe and therefore isn't really suitable for the average youngster. The Osaka trading Co, for example, is not your average Sushi joint with cucumber nori rolls


Parking is expensive. You can get free 90mins by shopping at the Supermarket or visiting the Medical centre. [Ed's note: They have just brought in 30mins free parking for those who want to duck in for a quick coffee.]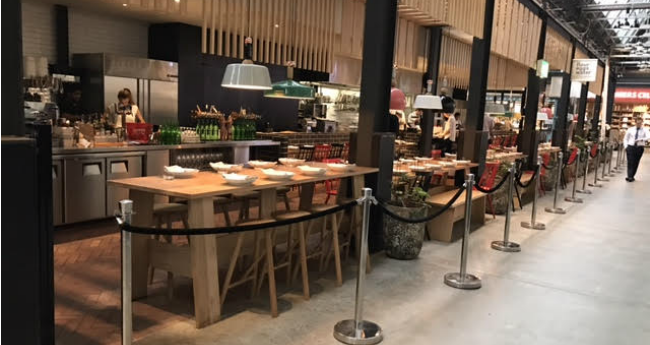 Our Verdict: Possibly One To Avoid
Every time I walk through the Tramsheds, its always full of families with young kids. I have witnessed countless parents trying to juggle eating their meal with a child on their laps. I have personally experienced this hardship and let me tell ya, it ain't fun, especially when you are paying high end prices for your (albeit delicious) meals.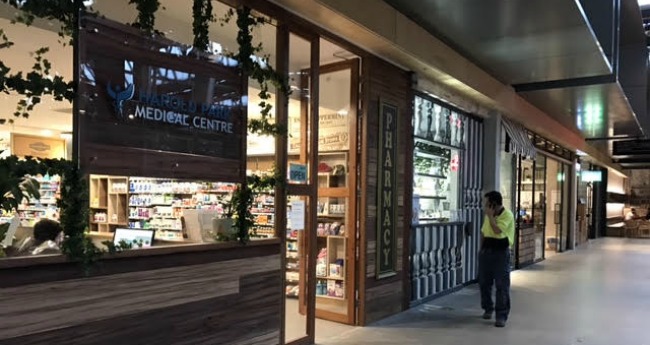 I think perhaps this is one of those places that better suits date night or to order take-away from. There is a sign from the City of Sydney Council near the front gates with the tittle "Towards Sydney 2030" that pledges a new playground, picnic and bbq area. Without having received a response from the Tramsheds to verify the meaning, it could be assumed that the council saw a need to fill the gap not offered by Mirvac and that these new facilities will provide a more comfortable setting for the families, externally to the Tramsheds themselves. One does have to wonder though, about the sustainability of The Sheds once the hype dies down. I for one would love to see them adjust to accommodate the family crowd. How about you?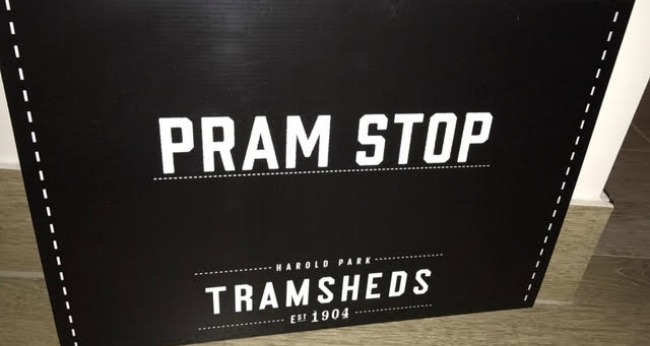 Family Guide To The Eateries


The Butcher & the Farmer- has high chairs and a kids menu


Bells Hot Chicken- has no high chairs or kids menu


Bekya- Has 1 high chair available and a kids menu


Fish & Co- Has clip on variety high chairs and a kids menu


Bodega- Has no high chair or kids menu


Dust- Has no high chairs or kids menu


Flour Eggs Water- Has no high chair or kids menu


Garcon- Has high chairs but no kids menu


Osaka Trading Co- Has no high chairs or kids menu


Sir Chapel- has no high chair or kids menu
Check Out More Reviews On ellaslist