The Tella Ball Dessert Bar has Arrived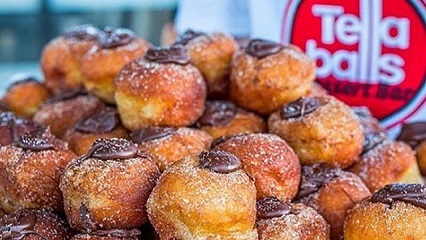 By: Zoe Crane, ellaslist
After months of mouth-watering anticipation, the team from Foodcraft Espresso have finally opened their Tella Ball Dessert Bar in Dulwich Hill.

In case you somehow missed it, a Tella Ball is basically a doughnut filled with gooey Nutella, a little ball of joy that exploded onto social media last year, making headlines in August with the release of the Tella Ball Shake, a Nutella milkshake with a Tella Ball on top. People travelled from far and wide to experience the Tella Ball phenomenon, with Foodcraft Espresso going through 300 kilos of Nutella each week.
A Sweet Fantasy
The new dessert bar will be an ode to all things sweet, with no savoury options. Co-owner Daikos told Good Food "We wanted to create a place that caters for people young and old, who want a one-stop shop to eat the most amazing desserts ever". The new café will feature such Nutella-laden delicacies as cheesecake, brownies, pancakes and crepes, waffles and even banana bread and sticky date pudding. The $20 Waffle Burger sounds amazing – vanilla ice cream sandwiched between two housemade Belgian waffles, lashings of Nutella, fresh strawberries, and fresh banana.


And What about the Tella Balls?
The Tella Balls themselves are also getting a make-over with flavours like peanut butter and cookies and cream appearing on the new menu.
As reported in The Daily Telegraph, The new dessert bar has four choices of shakes available ($10 each). There's the TBS (topped with a Nutella Tella Ball), the Salty Caramel, the strawberry or the vanilla option.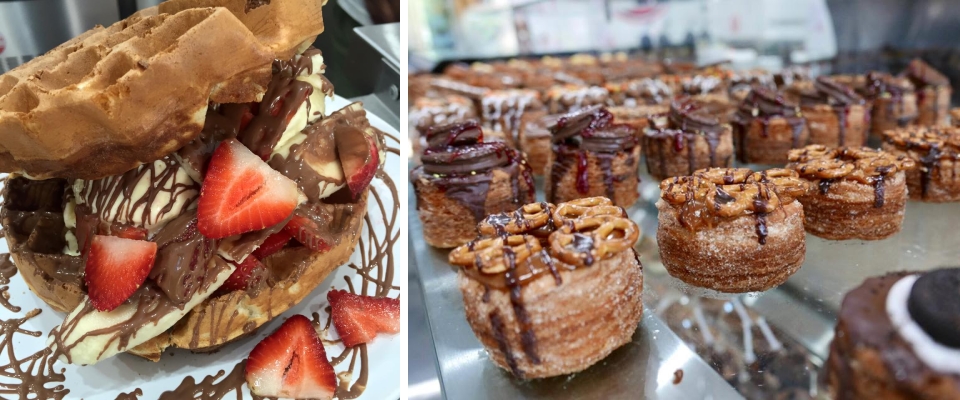 We Can't Wait to Try the Cronut Shakes
The new dessert bar amps up the sweetness with the brand-new Crazy Cronut Shakes ($12 each).
Try the double chocolate shake (topped with a Kit Kat cronut), the peanut butter shake (topped with a Reese's cronut), the salty caramel shake (topped with a caramel cronut and pretzels), and the TBCCS (topped with a Nutella cronut).
Introducing…Gelat-dough
Rather than resting on the laurels of the now famous Tella Ball, the owners are raising the bar and creating what may become the next food porn craze – Gelat-dough.

Look out for these doughnut-shaped-gelato-on-a-stick creations filling your Instagram feed soon. They'll also be using treats from their own childhoods in their creations, like Kit Kats and Mars Bars. "It brings us back to our childhoods, and that's the best place you can be." Says co-owner Simon Kappatos.
[caption id="attachment_99650" align="alignnone" width="960"]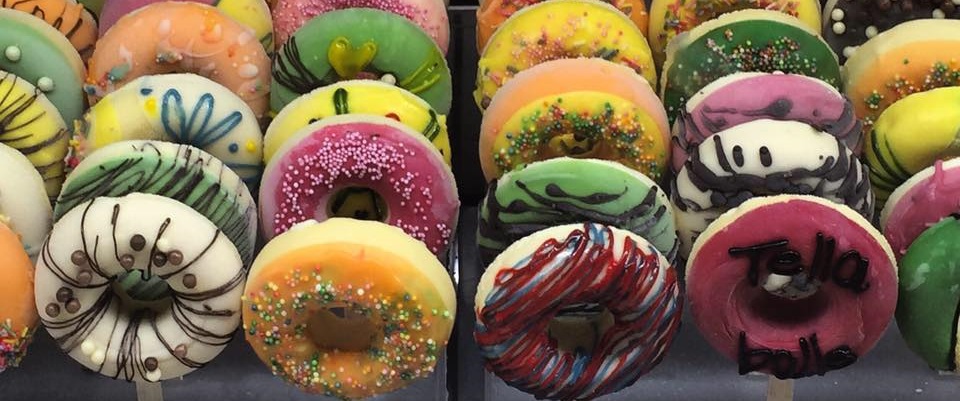 Gelat-dough in all the flavours! source: facebook.com/tellaballsdessertbar[/caption]
With their Instagram account already overflowing with drool-worthy pictures and over 5000 followers, you'd better get in quick before they run out!
ellaslist wants to hear from you, have you had a Tella Ball yet?