The 2018 Ivanhoe Christmas Lights at The Boulevard: A Family Survival Guide!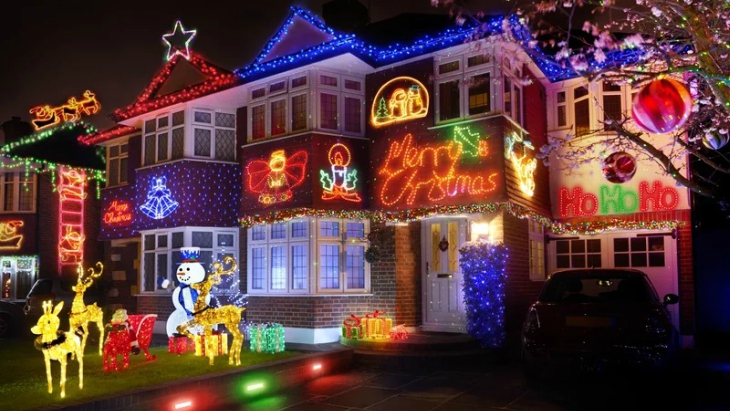 By: Stacey Roberts, ellaslist
Nov 27, 2018
Be in Melbourne for more than five minutes in December, and you'll hear someone mention the Ivanhoe Christmas lights.
A real area institution, it's been estimated that more than 100,000 people wander along The Boulevard at Ivanhoe across the two weeks, taking in the sights and sounds of a brightly-lit community Christmas wonderland.
What to Expect at the Ivanhoe Christmas Lights
A far cry from the handful of first lights strung up in the 1950s, the lights at Ivanhoe have now grown to encompass almost 2km of houses, gardens, windows and community spaces decorated with all manner of Christmas fun from inflatable Santas to nativity scenes - some of which are even set to music.
You can either walk or drive down The Boulevard (the street is converted to strictly one-way traffic for the duration) where you'll find the majority of the houses dressed in their festive finest.
There is a real carnival atmosphere as families mill around and buskers, bands and other live music provide extra entertainment.
Local community groups hold fundraising BBQs, there are coffee carts, ice cream trucks, and glow stick stalls, and there's plenty of safe space for the children to run around.
If you do choose to walk the route, make sure you duck down the side streets off The Boulevard, filled with even more Christmas lights and decorations along the houses there.
It is especially festive and fun on Christmas eve, with carollers getting everyone into the spirit of the season.
The Ivanhoe Christmas Lights: What You need to Know
The Boulevard Lights in 2018 will run between 8.30pm and 11pm each night, December 15 - 24.
Car traffic during each night (7.30pm - 11.30pm) will operate one-way heading east, entering from Lower Heidelberg Rd
Note: buses and vehicles greater than 5 tonne are not permitted to access the Boulevard
Make sure to plan ahead and check the up to the minute travel estimates
Peak time is just after sunset when the sky darkens to allow the full impact of the lights to shine!
There is a small amount of parking at the west end of the Boulevard (near Ivanhoe Park), and parking can be an issue, particularly at peak time. Factor in the time it takes to walk to and from the car with small children as well as the time walking along the Boulevard if you won't be driving the route.
Nearest toilets are at Ivanhoe Park and at Ivanhoe Station on Norman St
The 549 bus runs this route, and the nearest bus stop is outside Ivanhoe Station
Food/drink options nearby are mostly concentrated on nearby Upper Heidelberg Road - try the Ivanhoe Tavern, Popula Japanese Takeaway, Delhicious Cuisine, and Saffron Cafe for kid-friendly spots.
Looking For More Festive Fun?
Where To Get The Cutest Christmas PJs For Kids
More Christmas Lights In Melbourne Streets
The Best Christmas Markets In Melbourne
Main image: Getty