The Great Anzac Cookie Debate: Which Camp Do You Support?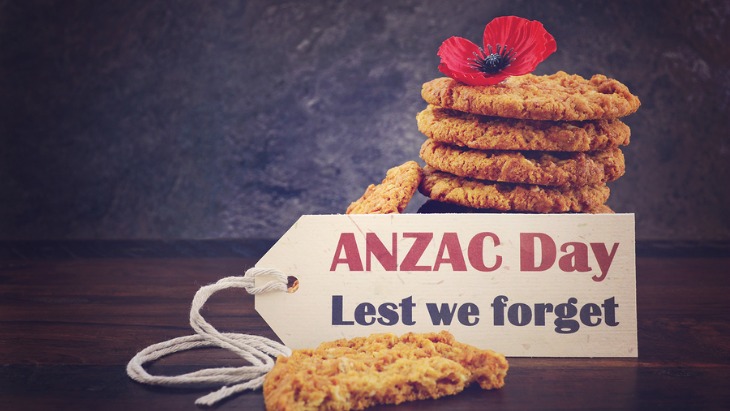 Hard and crispy or soft and chewy? It's the only issue that divides the nation around the time of our annual celebration and commemoration of the legendary ANZACS. It seems that people can be pretty darn picky when it comes to how they like the consistency of their Anzac biccies, but first, a little history:
Anzac cookies, (although discrepancy remains as to whether they originated in Australia or New Zealand) were born when women on the homefront were looking for a recipe that was sturdy enough and had the shelf-life to survive the journey to the men on the front line who needed a little home-cooked comfort from home. As a result, rolled oats, boiling water, sugar, butter, plain flour, bi-carb soda and golden syrup were mixed together, proving a delicious and practical cookie to send to the boys. They were often shipped over in tins to maintain the natural crispy-ness of the biscuit, and eggs were deliberately left out because of the egg shortages during the war.
Let's Settle This: Which Is Best?
According to a poll taken by the Daily Mercury, 62% of people prefer their Anzac biccies soft, with the minority preferring them as they were originally created- hard. Other surveys say the opposite. In our research, some people have shown that they can't quite make their mind up, preferring a biscuit that's crispy on the outside and chewy in the centre. Biscuit consistency all comes down to the ratios of ingredients, cooking times, and types of ingredients used, which vary between recipes, some of which have been passed down for generations. Often in the modern-day, coconut is added, although this was not an original feature of the traditional recipe.
We don't think we'll ever get to the bottom of this debate, so for now, here's a recipe for both a hard and soft biscuit. Enjoy!
Preparation time: 10 minutes
Cooking time: 15 minutes for CHEWY or 20-25 minutes for CRISPY
Serves: 30-32
What You'll Need To Make Them Crispy:
1 cup / 150g plain flour
1 cup / 90g Rolled Oats
¾ Cup / 60g Desiccated Coconut
½ cup / 100g Caster Sugar
4 ½ oz / 125g butter
2 tablespoons Golden Syrup
½ teaspoon Bicarbonate of Soda
2 Tablespoons Boiling Water
What You'll Need To Make Them Chewy:
½ cup / 75g plain Flour
½ cup / 75g SR Flour
1 cup / 90g Rolled Oats
¾ cup / 60g Desiccated Coconut
½ cup / 100g Caster sugar
4 ½ oz / 125g Butter
1 tablespoon Golden Syrup
½ teaspoon Bicarbonate of soda
1 tablespoon Boiling Water
Here's What To Do:
Pre-heat oven to 170C / 150C Fan Forced.
Line 2 large baking trays with baking parchment or lightly grease.
Mix flour, oats, desiccated coconut and sugar in a large bowl.
Melt the butter with the golden syrup in a large pan over medium heat, then remove the pan from heat.
Combine boiling water and bicarbonate of soda; add to butter mixture and mix well (it will froth up).
Stir into dry ingredients until combined.
Take teaspoons of the mixture and roll into a ball – put on trays allowing room for spreading, makes 30 -32 biscuits.
Press the biscuits down firmly to flatten using the back of a dessertspoon.
For Crispy, Do This:
Bake for 20 -25 minutes until golden brown.
Remove trays from the oven and leave biscuits on the baking tray to firm up, leave until completely cool about 10 minutes.
For Chewy, Do This:
Bake for 15 minutes until light golden brown.
Remove trays from the oven but leave biscuits on the trays for five minutes to firm up before transferring to a wire rack to cool.
Whichever way you like them, remember to sit down with a cuppa and a biccy, and honour the fallen.