The Coolest, Easy To Make Piñata Cakes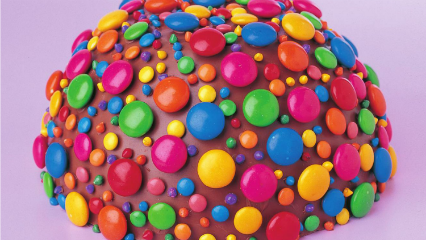 By: Phoebe Ackland, ellaslist
No cake is more surprising or delightful! Cut through it and a world of chocolate and lollies will be discovered.
Check out Food To Love's easy Piñata Cake recipe:
What You'll Need


340g packet buttercake mix


30 cm round prepared board chocolate butter cream


200g softened butter


2 1/4 cups icing sugar


3 tbsp milk


1/2 tsp vegetable oil


1.3 cup cocoa powder


150 g rainbow choc chips


Packet M&M's


Mini M&M's


450g chocolate melts, melted


50g milk chocolate, melted


Lots of chocolate coins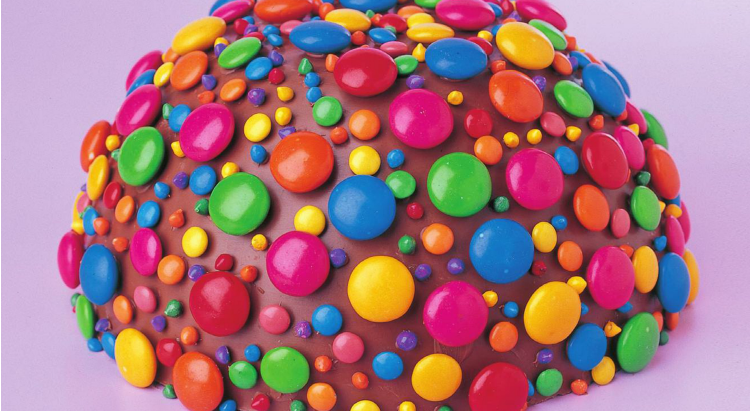 Source: Food To Love
How To Make It


Make the butter cake: Preheat oven to 180°C (160°C fan-forced). Grease and line deep 15cm-round cake pan. Make cake according to packet directions, pour into pan until 3/4 full; bake for 45 minutes. Stand cake in pan 5 minutes; turn onto wire rack to cool


Chocolate Butter Cream: Meanwhile, beat butter in small bowl with electric mixer until as white as possible. Gradually beat in half the icing sugar, cocoa powder, milk, then remaining icing sugar


Hollow it out: Position cake on prepared board. Using ruler and toothpicks, mark 11cm circle in centre of cake. Using markings as a guide, cut deep hollow into cake with a small serrated knife


Decorate: Spread chocolate butter cream all over cake; fill hollow with coins and half of the rainbow choc-chips


The Hard Coating: make chocolate shell: grease 2.25-litre (9-cup) pudding steamer with oil; place bowl in freezer 10 minutes. Place melted chocolate Melts in steamer; swirl chocolate to coat inside of steamer evenly. Continue swirling until chocolate begins to set and stops flowing around the steamer; try to keep the chocolate a uniform thickness, particularly at the top edge. Stand until chocolate is almost set. Freeze until chocolate sets completely


Carefully place pudding steamer with set chocolate shell over cake; using hot cloth, briefly rub outside of bowl. Chocolate shell will slip from bowl to completely enclose cake.


Decorate: Using melted milk chocolate, secure remaining rainbow choc chips, mini M&M's and M&M's to chocolate shell


Allow birthday child to break chocolate shell open with a toy hammer!
Thanks to Food To Love for this awesome recipe.
Check Out These Incredible Piñata Cakes
1. Rainbow Cake

This recipe by tablespoon proves there really is a pot of gold (or should we say chocolate?) at the end of the rainbow.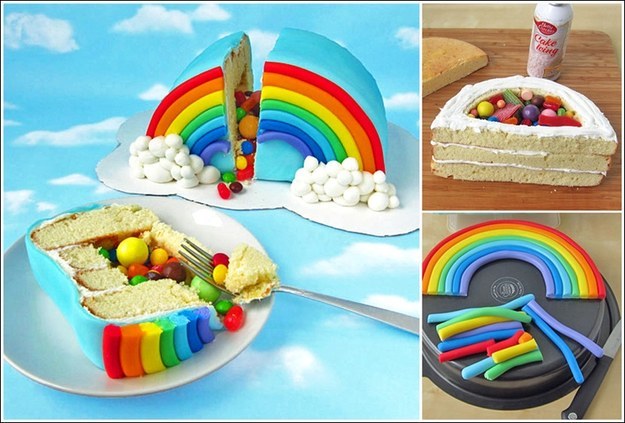 Source: tablespoon
2. Pumpkin Cake

Such a shame Halloween has been and gone! Check out this awesome and spooky piñata cake recipe by mummy mishaps.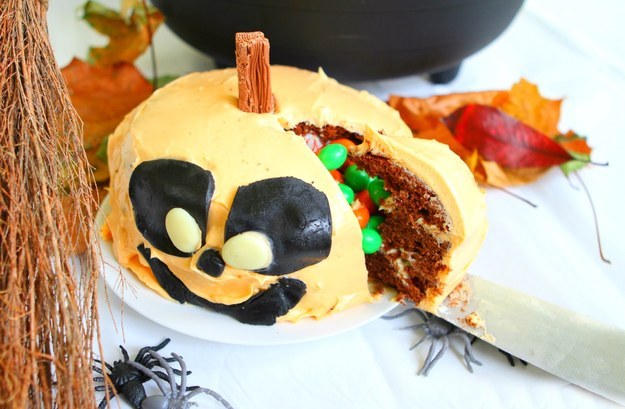 Source: mummy mishaps
3. Candy Bursting Cake

Just look at that fluffy icing and explosion of colour! Thanks to fancy flours for the recipe.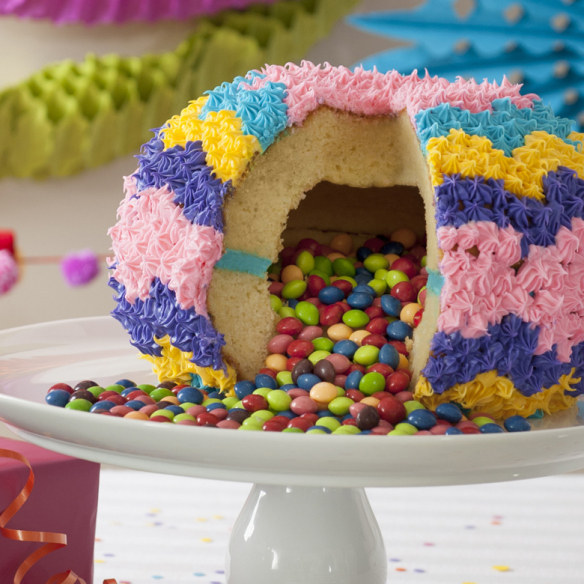 Source: Fancy Flours
4. Christmas Pudding

Bring your boring old Christmas pudding to life this year with this piñata treat from LAKELAND.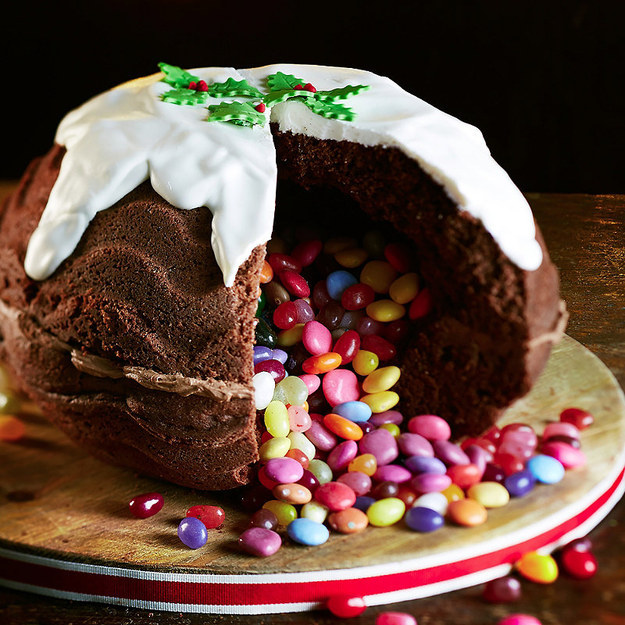 Source: LAKELAND
5. Jackson Pollock's Piñata Cake

This decadent and colourful (in true Pollock style) has 6 layers, each one a different colour! Thanks to momlovesbaking for the recipe.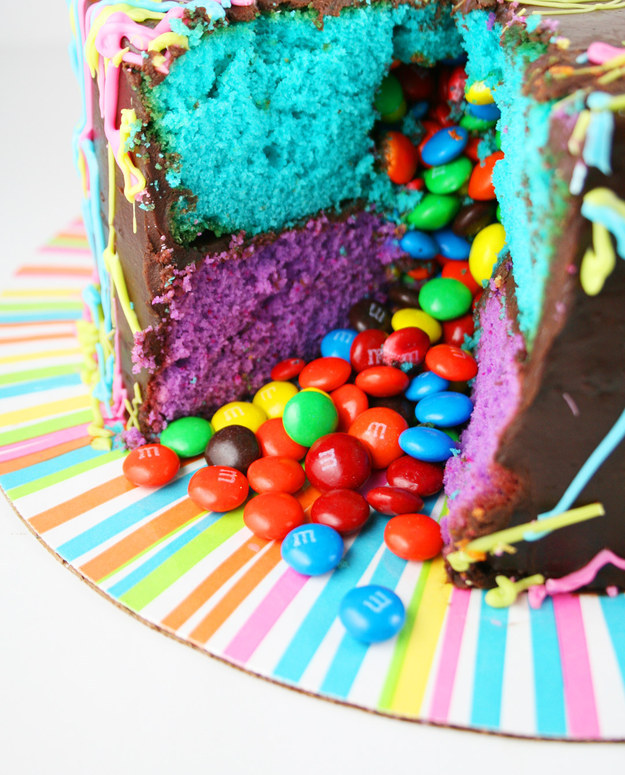 Source: momlovesbaking
6. Easter Ombre Piñata Cake

There really is one of these babies for every occasion. Check out this Easter themed pastel coloured cake, with coloured chocolate eggs hidden in the middle. A truly delicious egg hunt, thanks to TAMING TWINS.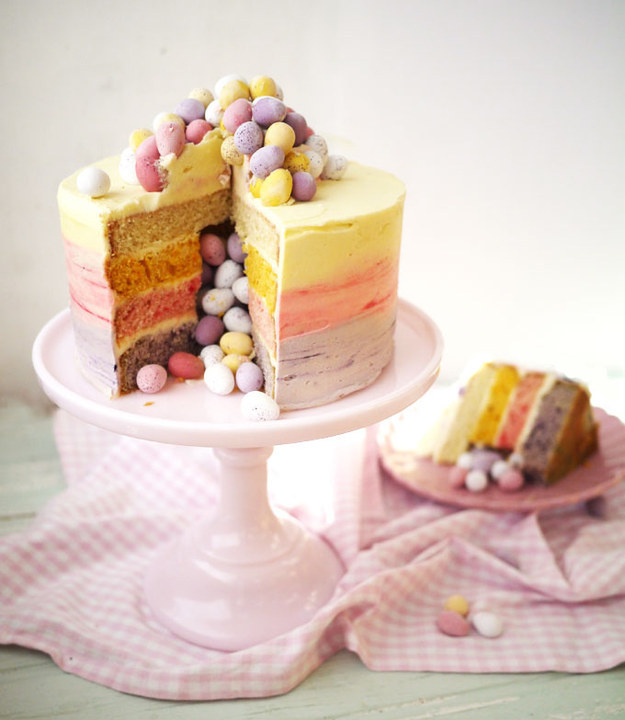 Source: TAMING TWINS
Check Out More Recipes On ellaslist