The Best Of Sculpture at Barangaroo For Kids & Families 2017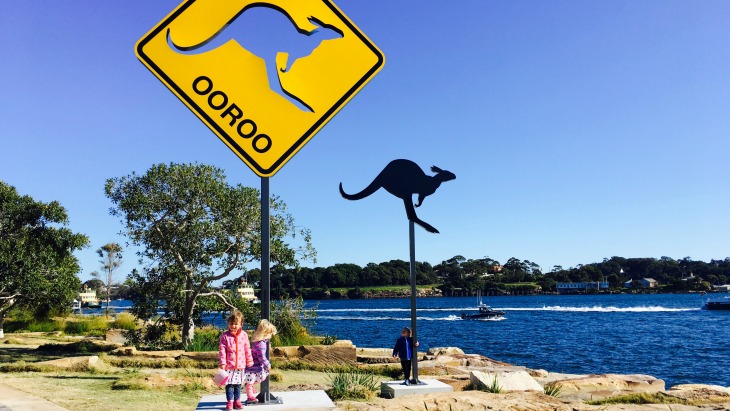 p>By: Lisa Wolff, ellaslist
Move over Bondi…there's a new place to see Sculptures in Sydney.
Just in case you haven't visited yet, Barangaroo is that relatively new area near Millers Point just up from the Rocks that used to be a dead zone before the government invested billions of dollars to transform it into a new hub. Parking is cheap, easy and plentiful. It's 100% pram accessible and oh so scenic.
Top Tips For Visiting Barangaroo With Kids
And best of all for the next week (until Sunday 20 August), there are 14 sculptures by 9 talented Australian artists dotted throughout Barangaroo Reserve. We visited last weekend and we all loved interacting with the interesting artwork and having a good ole run around. So here are a few top tips for taking the family to see Sculpture at Barangaroo.
Getting To Barangaroo
There are many ways to get to Barangaroo. We chose to drive and we parked along Hickson Road (there are plenty of metred spots on Hickson Road or up the side streets with prices from $2.70 an hour on weekends). There is also a parking garage footsteps from the reserve (with a daily rate of $12 on weekends). You could also take a ferry and meander your way from Circular Quay up through the Rocks to Millers Point. There are also trains to Circular Quay or a bus service that stops at Barangaroo.
The Sculpture Route
We entered the reserve at the Towns Place Entrance and walked around to the Cutaway entry where there are lifts and toilets. The walkways are wide and perfect for prams and scooters - but the upper path is shared with bicycles so do be careful of the cyclists. There is also a raised concrete path which the kids loved walking along. Little ones may need a helping hand for a bit of balance on the higher areas.
We then took the lift up to the middle path and once we realised there wasn't much along here, we climbed the stairs up to the top level. From here we made our way gradually down the grassy hill back to where we started admiring the artwork as we went.
The whole circuit took us about an hour and a half and that includes stopping to interact with the sculptures and a snack and toilet break. But you could easily spend a full morning or afternoon here, exploring and enjoying the scenery.
Our Favourite Sculptures
For a map of the 2017 sculptures site, click here.
1.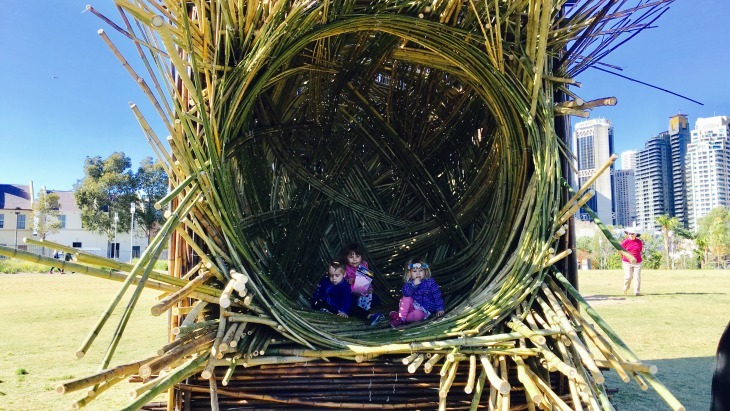 Bower by Cave Urban
2.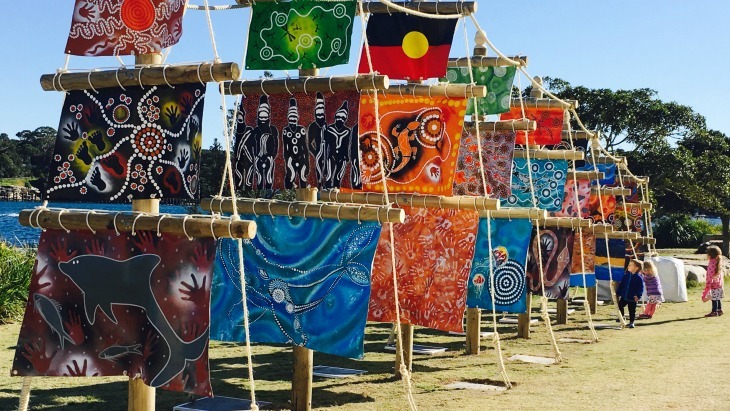 3.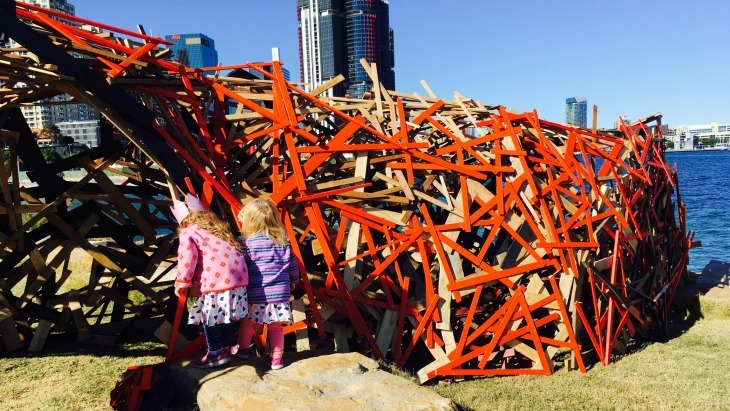 4.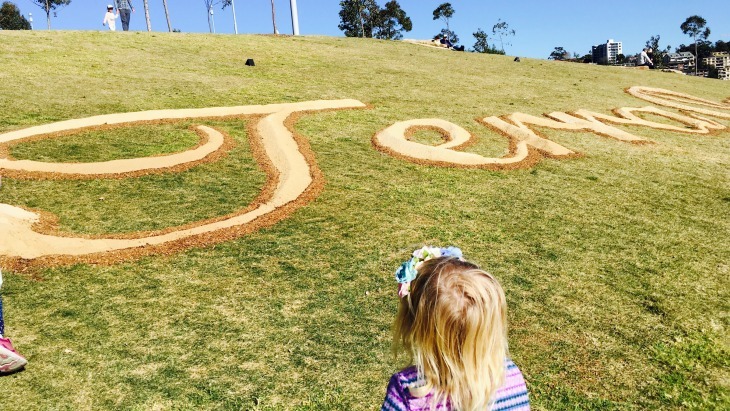 Terra Omnia by Nicole Monks
5.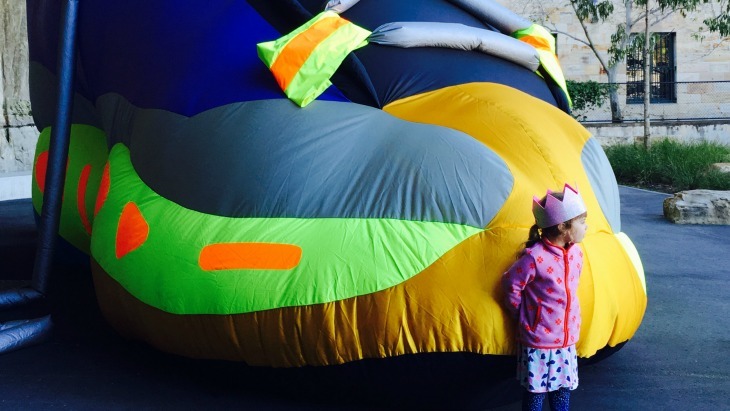 6.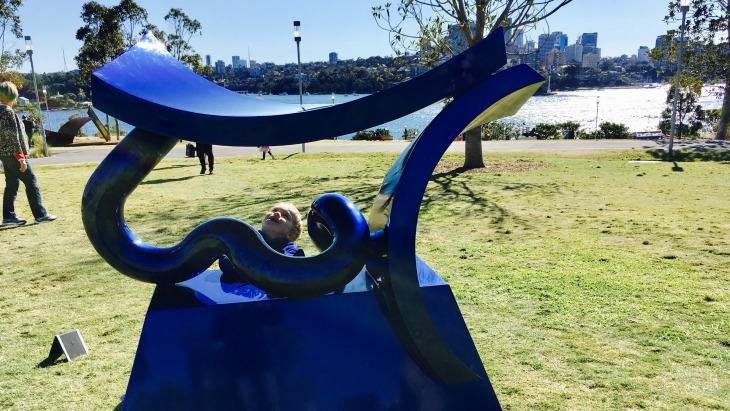 Anaconda by Michael Le Grand
7.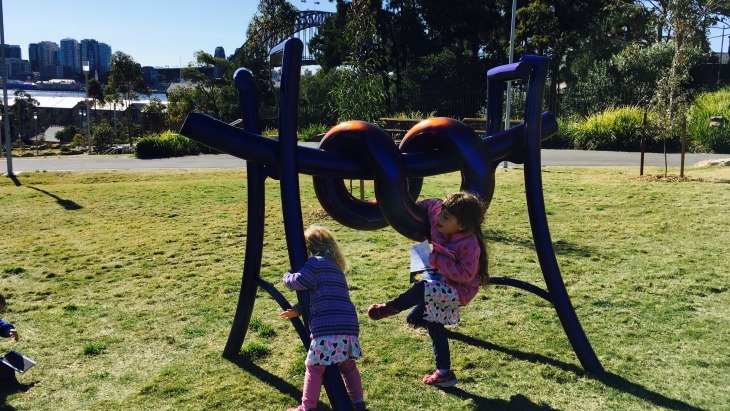 Goshu by Michael Le Grand
8.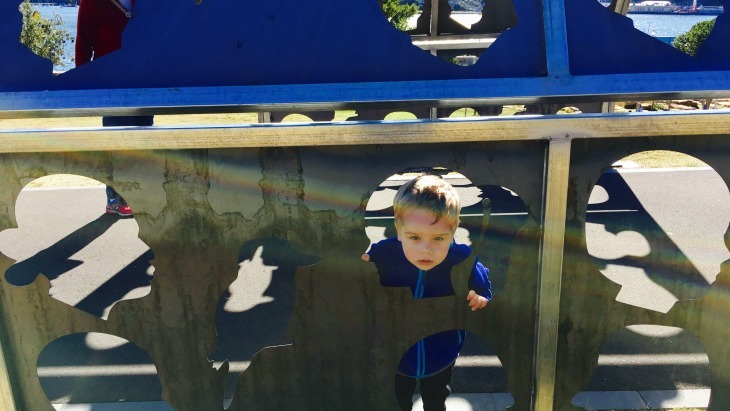 9.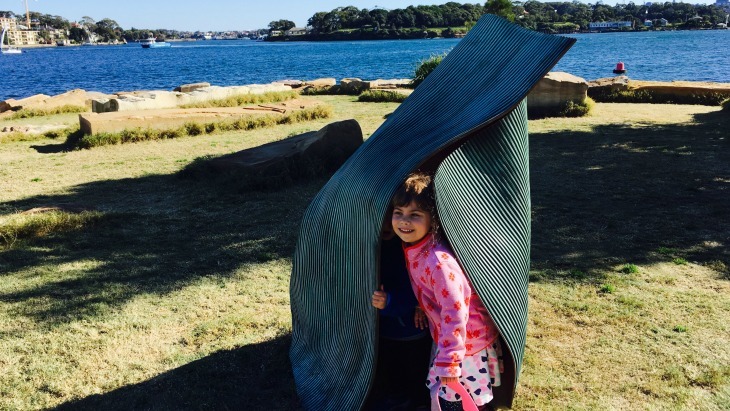 Folded by Andrew Rogers
Where To Eat
There us plenty of grass to lay out a blanket and enjoy a picnic.
However, if you would rather buy your lunch, there are a couple of food trucks around the area and you'll be sure to find a meal of your liking.
You could also take a walk along the piers at Walsh Bay (towards the Sydney Dance and Theatre Company). Here you'll find pizza restaurant and a couple of cafes.
There is also a whole new Barangaroo precinct with a collection of shops and eateries just further up the road towards the city. Take a look at the Streets of Barangaroo to see what it's all about
Top Tips
Get there early…or late: we arrived before 10 am and by the time we left 2 hours later, the area was getting crowded. While there were visitors grouped around the sculptures, there was still plenty of space to roam freely. The park is open 24 hours a day, seven days a week. Barangaroo encourages visitors to view the works between 8 am and 6 pm daily.
Bring wheels and dogs: Barangaroo is completely wheel-accessible so bring along your bikes, scooters and pram. Dogs on a leash are also welcome.
Bring Hats: There is very little shade in the reserve (the trees are still growing) so bring your hats. Pop-up tents are also permitted.