The Best of Sculpture At Barangaroo for Kids and Families 2016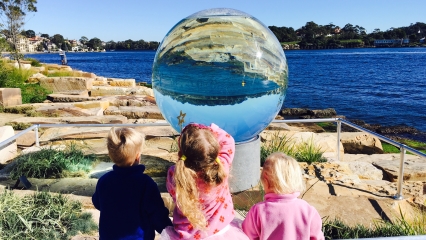 By: Lisa Wolff, ellaslist
Scoot over Bondi…there's a new place to see Sculptures in Sydney.
I can't believe that this is the first time I have visited Barangaroo (the new area near Millers Point just up from the Rocks that used to be a dead zone before the government invested billions of dollars to transform it into a new hub). And I must admit I am impressed. Parking is cheap, easy and plentiful. It's 100% pram accessible and oh so scenic.
Hot Tips for Visiting Barangaroo With Kids
And best of all for the next few days (until Sunday 21 August), there are 14 sculptures by talented Australian artists dotted throughout Barangaroo Reserve. We visited last weekend and we all loved interacting with the interested artwork and having a good ole run around. So here are a few top tips for taking the family to see Sculpture at Barangaroo.
Getting to Barangaroo
There are many ways to get to Barangaroo. We chose to drive and we parked along Hickson Road (there are plenty of metred spots on Hickson Road or up the side streets with prices from $2.70 an hour on weekends). There is also a parking garage footsteps from the reserve (with a daily rate of $12 on weekends). You could also take a ferry and meander your way from Circular Quay up through the Rocks to Millers Point. There are also trains to Circular Quay or a bus service (route 311, 324 and 325) that stops at Barangaroo.
The Sculpture Route
We entered the reserve at the Towns Place Entrance and walked around to the Cutaway entry where there are lifts and toilets. The walkways are wide and perfect for prams and scooters. There is also a raised concrete path which the kids loved walking along. Little ones may need a helping hand for a bit of balance on the higher areas.
We then took the lift up to the middle path and once we realised there wasn't much along here, we climbed the stairs up to the top level. From here we made our way gradually down the grassy hill back to where we started admiring the artwork as we went.
The whole circuit took us about an hour and a half and that includes stopping to interact with the sculptures and a snack and toilet break. But you could easily spend a full morning or afternoon here, exploring and enjoying the scenery.
Our Favourite Sculptures
CHECK OUT THE OFFICIAL SCULPTURE AT BARANGAROO MAP HERE
These were our top picks for sculptures (in the order that we saw them)
Horizon (no. 8 on the map) is an acrylic sphere filled with 1,800 litres of water. It's a no-touching sculpture but the kids were absolutely fascinated by this globe that reflected the magnificent surrounding scenery. You can even see yourself reflected in it if you stand in the right spot.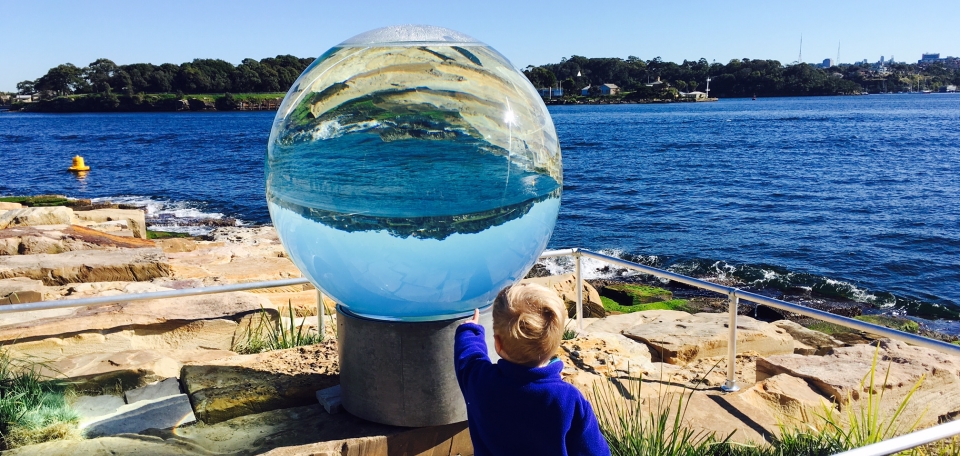 Banana Republic (no.7) is a converted shipping container which houses an old fashioned oven with a real fire and a bench to take a seat. You can actually climb aboard the artwork but make sure you keep inquisitive fingers away from the flames.
The Grove (no. 5) is the two famous pods that have been the showpiece of this outdoor exhibition. It's a great one for kids as they can touch (gently) and can explore the small opening on one side lined with layers of felt.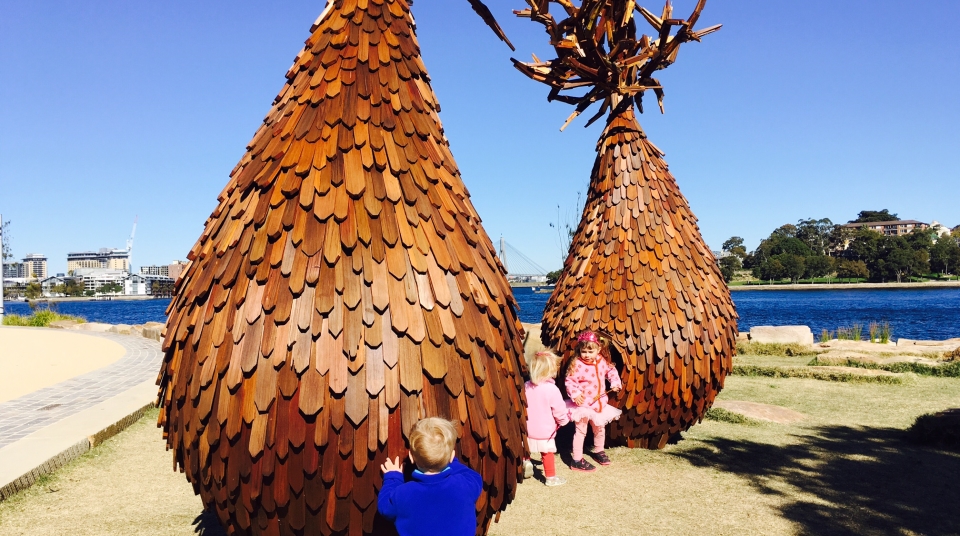 Contours of Our Heart (no. 4) is a truly interactive installation where visitors can create their own clay pieces fired in a kiln on site. On the last day of the exhibition, the artist will combine all the pieces in one installation. And as the sun sets, visitors will be invited to take a piece away with them. Our kids were too young to get involved but children 6 years+ would enjoy giving this a go.
Standing on Stones (no. 2) is as touchy-feely as you get, In fact, visitors are encouraged to walk all over it. This artwork is made up of a patterned chain of raised plastic pearls which simply screams for kids to touch and feel. tactile experience. The words are The lines of a poem from Rabindranath Tagore's Gitanjali are inscribed across the sculpture.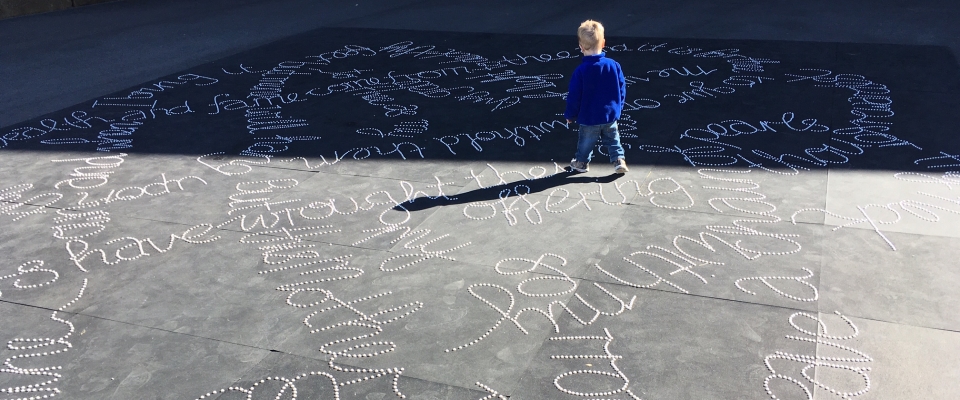 Construction Barangaroo (no. 14) on the Stargazers Lawn, upper level was probably the kids favourite sculpture. It's a maze of wood, the size of two tennis courts. The kids were loving running weaving through the tunnels and playing hide and seek amidst fits of giggles. Just beware of the exposed corners and sticks poking out. My daughter ran into one of the branches and got a bit scratched.
The lawn is a great spot for a snack and drink break but just keep in mind that there isn't much shade up here (not such an issue during winter).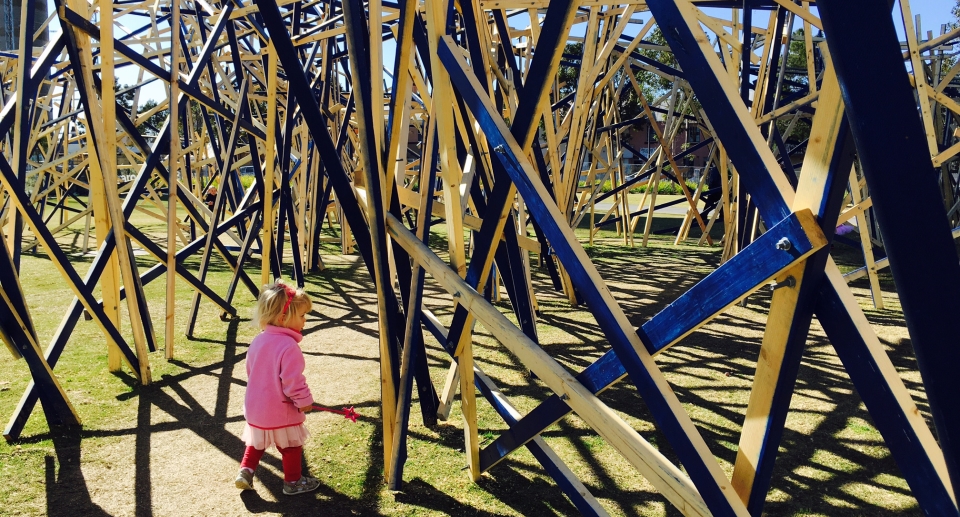 Next up is Weighty Matters (no. 11, 12 & 13) which is a series of three different sculptures. The one artwork resembles a giant chair and while there is a note not to climb on the sculpture, I found it pretty difficult to restrain my kids from taking a seat. It was just too tempting.
The last sculpture on our route was Yesterday Today and Tomorrow (no. 10), an impressive large scale weaving project which depicts a Nawi canoe. This is a no-touching one but the kids were mesmerised by the rainbow colours.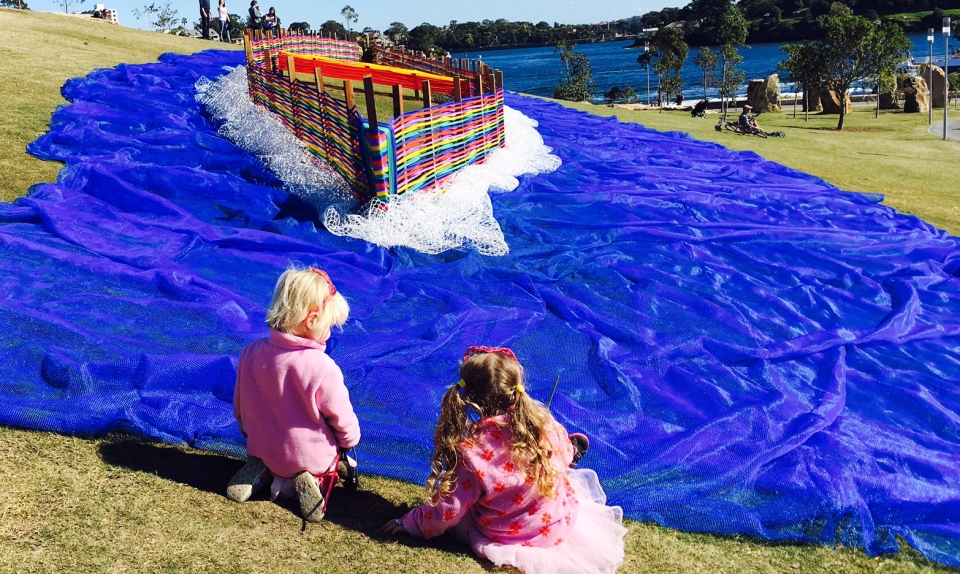 Where to Eat
There are a couple of lounge chairs on the slope near the canoe sculpture and this is a perfect spot to lay out a blanket and enjoy a picnic.
However if you would rather buy your lunch, there are a couple of food trucks around the area and you'll be sure to find a meal of your liking.
You could also take a walk along the piers at Walsh Bay (towards the Sydney Dance and Theatre Company). Here you'll find pizza restaurant and a couple of cafes.
There is also a whole new Barangaroo precinct with a collection of shops and eateries just further up the road towards the city. Only a very few places are open on the weekends at the moment but it may be fun to explore and check it out. Take a look at the Streets of Barangaroo to see what it's all about.
First Birthday Party Celebration
The last day of the sculptures is Sunday 21 August which is also the first birthday celebration of Barangaroo. Free to the public, this family-friendly event will include a range of entertainment and activities spread across the six-hectare headland Reserve from 10:00am to 3:00pm. There will be a Pop Up Nature Playground in the Cutaway, Roving music and theatre performances throughout the Reserve. Plus a delicious selection of food and beverages available to purchase. More details here.
Top Tips
Get there early…or late – we arrived before 10am and by the time we left 2 hours later, the area was getting crowded. While there were visitors grouped around the sculptures, there was still plenty of space to roam freely.
Bring wheels and dogs – Barangaroo is completely wheels accessible so bring along your bikes, scooters and pram. Dogs on a leash are also welcome.
Bring Hats – There is very little shade in the reserve (the trees are still growing) so bring with your hats. Pop-up tents are also permitted.