The Best Milkshakes In Melbourne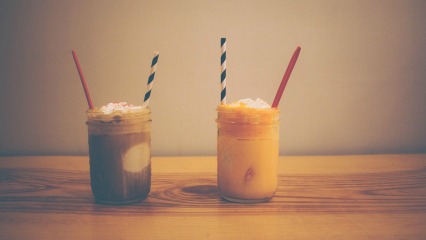 By: Phoebe Ackland, ellaslist
These are guaranteed to bring all the boys to the yard! Decadent milkshakes make for happy tummies and epic Instagram feeds. Get your straws ready for mountains of whipped cream, Nutella simply oozing over the top of tall glasses and plenty of crushed Oreos… these are our top picks for the best milkshakes in Melbourne.
1. Koffee Bar, Ferntree Gully

These are some monster milkshakes, and are served with the lot…and then some! Menu faves include the Kookies n Kreme (sometimes topped with a Krispy Kreme donut!), the mudslide monster (oozing with Nutella and crushed Tim Tams), the Mr. PB (Chocolate, peanut butter and pretzels), the Cadbury Creme Egg'd (an Easter-time menu special), Valentine (Nutella and red-velvet Valentine's Day menu special), the Beehive (English toffee and honeycomb), the Blonde Bombshell (vanilla flavoured), Rocky (rocky road with marshmallows), and their signature Incredible Hulk (peppermint fudge).
2. Muharam Café, Hawthorn
The whole menu here is pretty freakin' incredible and totally Insta-worthy, but their milkshakes are a definite highlight. There is a Golden Gaytime shake with an ice cream cone sticking out of the top, a pink passionfruit shake just perfect for a Summer's day, the Miloteaser for chocolate lovers, the candyshake that is literally bursting with lollies all the colours of the rainbow, and SO many more. Seriously, these "freakshakes" are ridiculous- check out their Instagram.
3. Shop Ramen, Fitzroy
People usually associate milkshakes with American style diners, dessert bars and cafes- but Shop Ramen is totally changing that perception. Think a milkshake paired with a bowl of noodles sounds like a terrible combination? Think again! Their choc malt shake, Whisky and Umeshu shake, salted caramel + coconut shake and vegan mango + coconut shake will have you thinking about Asian food in an entirely new way.
4. Grand Trailer Park,
CBD
The Grand Trailer Park Taverna offers the perfect never-fail combo: burgers and shakes. They have classic, simple shakes for just $8.50 with flavours including banana, blue heaven, chocolate and vanilla, and more extravagant selections that you can opt to have with a shot of alcohol! Their salted caramel and maple bacon (yep, you read that right!) shake has the option for a tipple of bourbon, the Kinder Surprise can come with a shot of Frangelico, the Rocky Road has brownie in it and Goji Liqueur and Vodka can be added, and the Reece's shake is a peanut butter delight that can be livened up with a splash of Captain Morgan's spiced rum.
5. Diner At Trunk,
CBD
Sometimes 'freakshakes' can be a little overwhelming for little tummies and taste buds- if that's a concern of yours, opt for a smoother and more classic milkshake at Trunk Diner. Their Golden Gaytime shake is smooth and creamy with a hint of caramel, they serve a chocolatey Tim Tam Slam, and the pink Liquid Lamington Cherry Poppins is simply picture-perfect. Oh, and they can all have alcohol added which makes things a little bit more merry for parents. This American style diner is a sure-fire hit with families.
These milkshakes are extreme and are literally piled high out the top of the glass with delectable treats. Flavours include blue heaven & lemon tart, strawberry & banana bread, Nutella fudgey brownie, Caramel popcorn and oreo, wild berry & white chocolate cheesecake, and butterscotch, choc chip cookie & lamington. Johnny Pump followed the lead of the 'freakshake' trend that first overtook Canberra, and we have to say, they're giving old Canberra a run for her money.