The Best Food Trucks in Melbourne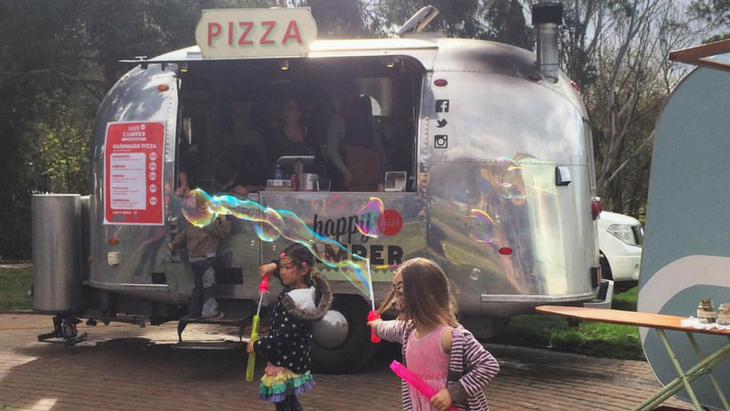 by Claire Halliday, ellas list
A few short years ago, Melbourne's food truck scene was very small. Now? On any given weekend, you might spot 80 food trucks parked at various locations.
Choice is a wonderful thing. Kids can be fussy eaters but with this list of Melbourne's best food trucks for kids, they'll find something they'll love – and you will too.
1. Happy Camper Pizza
As well as catering for festivals, weddings, birthdays, business functions and any type of celebration you can imagine, happy Camper Pizza is also one of Melbourne's hottest food truck choices?
Why? The slick, sleek look of it all makes an impact – it's a restored and refurbished vintage Airstream caravan that was imported from the USA and decked out especially.
They are regulars at the Welcome to Thornbury food truck-fest and can also be found in the Yarraville Gardens.
Kids will love the sweet choice of the Nutella Pizza. It comes complete with a generous smattering of M&Ms and icing sugar.
But first, for the main course…
There are all kinds of gourmet delightfulness served up, depending on the season, but some favourites are Camp Kids (a classic favourite of tomato, mozzarella, ham and pineapple).
If they are a bit more adventurous, get them trying Into The Woods, with mozzarella, fresh mushroom, artichokes and olive oil topping off the tomato base.
Parents with a taste for hot things might love the Playing With Fire that comes with tomato, mozzarella, hot salami, red onion and olives.
If you book them for a function, they can also happily cater for gluten-free, dairy-free and vegan, with a full vegan menu available.
There's a good back story too – the owners are pursuing this business after a career change each and they are living the Airstream food truck lifestyle with three children in the mix.
What You Need To Know
Phone: 0420 633 495
More information: visit the website – www.happycamperpizza.com.au
2. Gorilla Grill
Burgers. Barbecue ribs. Even Kimchi fries.
Food truck eating is typically eclectic and this cool grill joint is no different. Except that it is different.
You can get the food truck feel with the same menu at this permanent version of Gorilla Grill and keep your eyes open for the mobile version making its way across Melbourne.
It's American/Asian inspiration – straight to your tastebuds with urban style.
What You Need To Know
Phone: 9317 0810
Address:
36 Edgewater Blvd, Maribyrnong (although the truck gets on the road for events and festivals and private bookings)
More information: visit the website – www.gorillagrill.com.au
3. La Revolucion
Fresh Latin food that roams the streets of Melbourne.
How convenient!
Things like street-style corn on the cob make an appearance when the season suits but there are some menu staples.
When it comes to feeding your kids, the massive Argentinean Gourmet Dogs (a 10-inch skinless frank nestled in Artisan-baked bread with a combo of toppings) will feed more than just one little one affordably.
More adult tastes might prefer the
Churrasco Steaks (tender Scotch fillet steak, with tomato, lettuce, mayo, and Chimichurri, on a ciabatta roll).
Then there are tacos – of course!
Make sure you go mild for the sauces. Little mouths usually have a low-resistance to heat.
What You Need To Know
Phone: 0424 641 704
More information: visit the website – www.larevolucion.com.au
4. Fancy Hanks
If you're looking for catering for a special occasion teenage party, you can book the Fancy Hanks food truck to come right to your door. It's perfect for an at-home 16th or 18th – and they can even do vegetarian and gluten-free too.
In between the functions and event it attends right across Melbourne, you might have the pleasure of sampling its wares at one of the many food truck-friendly our fair city is home to.
But if you want to know more, you can taste the good stuff at a permanent location too – right in the heart of the city.
The menu includes various smoked meats, with a range of sides that stretch from Kentucky-style coleslaw to potato salad with Carolina Gold dressing – just like Momma used to make.
What You Need To Know
Phone: 1300 274 753
Address:
Level 1, 79 Bourke Street, Melbourne
More information: visit the website – www.fancyhanks.com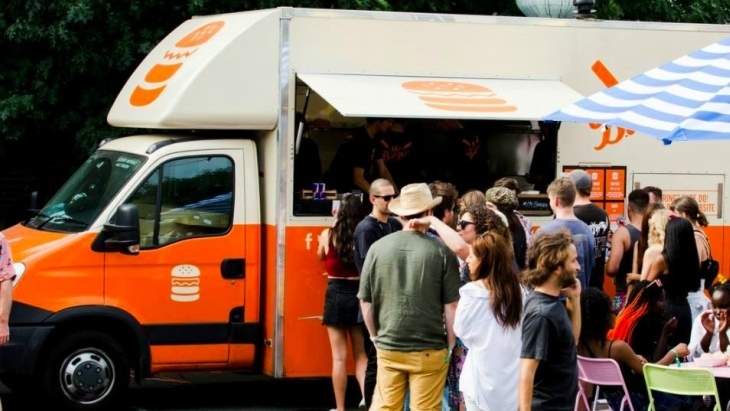 5. Mr Burger
If you're a regular visitor to Federation Square with your kids, you might have already tasted the juicy morsels on offer at this groovy food truck.
Like most enterprising food truck owners, this one not only gets around to festivals and street parties, it's also available for bookings for private parties – a great idea for that family gathering when you want to make a splash but not put in the effort.
And when you and the kids can't wait?
The 'Find A Burger' function on their website shows you exactly where your nearest Mr Burger truck might be so you can take the kids in person to try an easy dinner out.
The truck is also a regular at Yarraville Gardens, as well as the food truck haven, Welcome To Thornbury.
What You Need To Know
Address:
Welcome to Thornbury – 520 High Street, Northcote
Yarraville Gardens, Yarraville
PLUS permanent locations listed on the website (with details of menu and opening hours) at Chapel Street, Brunswick Street and Melbourne Central.
More information: visit the website – www.mrburger.com.au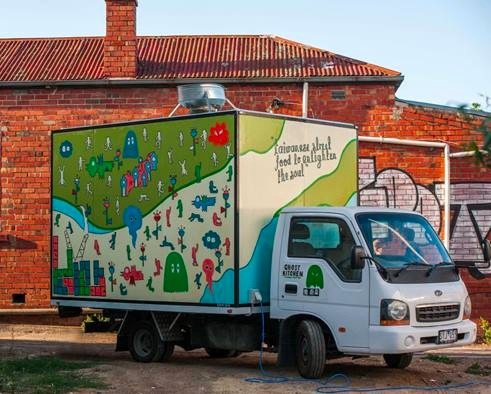 6. Ghost Kitchen
In 2016, Time Out nominated this truck as Melbourne's Best and to find out where you can catch the flavours of this mobile Taiwanese street food place, they are easy to follow on Facebook.
For the kids, try the salt and pepper popcorn chicken, or perhaps the vegetarian dumplings. There is also sausage on a stick (but the sauce might be too spicy) and sweet potato chips when you need your children to eat their vegetables.
What You Need To Know
www.facebook.com/GhostKitchenTaiwaneseStreetFood lets you keep up with the latest food truck location.
They also do catering for private parties and functions for a birthday party with a street food edge.
More information: visit the website – www.ghostkitchen.com.au