The Best All Day Kid-Friendly Breakfasts in Sydney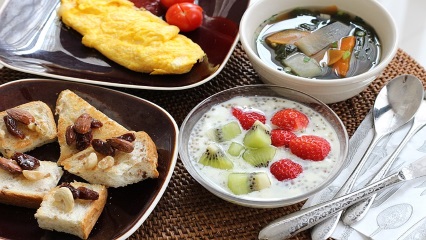 By: Serina Hajje, ellaslist
Sometimes you just want a good brekkie meal for lunch and dinner. But not every cafe obliges, especially those that are kid-friendly too. But we've found a few of our favourite family spots that offer breakfast all day.
1. Deli in the Park (East Lindfield)
Deli in the Park is one of North Shore's best-kept secrets. Perfectly located between two playgrounds in East Lindfield, this cafe prides itself on excellent coffee and delicious, freshly prepared dishes like their 'Zucchini, roasted pumpkin & ricotta fritters' with bacon or salmon, on baby spinach topped with spicy corn salsa or their 'Heirloom tomatoes on sourdough' with bocconcini, poached eggs & basil pesto. The cafe is open 7am to 3pm weekdays (breakfast served until 11.45am) and 7am-2.30pm on weekends (breakfast served all day). A perfect brunch winner for the whole family.

2. Pancakes on the Rocks (The Rocks)
Pancakes on the Rocks offers the best pancakes in town from its amazing CBD harbourside location. The kids' menu with its with smiley-faced and butterfly-shaped pancakes is bound to make them grin. Let them try the 'Ned Kelly' – a buttermilk pancake with scrambled egg and bacon or 'Crazy Potato' – a potato and onion pancake topped with melted cheese and tomato sauce. The atmosphere is relaxed and most definitely welcoming for families. Breakfast is served 24 hours a day, 7 days a week!

3. The Boatshed Cafe & Bar (Narrabeen)
With floor to ceiling glass walls and a large sun terrace, The Boatshed Cafe & Bar, in Sydney's Northern Beaches, offers amazing views of the Narrabeen Lake both inside and out. Breakfasts are hearty with plenty of veggie options including their 'Vegetarian Breakfast' with poached eggs, mushrooms, roast tomato, avocado, spinach, tomato relish, quinoa vegetable fritter & toasted quinoa & soy sourdough. For little appetites there's also a kids' menu. Breakfast is served daily 8am to 11.30am with an All-Day Breakfast menu served Monday to Friday 12pm to 3pm; Saturday & Sunday 12pm to 4pm.
4. Marcelle (Potts Point)
Marcelle is set right across the beautiful fountain and is at the heart of Potts Point. Enjoy a wide range of healthy options, with gluten free options! If you have a sweet tooth then choose from their selection of delicious cakes, slices, biscuits, pastries, muffins and scrolls. The menu is seasonal and includes the green brekkie bowl with salmon & egg and maple-roasted pumpkin salad with feta, rocket & pomegranate. Coffee and tea enthusiasts will enjoy the best Potts Point has to offer with organic options. Breakfast is served Monday to Friday 7am – 3.30pm and Saturday to Sunday 8am -3.30pm.

5. West Juliett (Marrickville)
West Juliett is all about fresh food made by their own hands. With vegetarian and gluten-free options dotting the menu, and a small kids' menu, you'll enjoy an excellent meal here. Open Monday to Saturday 7am – 4pm.

6. Piccolo's Cafe (Rozelle)
Piccolo's Cafe is always bursting with foodies and it's easy to understand why when you take just a glance at their menu. It starts simply with eggs cooked to your liking, and then you'll find dashes of foreign spices and cuisines. There's also a kid's menu: bacon and egg, cheese toast and a milkshake. There are plenty of vegetarian options and you'll always find them adding new dishes for you to try. Piccolo's is known for a great community vibe and a fast service that guarantees it to be a family favourite. Open Monday to Friday 6am – 4pm and Saturday to Sunday 7am – 4pm.

7. St. Jude (Redfern)
People come in for St Jude's quirky and unique decor but stay for its excellent coffee and tasty menu options. Try out their specialty teas and beverages: Moroccan mint, Lemongrass, St Jude ginger beer and more! Their breakfast menu is just as scrumptious, starting off with a simple toasted banana and berry toast and ending with pumpkin and sweet corn fritters, with poached egg, hollandaise and a spinach and tomato salsa. Open Monday to Sunday 7am – 3pm.

8. Brewtown Newtown (Newtown)
Brewtown Newtown is famous for their cronuts and coffee. Not even the strictest dieter can resist. Their bakery is stocked full of mouth watering treats but their breakfast menu is well balanced with healthy options! Enjoy an almond & pistachio gazpacho with heirloom carrots, roast cauliflower, sauteed kale, poached eggs & sourdough toast. They're also known for combining strange ingredients and making them into an amazing dish! Why choose between a sweet and savoury brekkie when you can try Belgian Waffles with bacon? Open Monday to Sunday 8am – 4pm.

9. Three Williams (Redfern)
Three Williams can get a bit crowded but it's popular for a reason. One of their most famous dishes is the brioche french toast with fresh berries, yoghurt, roasted pecans and maple syrup! It's a large space with plenty of room for prams and high chairs, and they've set up a giant chalkboard wall that will keep kids distracted and entertained until the food arrives. Open Monday to Sunday 7am – 4pm.

10. Big Treehouse (Rydalmere)
The name promises a child friendly experience and it delivers! The Big Treehouse offers indoor seating and an outdoor area beside a huge magnolia tree. They're known for their sweet breakfast options – the french toast and crepes are very popular – but you can also sink your teeth into some healthy meals like the oven baked granola with roasted nuts, vanilla yoghurt & fresh seasonal fruits. Open Wednesday to Monday 8am – 4pm.