The Beach At Barangaroo- What You Should Know Before You Go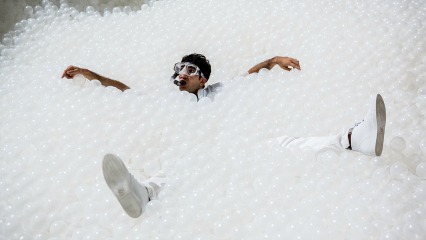 By: Phoebe Ackland, ellaslist
The internet is going pretty nuts for Sydney Festival's FREE opening exhibition- The Beach at Barangaroo, where you can swim in a ball pit of over a million recyclable polyethylene balls.

What Is It?
A quintessential Aussie experience- swimming at the beach- has been re-imagined by
Snarkitecture,
a New York-based art and architecture collaborative practice. The shoreline of the 'beach' will reach
60m in length,
where you can submerge yourself, literally, in art. Relax from a deck chair with the peace of mind that comes with knowing your kids are enjoying a swim free from the risk of shark attacks, and that your car won't become a sand box once the day is over. There are
3 ways
you can gain access to this awesome experience:



FREE

access from 10am-5pm


All-ages ticket session at 9am or 5:30pm on various days (see end of article for more details) if you're keen to avoid the lines and guarantee your spot


Go at night without the kids- 18+ only sessions for 90 minutes on selected Friday and Saturday evenings
The unexpected colour scheme, textures and overall design of this 'beach' are sure to surprise and delight families.



It's Not The First Time
According to Concrete Playground, Barangaroo isn't the first place in the world that this beach with a twist has made an appearance. Back in 2015, The Beach hit the foyer of Washington DC's National Building Museum. Back then, swimmers were only granted around 750,000 balls to swim in, whereas that number has been upped to 1.1 million for Sydney Festival.
[caption id="attachment_116232" align="aligncenter" width="654"]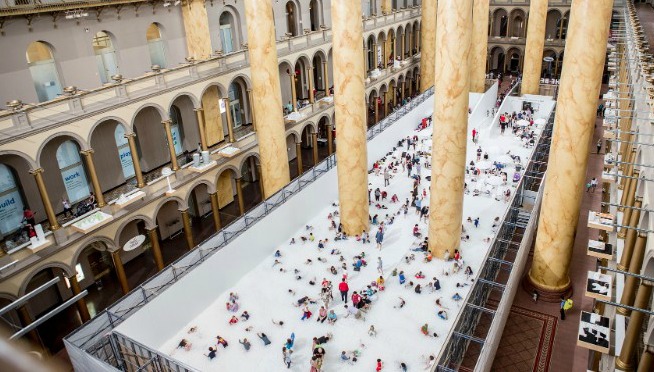 Source: CNN[/caption]

What To Expect
You'll be ushered down a long white corridor by lifesavers wearing monochrome who will ask you to take your shoes off. Once you see the ball pit, grab an inflatable toy, if that's your thing- or just jump straight in. No need to test the temperature with your toe first! If you are a spectator, slide onto a white deck chair and watch over your kids as they have fun in the safest swimming scenario we can imagine. Suggested stay is about 30 minutes but nobody kicked us out and an hour was more than long enough. You'll be sharing the beach with up to 350 other 'swimmers'.
It's Harder Than You Think
According to Timeout, swimming in plastic balls is apparently even harder than swimming in water! Snarkitecture's Benjamin Porto and Alex Mustonen graced the opening day of The Beach on 7 January, and the pair told Timeout: "It's not as easy as moving through water….It's more comfortable to sit in it than a lot of people think, but getting out is way harder than you think." Prepare for a workout! Since bikinis aren't necessary, may we suggest athleisure?



Beware The Lines
Although free access to the public is awesome, we have heard some horror stories of families waiting in line for 2 hours, not able to wait any longer and walking away disappointed. We suggest to either expect a huge wait and take another adult with you so you can take turns manning your spot in line whilst keeping kids occupied elsewhere, or even better, purchasing the $15 all ages ticket (see details below) so that you can go straight in.
Also remember that food is not allowed to be eaten inside but don't forget bottles of water – it gets hot in there.
The Beach will be here until 29 January- so don't miss out! Book tickets here. 
What You Need To Know
WHERE
The Cutaway at Barangaroo Reserve, Hickson Road Entrance
WHEN
Free Entry: 7–8, 10–15, 17–22, 24–29 JANUARY FROM 10AM–5PM
Tuesday – Sunday; closed Mondays
LAST ADMISSION FOR FREE ENTRY AT 3.30PM
ALL AGES TICKETED SESSIONS:
7–8, 10–15, 17–22, 24–29 JANUARY AT 9AM-10AM
17, 18, 22, 24-26 JANUARY AT 5.30PM-6.30PM
18+ ONLY TICKETED SESSIONS:
13, 14, 20, 21, 27 & 28 JANUARY AT 6.30PM–8PM & 8.30PM–10PM
FRI & SAT
PRICES
All ages ticket sessions: 9AM-10AM & 5.30PM-6.30PM: $15 + booking fee
18+ Only ticket sessions: 6.30PM-8PM & 8.30PM-10PM: $15 + booking fee
DURATION
Suggested duration: 30 MINS. All ages ticketed sessions: 60 MINS. 18+ only sessions: 90 MINS
Fresh out of school holiday inspiration? You need the ellaslist Guide to Summer! Get your FREE digital copy here now.