Super-Rad Fun Times at Archie Brothers Cirque Electriq in Melbourne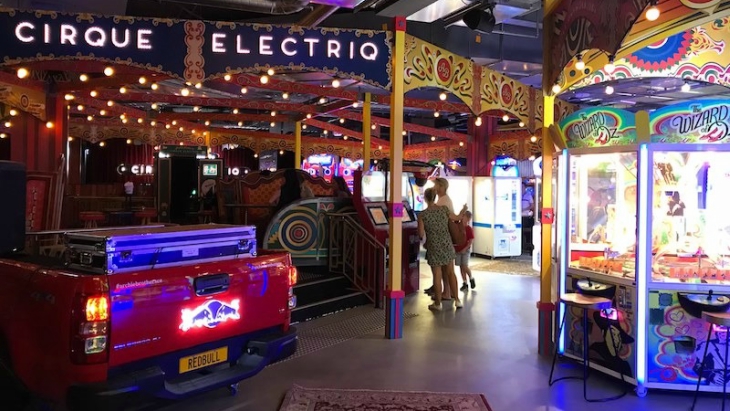 The circus has come to District Docklands, but it's unlike any circus we're betting you've ever seen before!
While not being your average circus, they bill themselves as "not your average arcade" either, and it's no lie - this one-stop entertainment destination is bursting with six bowling lanes, 67 arcade and ticket games, a state-of-the-art XD Theatre, and everyone's favourite bumper cars, ensuring that you will have anything but an average time!
For the grown ups, they throw this kid-like wonderland right in with a full-service cocktail bar, gourmet kitchen, and function spaces so everyone's covered for maximum fun.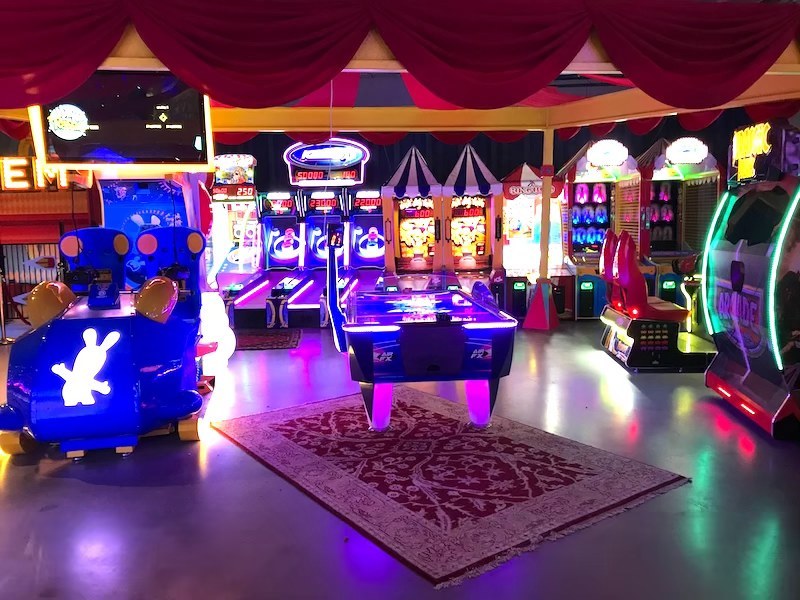 We went for a visit not long ago to see what all the fuss was about, and had the absolute afternoon of our lives! There was even a Zoltar machine which gave us real Big movie flashbacks and made us want the mechanical man with a robot voice to tell us our fortunes basically before we did anything else. But Cirque Electriq had other plans...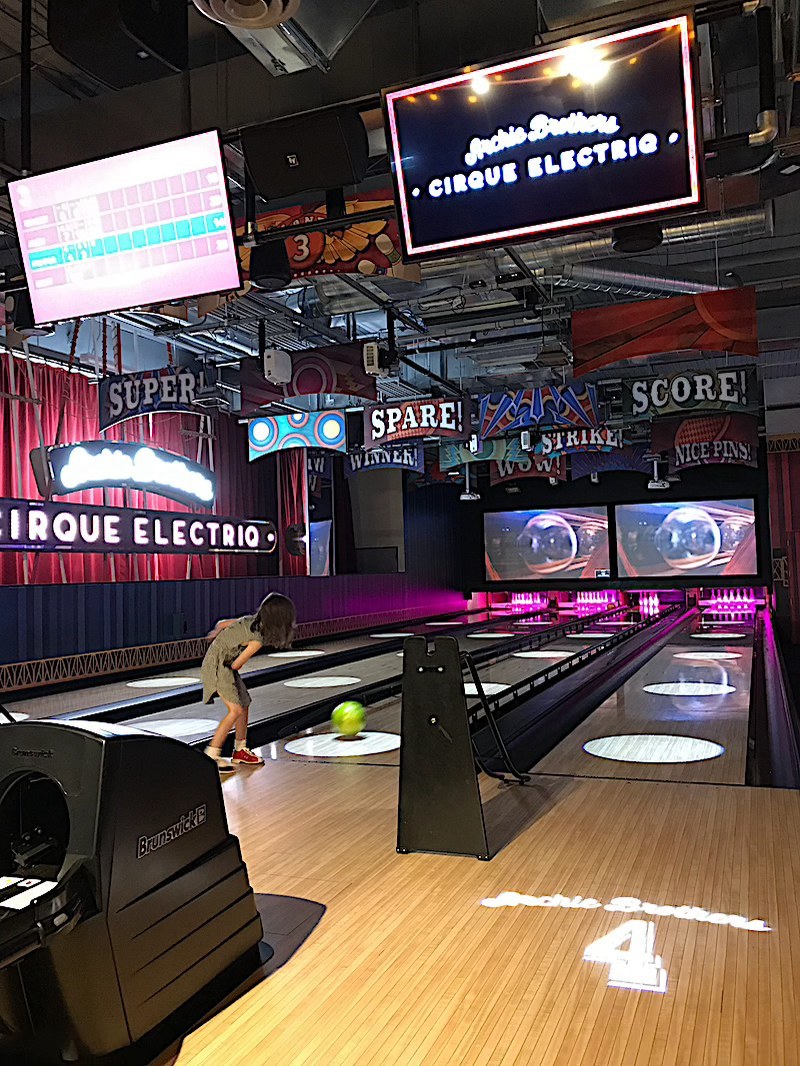 Strike it Lucky
Ten Pin Bowling was actually our first stop - lane three - where dad dominated and the kids wiped the floor with me (thanks very much, bumper bowling!). Also fantastic was the fact that you chould choose which player required the bumpers, and they would automatically raise for that person, and lower for everyone else. No more hoisting them up yourself!
We had the lanes to ourselves at about 1pm on a Saturday, but they very quickly filled up (as did the arcade games) not long after we'd finished.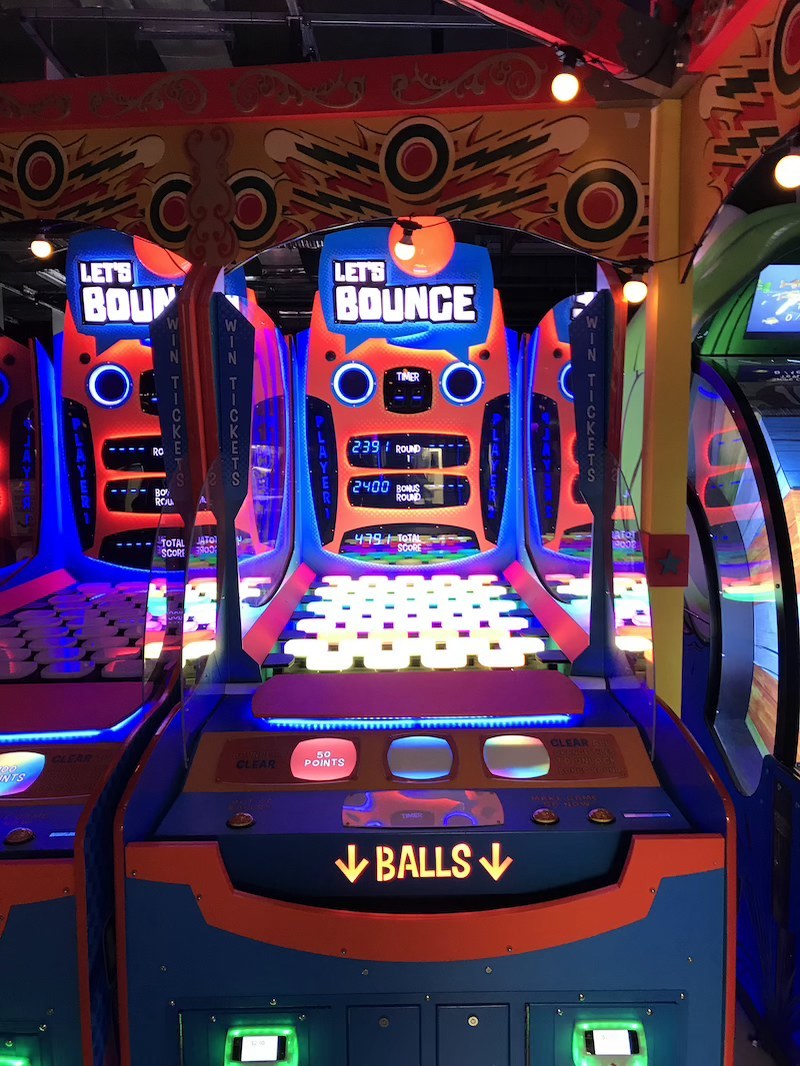 Fun for Young and Old
The only thing wrong with having 67 arcade games all in one place was which one to start with... not to mention the exceptionally fun virtual reality rides (including a 3D Cinema style), and bumper cars (which, sadly we didn't have time for).
The little kids of the bunch, aged 6 and 7, loved everything from the ping-pong toss to the water-squirt guns, the Daytona drives and the whack-a-mole style games; while the adults were fully into the throwback asteroids, the Alien shoot-em-ups, and the bean bag throws.
Hands down though, everyone's favourite were the virtual-reality based activities, which had us both screaming and crying with laughter and several repeated turns! I can't tell you how many times I grabbed the kid next to me as my eyes told us we were flinging down a massive hill when really our bodies had moved no more than two inches. It was hilarious.
I can see it could be a fantastic option for school holidays where there are several age groups in the family to cater for, or you're needing heaps of different attractions under the one roof (or are just looking for family fun times in general!). Archie Brothers Cirque Electriq have put together two awesome holiday packages perfect for smallfry who like to spend more time clowning around than sitting down. You can choose a package, pay a one-off price, and the kids can play the day away while you put your feet up, with no booking necessary. Find out more here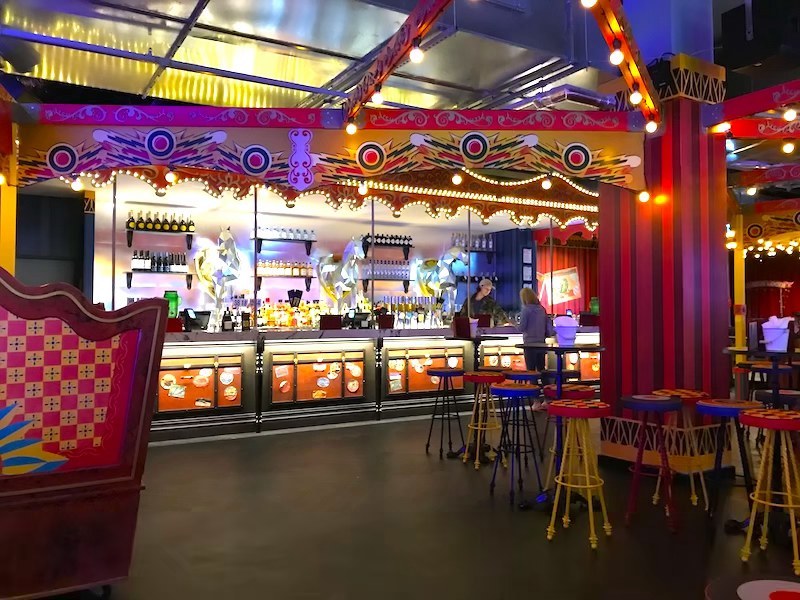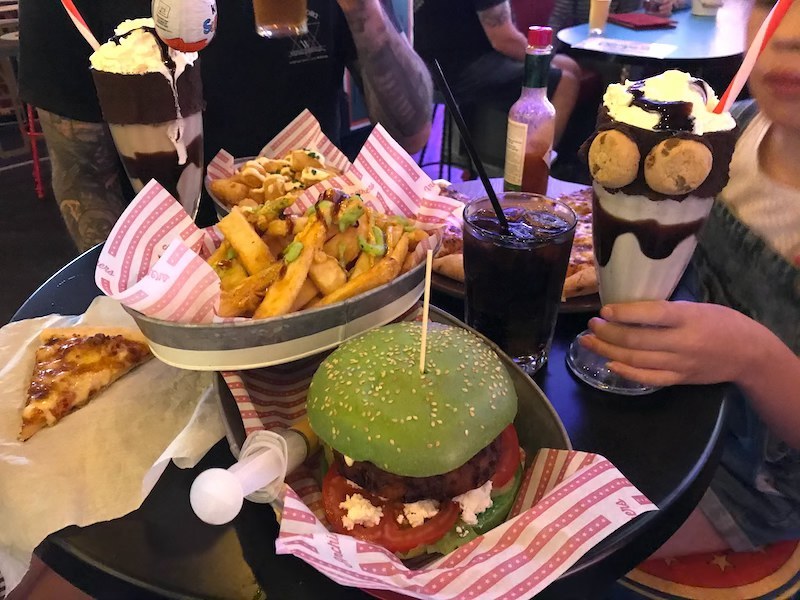 Eats and Drinks
As you'd expect from a place that goes all out, Cirque Electric levels up in the F&B department! Burgers of all types in green and pink buns, freakshakes with whole Kinder Surprises or giant rainbow lollipops perched on top, chips with three sauces (we're talking garlic aioli, smoky Texas BBQ and guacamole), layered pizzas, mocktails, cocktails, and a syringe of cheese sauce extra, ready to be shot into your fries, burgers (or heck, even your cocktail) should you need it (pro tip: you need it).
We went for the The Fairground burger (spinach, potato and broad bean patty; Danish feta, spiced sour cream, tomato, lettuce, crushed avocado and chilli aioli), the aforementioned saucy fries, the cannonballs (aka potato gems smothered in cheddar cheese dust and caramelised garlic aioli), a margarita pizza known as The Safety Net; and two shakes: the "Let's Get Ready To Crumble (chocolate frosted rim with crushed cookies, chocolate chip cookies with whipped cream, and a Wagon Wheel although we were minus the Wagon Wheel), and the "Nutty Surprise" (Chocolate frosted rim with crushed cookies, whipped cream, mini marshmallows, and a Kinder Surprise).
Yes, we were very full!
The Details
Prices: Entry is FREE. Bowling is $14/game Monday to Friday until 4pm, or $15/game on weekends until 4pm (After 4pm bowling is $16/game Sunday to Thursday, and $18/game Friday to Saturday). The Thrillrider virtual reality game is $8, a spin on the bumper cars is $4, and you can top up a card to play arcade games for $20, $50, $70 or $120 (which will get you $25, $65, $90, and $140 worth of game play, respectively).
Birthday parties: Kids parties start at $34pp, social parties and work parties available also.
Address: The District, 440 Docklands Drive, Docklands.
For more information, check out their website.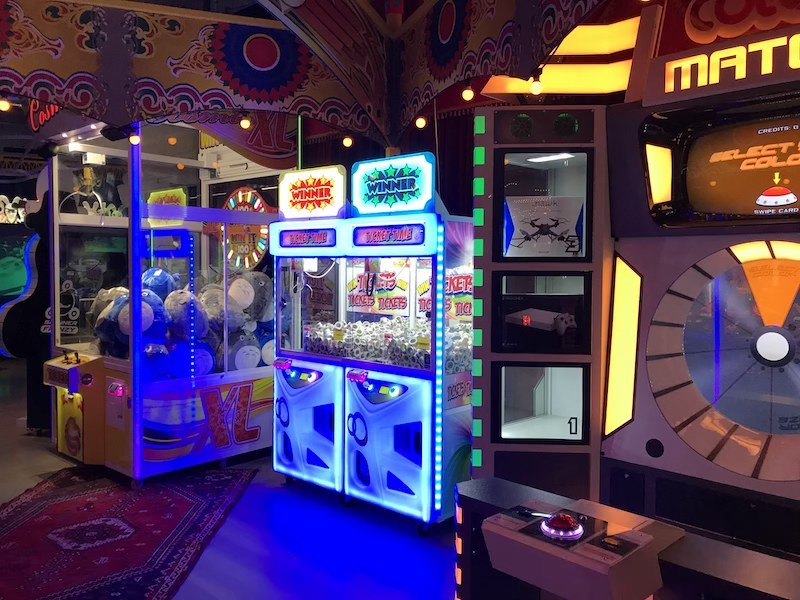 Want More Supersized Family Fun? Find it Here: