Splash-tastic! ellaslist Gets Soaked At The Epic Sydney Olympic Park Aquatic Centre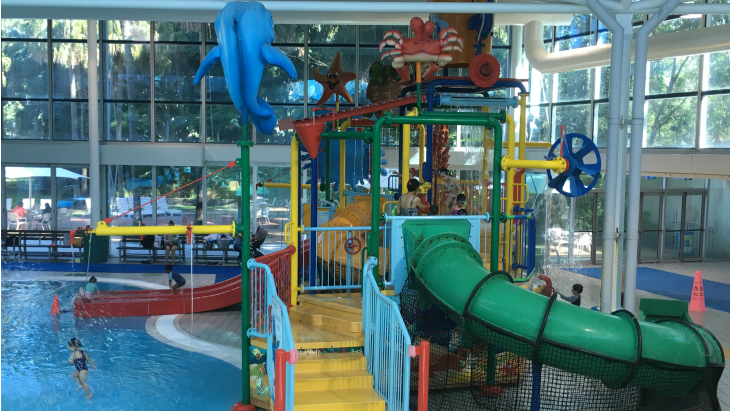 By: Amanda Lieber, ellaslist explorer
We love finding out about new places to explore, especially with an active and sometimes very loud, excitable 6-year-old. We were thrilled to experience the Sydney Olympic Park Aquatic Centre in Sydney Olympic Park: don't let the distance put you off, it was well worth our 45-minute drive to get there!
We were welcomed by friendly staff, who pointed us in the direction we needed to go and were happy to answer any questions I had.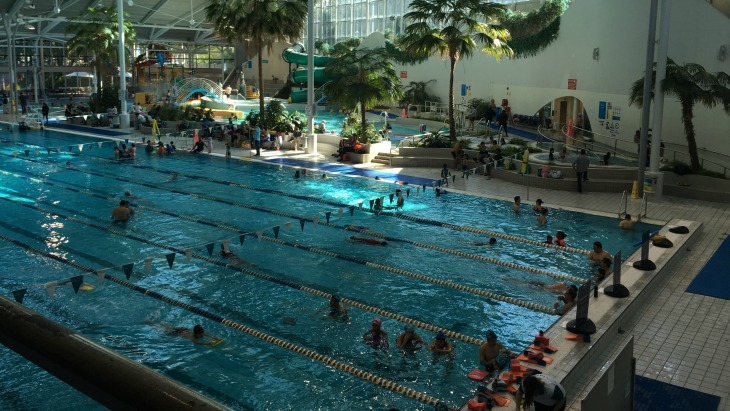 The Different Pools
All the pool areas are joined and merge together either by water or steps and bridges.
For babies and up: there is a flat low level water area with water spouts that leads into a shallow pool which gradually gets deeper to about 1 metre. There is also a water fountain and water spouts.
1-7 years: next to this is a fantastic play area which is brightly coloured and inviting for the young ones, it includes: steps, 3 slides, water fountains, a large bucket which tips water out every 15 minutes or so and water wheels.
1-90 years: there is a strong current pool which pulls you round an island. It is quite strong so parental supervision is needed at all times!
There is a large enclosed waterslide, you must be over 140cm tall and a confident swimmer.
There are some family spa pools which are lovely and warm.
16 years and older, you can use the sauna and steam room.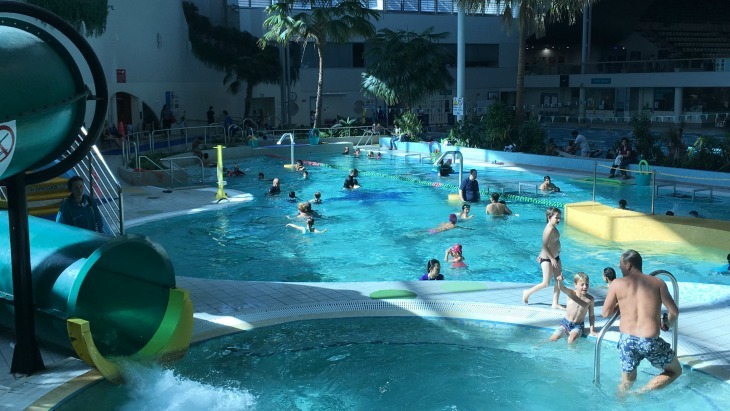 Dining At Cafe Aqua
Here you'll find all the usual suspects- fast, canteen-style food including chicken schnitzel burgers, hot dogs, beef pies, tempura fish, nuggets and chips, ranging in price from $5.10-$9.50. Healthy options include pre-made sandwiches and wraps for around $7.00. For vegetarians, there was fruit salad ($7.50), yoghurt or a falafel wrap. Dining at Cafe Aqua is super convenient, otherwise you can take a picnic and eat it outside if the weather is good.
The Best Bits
As we got there we could barely hold our excited 6-year-old back, he lurched into the play area with such exuberance, heading straight for the slides and fountains of water. He absolutely loved the current pool, I think we splashed around in it about 50 times. There is a lot of space and 4 different areas/pools for children and adults. You can share the larger pool if you want to practice laps. Our day truly was a lot of fun, a great place for the young ones to use up excess energy. All of us loved the spa pool, who doesn't love a good Jacuzzi?!
A highlight for me was the hilarious moment when I went down the water slide- apparently, everyone stopped to see who was squealing so much! The kids particularly adored the large bucket tipping over, there is a bell which sounds and everyone rushes to sit at the bottom of the bucket, which then tips a large amount of water over everyone. One thing is for sure: we will be back!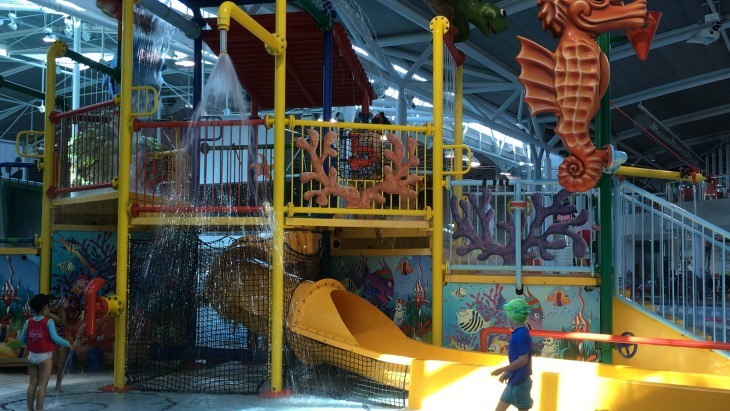 Top Tips
Plan your journey to avoid traffic on the way there!
Go as early as possible
Check opening hours as times differ Summer and Winter
The bathrooms and change rooms can get super busy, especially in school holiday periods! Our child got a bit chilly during the wait.
What You Need To Know
Where: Sydney Olympic Park Aquatic Centre, Olympic Blvd, Sydney Olympic Park
Cost: Adult- $8, Child (4-15rs)- $6, Family Pass- $27.50
Opening Hours: See their website for more.
Parking: There is a lot of parking available, the first 4 hours are free, take your ticket to the reception desk for them to validate it.
For more information, visit their website or call (02) 9714 7500.