Six of the Best Trampoline Centres in Melbourne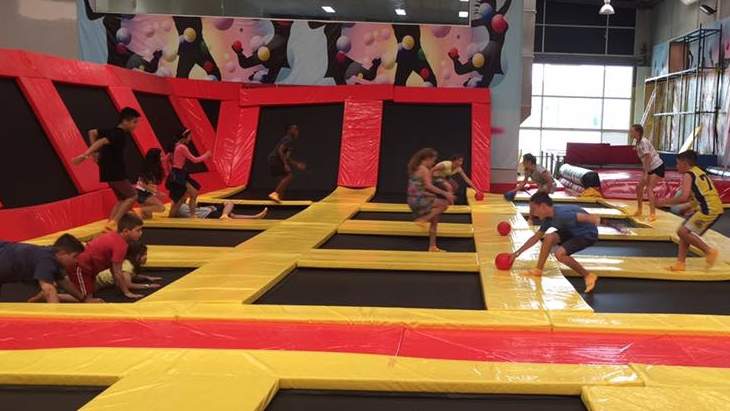 Did you know that trampoline jumping burns more energy than running? And did you know that trampoline play also improves strength, motor skills, flexibility and posture in kids? With so many screens in their lives, there's never been a better time to get the kids jumping. Here are six best trampoline centres in and around Melbourne – jump to it!
1. 79 Jump Street
With the latest jumping equipment and loads of games and activities for kids (ages three and above) to enjoy, this is an action-packed centre well worth a visit if you are in the west.
Features of 79 Jump Street include a super-fun 'Dodgeball Drive', and 'Basketball Boulevard', with two sports-grade hoops for kids of different skill levels.
'Free Jumping Junction' includes 40 trampolines, awesome tunes, and disco lights after 7pm. Party on, kids!
Where: 656 Somerville Rd, Sunshine West
Cost: $10 for ages three to five years, $15.50 for ages six and over. These prices are for one hour of jumping.
More info: see the website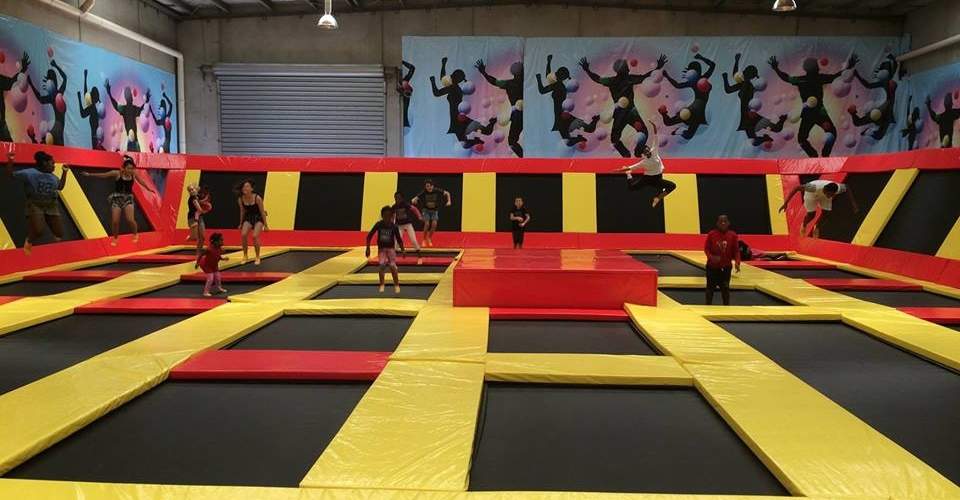 Source: 79 Jump Street Facebook Page
2. Xtreme Air Trampoline Park
This indoor trampoline park offers 60 interconnected trampolines for free jumping. There are also three dodgeball arenas, a slam dunk court, and a foam pit – for nice, soft landings.
Xtreme Air welcomes birthday parties and group bookings, and they also host 'Club Jump' on Friday and Saturday evenings, which includes jump and dance sessions for different ages with disco lights and a live DJ.
Where: 1 Fiveways Boulevard, Keysborough
Cost: General admission (evenings, weekends and school holidays) $19, midweek $15, Club Jump $25
More info: see the website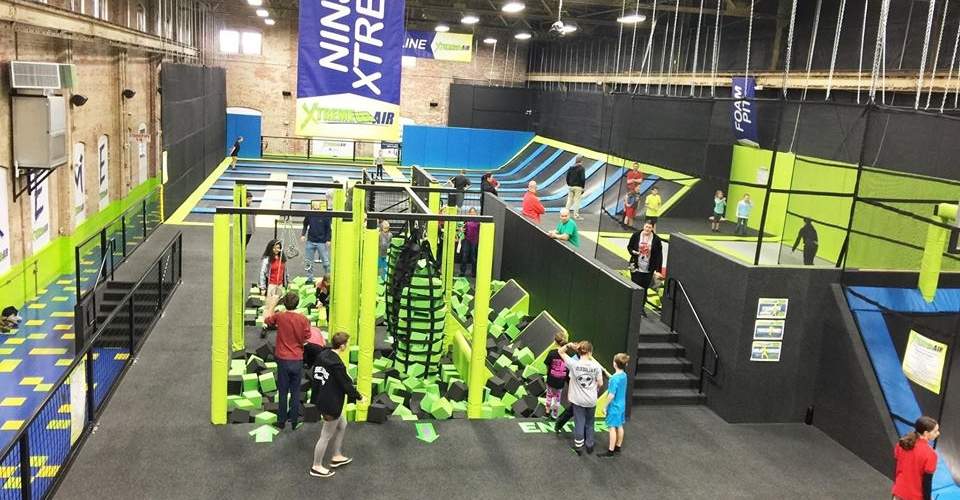 Source: Xtreme Air Facebook Page
3. Rush HQ
Rush HQ takes trampolining to new heights. Literally.
Each play area at Rush HQ is referred to as a world. In 'Jump 'n' Slam' it's all about jumping high enough to dunk that ball. There are four lanes allocated to basketball jumping, two for the big kids, and two for the littlies. 'Jump Factory' is concerned solely with walls – and whether kids can walk up them! And for younger kids there's 'Junior Jumpers', which is an action-packed arena of trampolines, inflatables and a foam pit. And for the competitive kiddies, they can always fire up a game of dodgeball.
The beauty of Rush HQ is that it's a full indoor adventure park, with loads of entertaining activities for kids to enjoy beyond the trampolines. These include the 'Mt Madness' climbing wall and 'The Gauntlet' obstacle course.
Where: 39 S Corporate Ave, Rowville
Cost: Weekdays: Over 110cm $12, under 110cm $8. Weekends and school holidays: over 110cm $18, under 110cm $12 (for a full day of jumping)
More info: see the website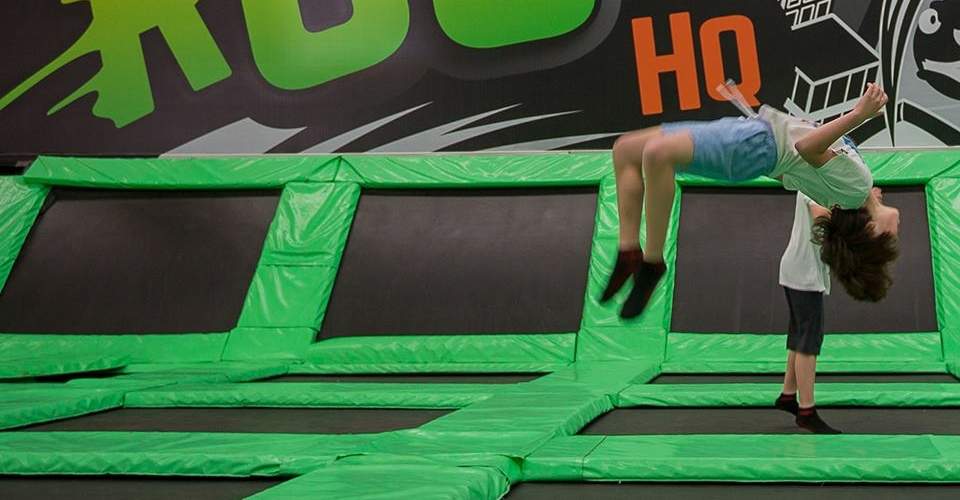 Source: Rush HQ Facebook Page
4. Latitude Air
Latitude Air is so much more than bouncing. At this indoor play centre an entire world of aerial entertainment is offered to kids – they can fly, bounce, and climb.
There are 100 interconnected trampolines for the serious bouncers among them, 180 metres of climbing walls to tackle (including a bungee platform) – and a dedicated kids zone for little ones as young as 18 months.
Where: 590 Waterdale Rd, Heidelberg West
Cost: General session $19, kids zone $10
More info: see the website
Source: Latitude Air Facebook Page
5. Three Sixty Trampoline Park
At Three Sixty Trampoline Park there are numerous options for active play – all of them bouncey.
Dodgeball gives the competitive kids a chance to knock out their opponents (literally!), wall running gives kids the opportunity to throw gravity out the window, the slam dunk arena will see them reach new heights to get that ball through the hoop – and then there's also a high performance zone, for BIG jumpers.
For younger kids, 'Mini Jump' has got all their bouncing needs covered, and parents can jump with them.
Where: 1103 Western Hwy, Ravenhall
Cost: General admission over 110cm $15, under 110 cm $10
More info: see the website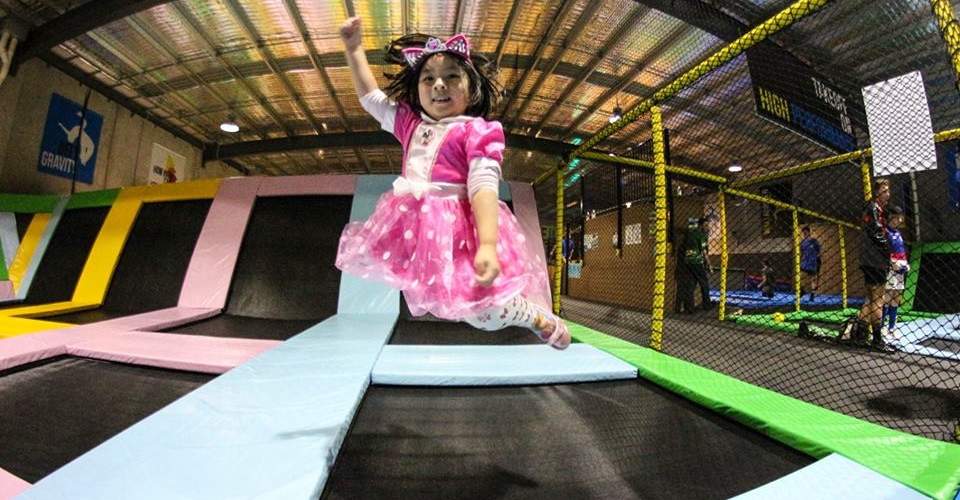 Source: Three Sixty Trampoline Park Facebook Page
6. Bounce Inc
Bounce Inc has an enormous trampoline area of over 100 interconnected surfaces. There are giant air bags for kids to hurl themselves into, a wall to walk up, there are plenty of balls available for dunking and dodgeball – and the free play area allows leisure jumpers to soar.
There is also 'Super Tramp' for extreme jumpers, 'X Park Adventure Challenge Course' for obstacles-a-plenty, and there is a tuckshop on site to satisfy the inevitable hunger jumping brings.
Bounce Inc also runs Kindergym for littlies aged three to five years. Contact the centre for information.
Where: Essendon Fields, Glen Iris and Blackburn North
Cost: contact your nearest centre for specific pricing.
More info: see the website
https://youtu.be/OUeJgJ5fHks