School Holiday Fun At Sydney Olympic Park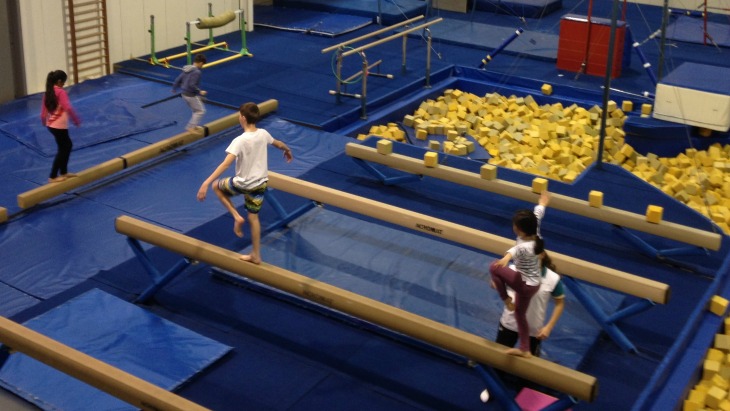 By: Postcards From, ellaslist explorer
Enrolling Now for the July school holidays. Between 1-17 July 2017, kids can have fun, make new friends, keep fit and learn new skills with netball, football, basketball and gym sports program. Visit their website for more information.
Where can you find a fun and unique sports programs for your kids these school holidays? The answer is Sydney Olympic Park Sports Centre. There is a vast range of activities on offer to keep the kids active and entertained, both indoors and outdoors, all featuring qualified instructors and the excellent facilities of Sydney Olympic Park.
My children, aged 10 and 12, and I spent an action-packed day at Sydney Olympic Park checking out three different activities on offer:
Gym Sports
Laser Tag
Kids on Target Archery
Here's What We Thought
Tumbling And Bouncing With Gym Sports
Gym Sports is a structured program run in the Gymnastics Centre of the Olympic Park Sports Centre. The class runs for two hours and is suitable for children aged from 5 – 12 years old. There were around 30 children in the class we attended but thankfully the group was split in to three smaller groups based on age, with an instructor leading each group.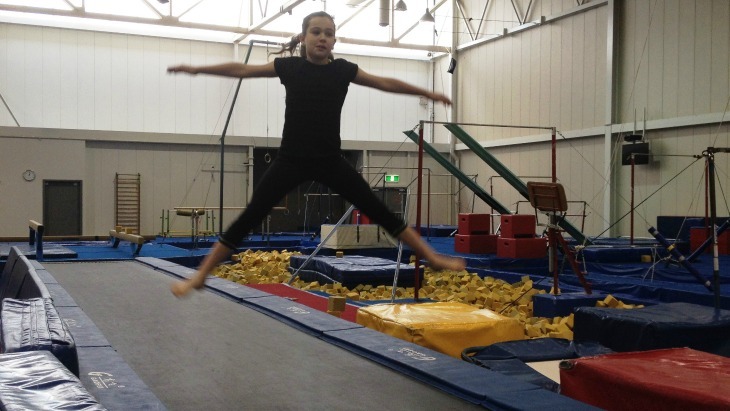 The class began with a fun game and some warm up and stretching exercises. The groups then rotated around the different activities and circuits. During the class every group got to try the trampolines, the massive foam pit, balance beams, parallel bars, mini trampolines, floor work and more.
Parents are welcome to stay and watch the entire class from a viewing area above the Gymnastics Centre and it is a great place to take some photos of your kids in action. You will also find the Legends Cafe here which serves coffee, cold drinks, snacks, sandwiches and hot food.
My daughter loves gymnastics and enjoyed trying some equipment she hasn't used before such as the bars and beams. My son became a little distracted towards the end of the class, so thank goodness for the foam pit and the trampolines – worth the wait!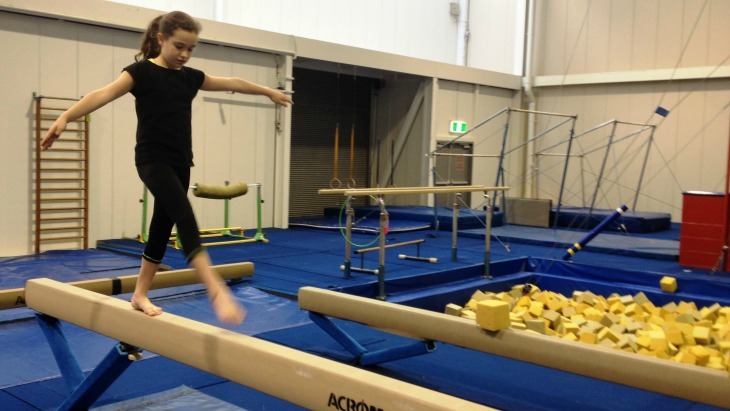 Having A Blast At Laser Tag
Our next activity was Laser Tag which was located just a short drive away at the Archery Centre. Entry is off Bennelong Parkway and there are free parking spots for two hours available at the front of the centre.
It is important to be aware that Laser Tag is held outdoors. The arena itself is quite small with a number of barriers and structures to hide behind and move around. The laser tag equipment includes a gun which is attached to a headband and includes cool sound effects.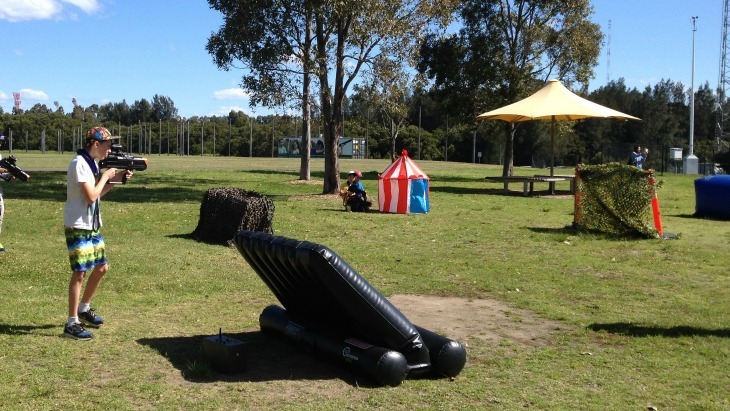 There were 10 children in our group and they were split into two teams – the Red team and the Blue Team. The aim of the game is to work with your teammates to defeat the opposing team in each battle. The session runs for one hour and in that time they played around 6 games with short drinks breaks in between each game. There is a supervising staff member who gives instructions for each game, helps with strategy and any technical issues with the equipment. For parents, there are some bench seats under shade umbrellas to sit and watch all the action from. My kids loved this activity and it was great to see them enjoying themselves outdoors and interacting with other kids.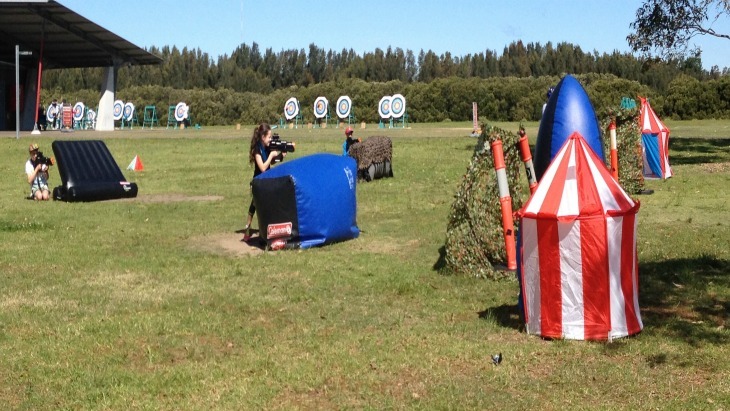 Taking Aim At Archery
Our final activity for the day was archery located at the same venue as Laser Tag. There are two school holiday programs on offer :
Little Archers program – for children aged 7 – 9 years
Kids on Target program- for ages 10 – adult
In the Kids On Target program there were around 10 people in the group. There was a qualified instructor supervising for the whole session which started with safety instructions and information on how to load, stand and shoot the bow. For each round each participant had three arrows to use to try to hit the target. Once everyone had finished the round they were given the all clear to collect the arrows.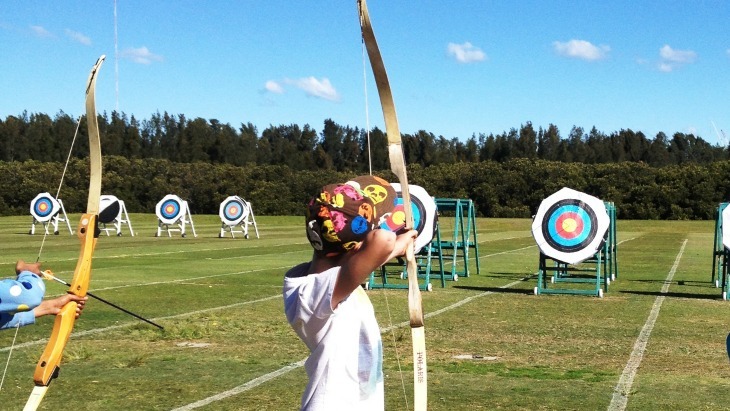 Safety is of great importance at this activity and the instructors were quite strict about it in order to maintain a safe environment. Young children who are not participating do need to be supervised at this activity. The class runs for one hour during which time the kids had the opportunity to get used to using the equipment and get the hang of hitting the target.
Towards the end of the session there are a few rounds where a balloon is placed on the target for them to hit. One young girl in our group showed great skill in managing to shoot the balloon twice. They also play a few rounds where they add up their scores.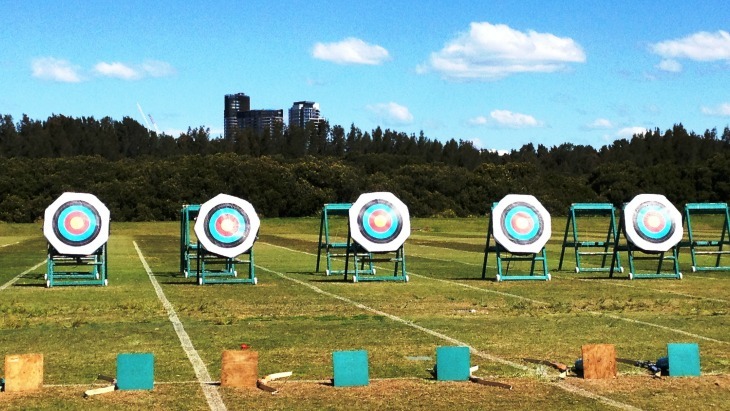 My kids enjoyed the challenge of this activity, never having done archery before. My daughter found it quite difficult as she needed a bit more strength in her arms to handle the bow properly.
For parents there are seats to watch from in the shade, however, the only food and drinks at this venue are from vending machines.
The Children's Highlights
Ally (10): Laser Tag was my favourite activity because you get to run around outside and play lots of games. The most exciting activity was gymnastics because trying the bars, beams and foam pit was awesome. The most challenging activity was archery because it takes time to get used to the equipment and it's hard to hit the target.
Tom (12): Laser Tag was my favourite because it was great fun to play and it's exciting when you defeat the other team. The most boring activity for me was gymnastics, apart from the trampolines and foam pit. Archery was the most challenging activity because it is so complex but rewarding when you hit the target.
Mum's Highlights: All of the activities were well organised and supervised. They began and finished on time which is important when you are running to a schedule. I found parking was easy in the spots designated for each activity. There are plenty of free two-hour parking spaces available around Olympic Park which are suitable for any of these activities. I loved that my children got to try some things they wouldn't normally get to do, such as archery and some of the gym equipment.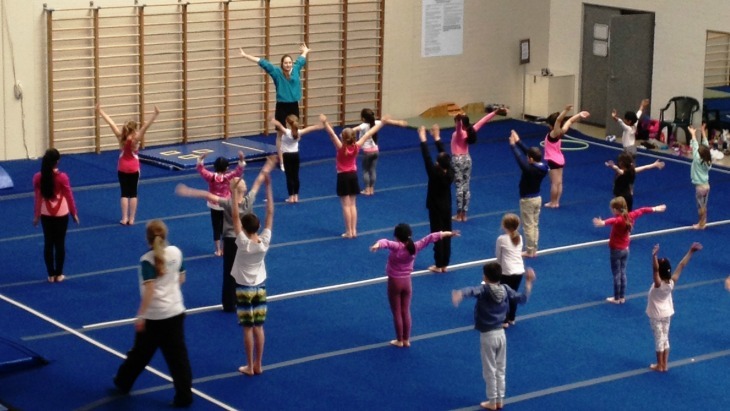 Top Tips When Visiting Sydney Olympic Park
If you're not familiar with Sydney Olympic Park you can print a map from the website before you go so you know where all the different venues are and how to get from one site to another.
Take hats, sunscreen, and water if you are planning on being outdoors.
There are numerous cafes, restaurants and food outlets within Sydney Olympic Park. You can find a list of them here.
For Archery and Laser Tag you are required to wear closed-toe shoes.
Our day at Sydney Olympic Park was action-packed and enjoyable with lots of new experiences and new skills learned. It was easy to get around and as the venues are close together it is possible to enjoy a few different activities on the one day. It is definitely the perfect place to find some awesome school holiday fun.
Book A Holiday Program Or Party At Sydney Olympic Park
Book your child into an awesome school holiday activity or you could even host their birthday party at Sydney Olympic Park Sports Centre or Sydney Olympic Park Archery Centre.
Hi!, I'm Shayne and I write under the name Postcards From. I am from Sydney and I love discovering unique, interesting and fun destinations and activities in my own back yard and beyond.
I also enjoy sharing my experiences with family, friends and strangers by writing about them. I have a primary school aged son and daughter who often get dragged along on adventures with me.
I love reading, learning about history, watching a good movie and going on holidays with my family. If you would like to read more of my "postcards" you can follow my adventures on Facebook.