Santaland Is Our Pick Of Family Friendly Christmas Fun
Family
Kids
Todders
Preschoolers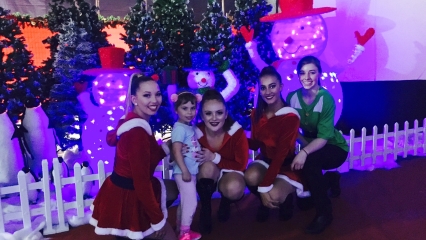 By: Lisa Wolff, ellaslist
Oh jingle bells! Santaland has landed in Sydney and if there is one thing you should do this festive season, it's to get you and the kids over to this magical world.
I had no idea what to expect from Santaland – its home is in the Entertainment Quarter in Moore Park with plenty of 2-hour free parking. I must admit, I've been disappointed by one too many poorly organised, cheapy fairground carnivals so I had my expectations in check.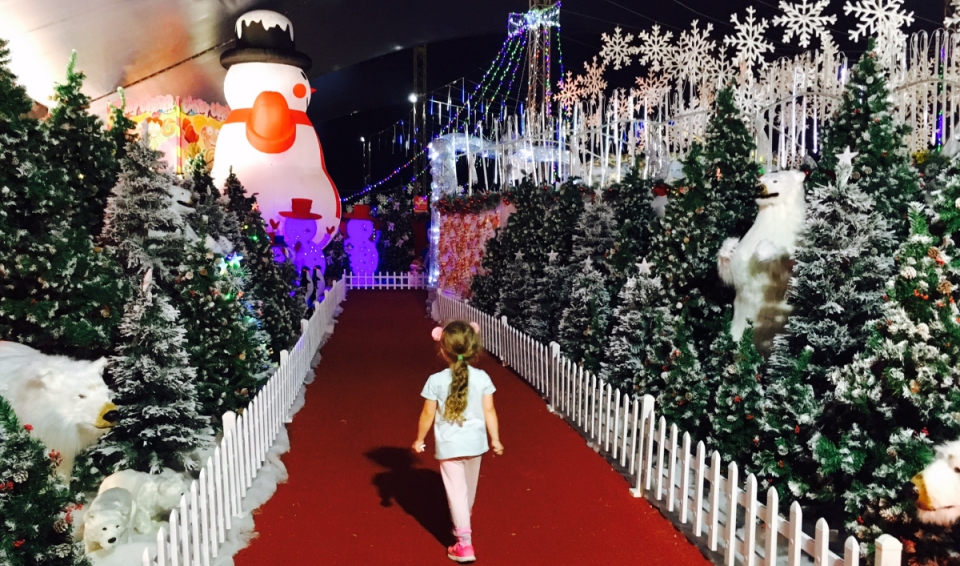 Magical Christmas Village
But as soon as we walked through the glittery entrance with millions of fairylights, Christmas trees and tinsel, all my doubts disappeared as we were transported straight to Santa's Christmas Village, where all kinds of treats were waiting.
Our eyes couldn't open wide enough to take in all the spectacular displays – the ginormous snowman, penguins, twinkling snow balls and a gorgeous crystal icicle passage. The kids loved the candy cane forest and were mesmerised by the busy elve's workshop and the gingerbread family display.
Around the corner was a beautifully detailed miniature alpine scene with working trains and tiny cableways. Then next up was the crew of singing, dancing toys santas who welcomed us into the main village.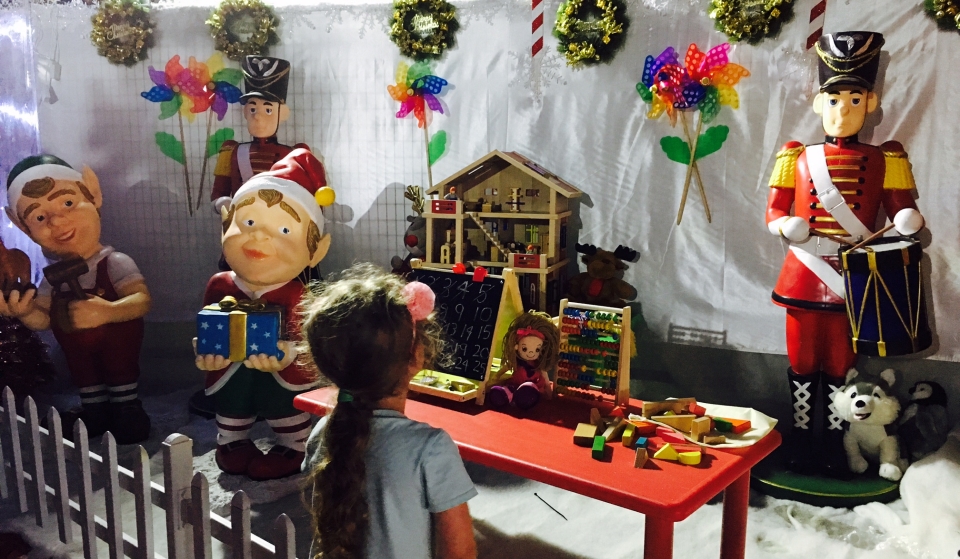 Tickets Include All The Fun!
And now the festive fun really begins. Admission prices include everything (except food and carnival games) so it was amazing not to have to line up to get tickets for rides. So every fun activity during your three hour visit is completely FREE!
Ice-Skating
We headed straight for the ice rink which was pristine, with crystal snowflakes dangling from the sky. The friendly elves were waiting to take our ice skate order. They even had kiddie strap-on skates perfect for my three little ones. The kids (and me) grabbed our penguins and we did some clumsy gliding along the ice.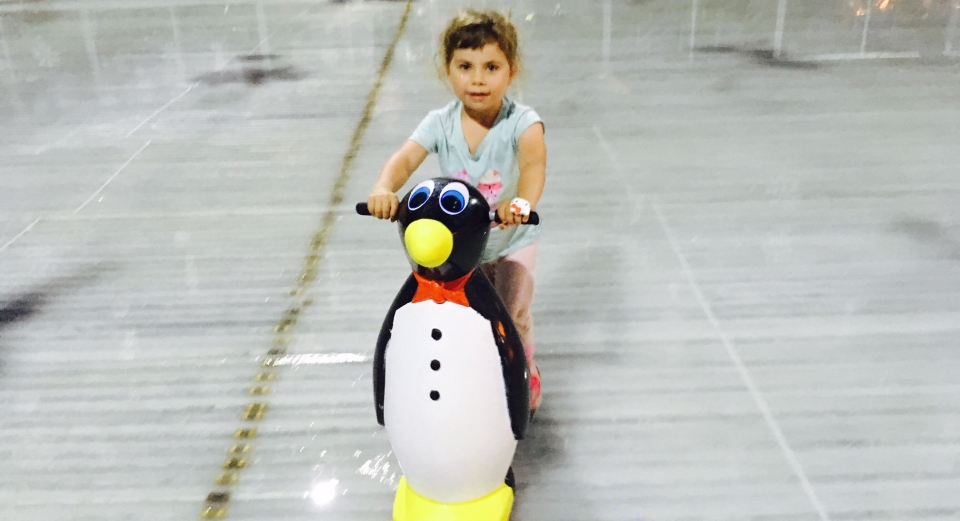 Frozen Toboggan Slide
Next up was the icy toboggan slide. We grabbed our sleighs and helmets and headed up the stairs. Hubbie and I each took a kid on our laps as we launched down the frozen slide. Wow, what a rush! I couldn't believe the acceleration. Thank goodness for the cushiony bags at the bottom which stopped our speed. I think my 4-year old would probably have been Ok to go by herself but the younger ones wanted to be partnered up with mum and dad.
Merry-go-Round
My son spied the stylishly restored vintage carousel and he would have stayed there the rest of the session if he could have. Each kid picked a horse and enjoyed multiple rides safely strapped in.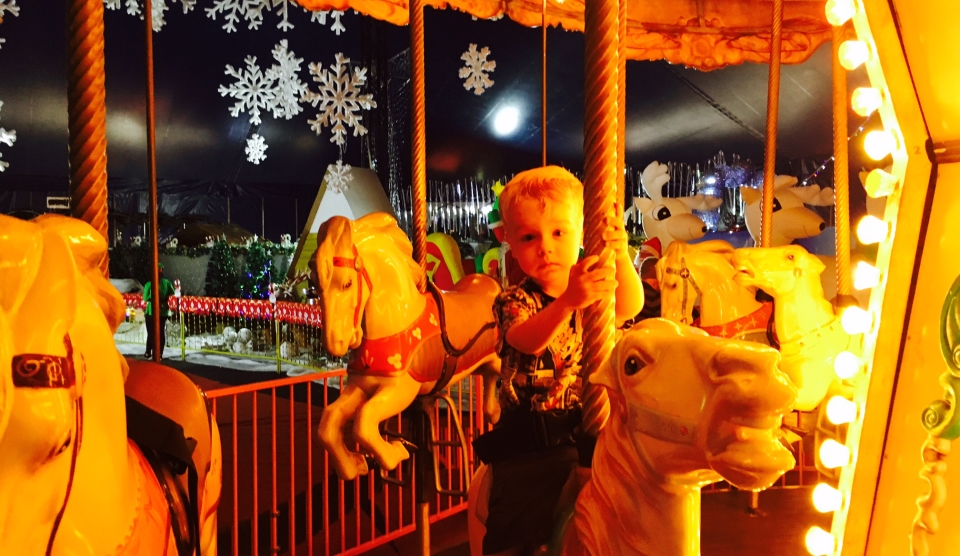 Snow Pit
There is also a snow pit which was topped with slushy ice – we never landed up giving this a try but I recommend bringing some spare clothes as the kids will probably get wet.
SantaLand's Boppin' Christmas Show
An hour into the session, there was a Christmas show on stage with santa dancers, reindeer, penguins and snowmen and a spectacular ice show with mesmerising twirls and jumps (put our ice wobbles to shame).
Never-ending Rides
We then headed outdoors to the carnival where there was a great mixture of rides for all ages. So many fairground rides are rickety and rusty but these ones were in excellent condition. The kids loved the big bike train, the junior chair carousel and the teacups. There were also dodgems and a number of other more challenging rides for older kids and grown-ups, including a caterpillar roller coaster and a super fast roundabout where you lay down like superman. Best of all, you could go on the rides as often as you like. And you can't miss the giant Christmas tree reaching to the sky.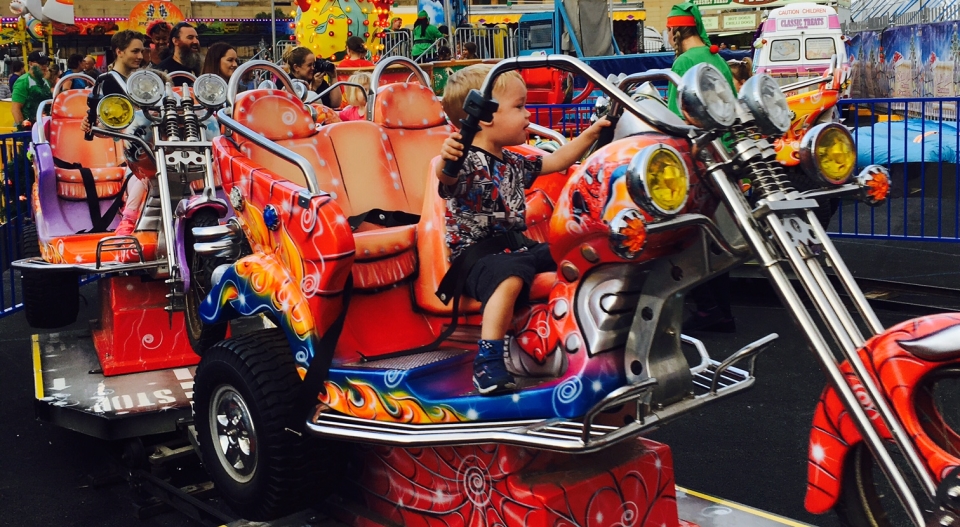 Santas Workshop
Back inside there were tables set up with craft and colouring in for a bit of a break and food trucks for a snack. You could also get your family Santa photo taken on a real sleigh with the Man in Red against a gorgeous festive backdrop. You can buy your Santa photos during your session or you can pre-book here for a discounted price.
Our kids are young so they were too tired to stay to the end but we'll be back during the day as each session ends with Santa's Christmas parade with all his special friends.
What A Success!
Our visit to Santaland was a santa-riffic success! The Christmas Village was so action-packed with all sorts of activities for all ages. It was big and spacious so there was no feeling of over-crowding and the elves and santa helpers were always friendly and smiley. Santaland feels like it was born out of love and much thought went into every little detail and the effort certainly has paid off. It's my pick for the family-friendly Christmas event of the year – don't miss it!
Where:     Santaland, Entertainment Quarter, The Showring, 122 Lang Rd, Moore Park
When:      7 - 24 December 2016; 10am – 9pm ; There are three 3-hour sessions on most days starting at 10am ; 2pm and 6pm
Cost:         Tickets from $39.95 + booking fee; Kids under 2yrs FREE. Prices include all activities, except food and carnival games.
Book HERE.
For more information, visit the website.