Sand-Free Beach Towel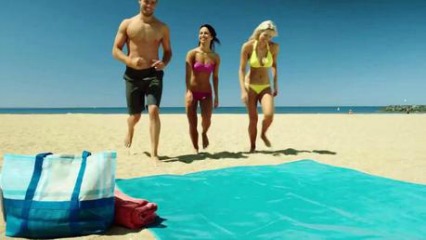 By: Phoebe Ackland, ellaslist
Cars full of sand, sand dragged through the house…how about we just leave the sand at the beach after the next family beach day? Check out the awesome towel that makes a sand-free, no-fuss beach day possible. You're not going to want to hit the beach without this baby next Summer!
[fbvideo link="https://www.facebook.com/Insiderinventions/videos/1001474429988101/" width="500" height="400" onlyvideo="1"]

Source: "https://www.facebook.com/Insiderinventions/videos/1001474429988101/" target="_blank">INSIDER Australia
No More Chicken Schnitzel Situations

The CGear Sand-Free Mat was initially created as a military helicopter landing pad, but it was too awesome to be kept secret. Two Aussies have created similar products- the Sandusa and the Quicksand Mat (which is owned by CGear), and they're selling all over the world. The Sandusa is made of cotton with a nylon underside, and the Quicksand is made from layers of the latest multi-weave technology. Basically, the sand slips through the mesh-like fabric of the towels, meaning you can hop in the water, and onto your towel for a sunbake without looking like a chicken schnitzel.
Baz Brown, founder of Sandusa, told The Sydney Morning Herald that he came up with the idea for this product whilst relaxing on the beach. "I live on the Gold Coast and surf a lot, so before I came up with the Sandusa, my car was constantly full of sand and had that wet dog smell from all my towels."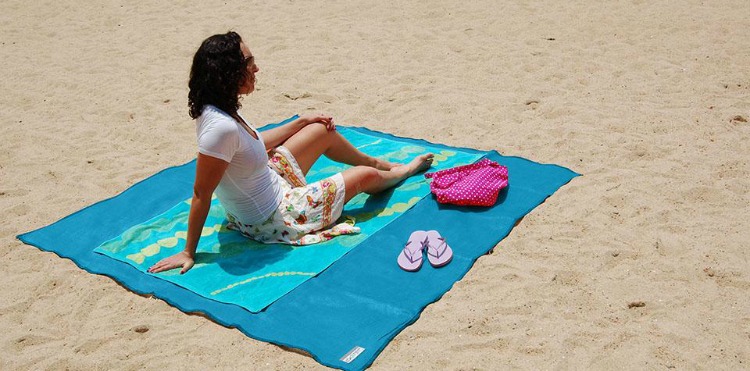 Wait Till It Catches On

Brown said that as well as being waterproof, the beach mat will put an end to awkward scenarios of shaking sand off your beach towel, only to have it blow onto sunbakers around you. These towels really are a win-win for everyone involved.
Liking the idea of owning your very own sand-free mat? According to the chairman of CGear, you're one of millions. Greg Peters told The Sydney Morning Herald: "We estimated 300 million go to the beach every year and we believe that we can sell 5 million units a year." That's a pretty bold statement, but we wouldn't bet against him.