Now That❜s Some Sweet Art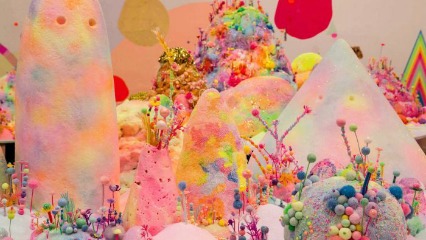 By: Phoebe Ackland, ellaslist
Check out the delicious artwork cooked up by West Australian artist Tanya Schultz, whose installations look like something straight out of Candyland.
[fbvideo link="https://www.facebook.com/abcnews.au/videos/10154785214892378/" width="500" height="400" onlyvideo="1"]
Source: ABC News Facebook

Art You Want To Eat
This sugar artwork called "When Happiness Ruled" could be found up until last December at the Perth Institute of Contemporary Art. It was made, according to the
ABC
, out of
450 kg
of the sweet stuff, designed to be a delight to the senses and inspire feelings of happiness. The installation included mountains made of sugar with cartoon eyes to make it look as if they're alive and doing something cheeky, along with other sweet little creatures roaming around an "edible paradise."
Shultz drew inspiration from the Japanese idea of
'tsukumogami'
- where objects in the home spring to life after 99 years. Shultz told the
ABC
, "Things actually start to come to life and there's magic embedded in these rocks and mountains."
Shultz works under the name pip & pop- check out some of her other sugary artistic delights including "Journey in a dream", "Peach blossom" and "Candylab."
[caption id="attachment_116256" align="aligncenter" width="700"]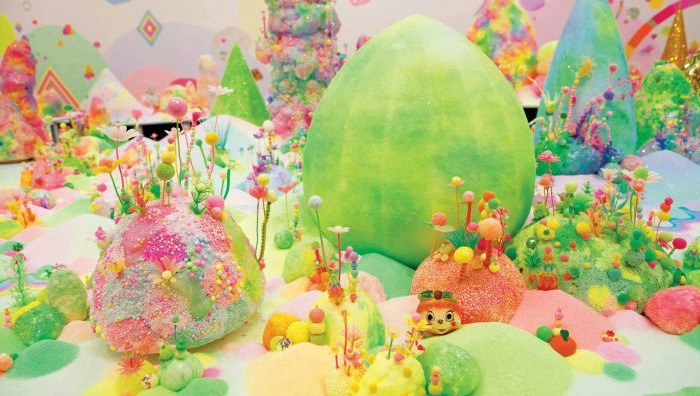 Source: Jacqueline Ball/ABC[/caption]
Feature image courtesy of ABC/Jacqueline Ball.