My Daughter Built Her Own Game App! - ellaslist Reviews Code Camp
Tell them ellaslist sent you: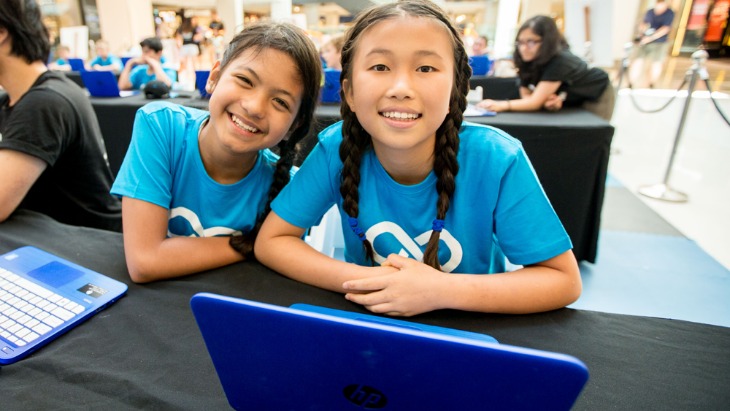 By: explorer team, ellaslist
"If we bump into anything that is not equal to 'unlock B' – then we die!" – Code Camp instructor, Suvi, July 2016

Did you ever tease your parents for not knowing how to operate the VCR? Are you old enough (like me) to have experienced the Nintendo Game & Watch revolution? Ever wonder, as a parent yourself, exactly when your own children's understanding and utilisation of new technology would surpass yours?
Learning To Code In The Holidays
Hello 2016! Now it's not enough that my kids (aged 7 and 10yrs) are downloading movies, streaming things to the TV, and accessing Netflix via AppleTV without me. Last holidays, my daughter Layla was 'learning to code' and within three days at one of Code Camp's Beginners coding camps, built her own fully operational game app!
On the first day, an even mix of twenty boys and girls aged between 6 and 12yrs gathered in anticipation outside their classroom at a local public school to check in. Everyone was presented with a funky blue Code Camp t-shirt and flat-peak cap. (There was a group the same size downstairs at the Advanced level course.)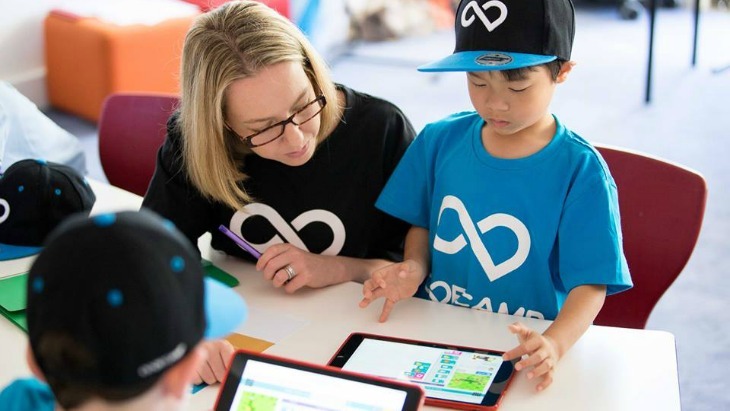 The Classroom Buzzes With Excitement
I was impressed with the instructor to child ratio, with four staff to cover the Beginners group, Suvi up front instructing the process from her laptop – which was connected to the electronic classroom whiteboard – and three others roaming and attending to everybody's questions and programming bugs (there were many!).
Having not spent time in a 'working' classroom environment for many years, it was immensely gratifying to witness the continuous buzz of excited but productive chatter and workshopping of ideas and feedback. While a small handful of students did sit working quietly, nearly all the kids were keen to share their progress, and to help understand and try and solve each other's technical issues.
Even at 3pm after a full day at it, there was an energetic vibe in the classroom. The kids were all heavily invested in the process, and excited to see their new-found skills developing into on-screen results.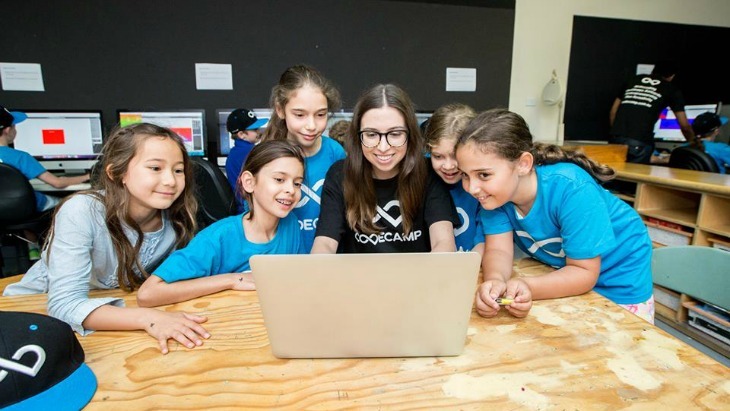 Games Completed & Friendships Forged
By the end of Day 3, not only were the games completed on schedule, but friendships had been forged and the farewells were fond and reluctant. I am not traditionally one to book my children into extended vacation care programs (ie those that run for more than a day), thinking they will get bored or antsy, however now I feel the opposite. It was precisely the extended period (Code Camp runs 2-, 3-, and 4-day camps at a variety of locations) that enabled Layla to not only overcome her anxiety about doing something new and not knowing anyone there, but consolidate the learning over the course of the camp and achieve an outcome and a level of satisfaction that may not have been possible otherwise.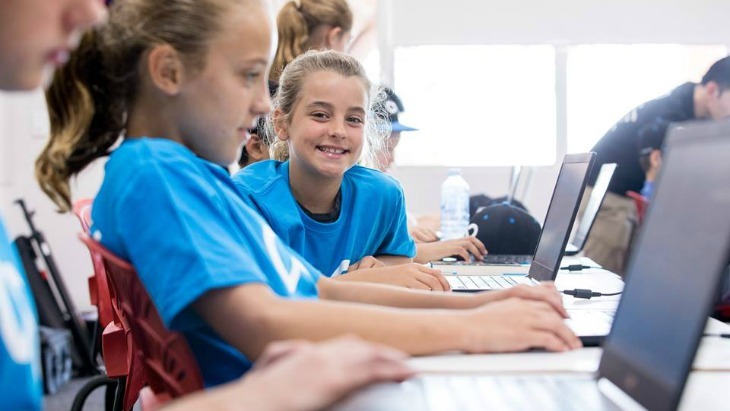 Ready For Advanced
Better still, Layla is now qualified to attend the Advanced course during the next school holidays to develop her existing new skills and extend her knowledge further. After that they can start to learn Javascript, and will have set themselves up to be conversant in a variety of programming languages before they even step foot inside a high school which, daughter or no daughter, I find supremely impressive!
Play Layla's game on your desktop computer here. Or on a smartphone or tablet here. Good luck!
What You Need To Know
Code Camp is returning these Spring school holidays! CLICK HERE for more information and to BOOK NOW for their September/October 2017 camps happening all across Sydney. There are camps suitable for 5-6-year-olds (Little League), 7-12-year-olds (Spark & Ignite), and 8-13-year-olds (Blast). Three and four day camps available.
ellaslist was a guest of Code Camp during the July 2016 school holidays.
Reviews

Reviews get lonely too
Be awesome and write a review