Kids Make Butter and Damper at Vaucluse House
Family
Kids
Todders
Preschoolers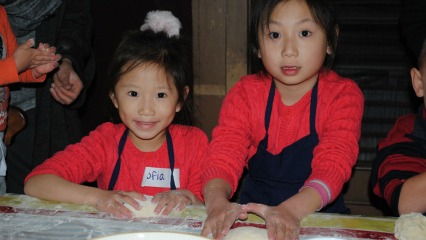 By: Helena Leung, ellas explorer
ellaslist sent an explorer to Vaucluse House with a five and seven year old, (and nan in tow) for a butter, lemonade and damper making workshop!

Who was William Wentworth?
Far from the green pastures of England, in the lush suburb of Vaucluse, lies the Sydney version of Downton Abbey. Vaucluse House is a stately mansion that was acquired by William Charles Wentworth in 1827. Think you haven't heard of him? What if I mentioned Wentworth the Blue Mountains explorer; Wentworth, after whom Wentworth Falls was named; or Wentworth building, where many a
USYD
student has gagged on an unidentifiable Union meal? Yep, that's him!
Vaucluse House: A Living Museum
Miss 5 and 7 and I, with grandma in tow, were invited to participate in one of Vaucluse House's butter and damper making workshops. Vaucluse House is described as one of Sydney's Living Museums because you can wander around the same pathways and halls that the family and servants once trod and see exactly how they used to live. It truly is fascinating.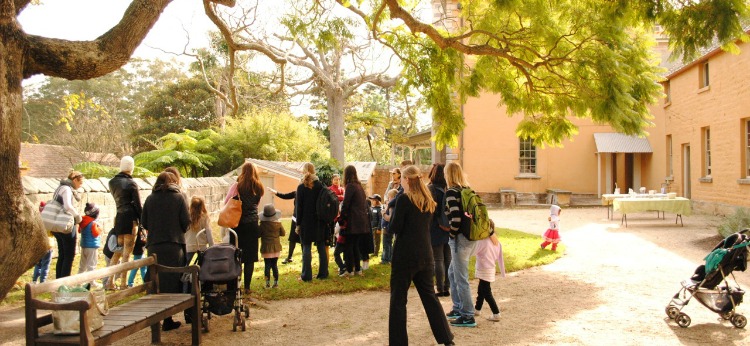 Strange Plants in the Kitchen Garden
While we strolled around the house's idyllic kitchen garden our tour guide explained the different kinds of fruit and vegetables the Wentworth's would have eaten: vegetables like gourds, spikey cucumbers and bitter melons. My favourite fun fact was that pineapples in colonial Sydney were considered an extravagant luxury, and rich people would hire a pineapple to place on their dining table in order to impress dinner guests. (Here I gave a knowing look at Miss 7, who habitually picks off all the pineapple on her pizzas!)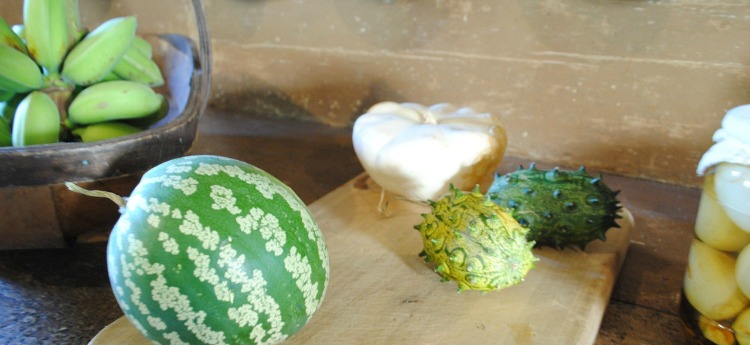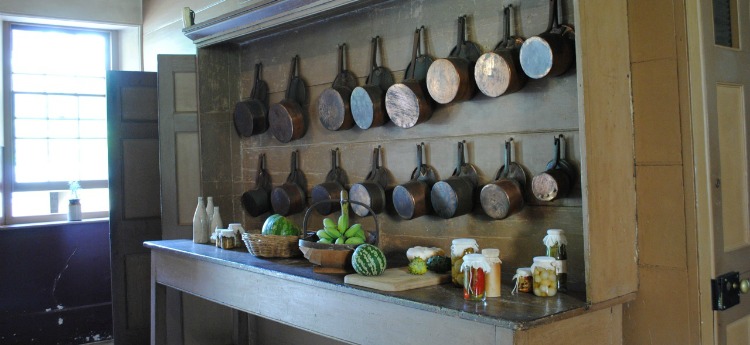 Damper, Butter and Lemonade Making Workshop
The children were ushered around a long dining table situated within the belly of the house's sizeable kitchen. Over the course of an hour they had the opportunity to pour milk, mix flour, knead dough, churn butter, squeeze lemons, and at the end of it, enjoy an old fashion snack of damper and butter, washed down with a cup of lemonade. My girls really loved all the tactile activities where they could get their hands floury and sticky and it was eye opening for them to learn how to make these simple foods from scratch. (Although, quietly, nothing beats making fresh butter in my thermie!)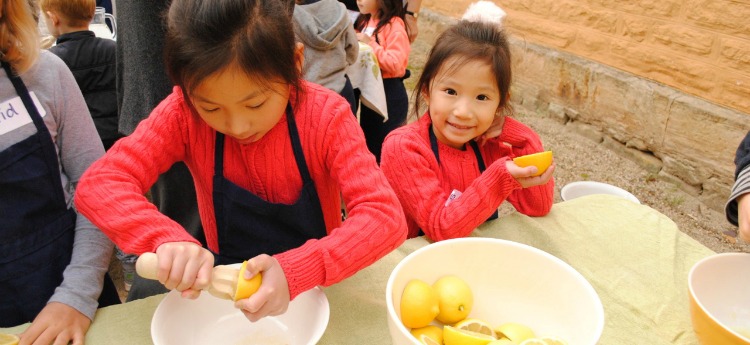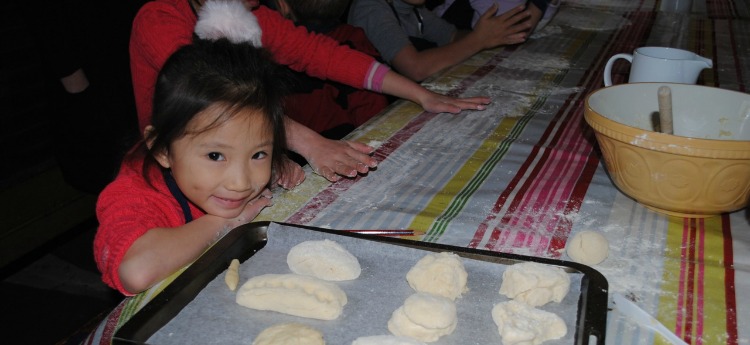 A Grand House To Explore
After the workshop we were free to roam the house itself. Our guide mentioned that no less than forty servants had been employed to service the Wentworth's family of twelve. Yes, Sarah Wentworth had ten children; The poor lady. Still, with forty servants and a grand mansion, she did pretty well for a convict's daughter. I couldn't help but think of Mrs Hughes having a quiet word with Carson in the Butler's pantry, or Lady Mary reclining on one of the grand four poster beds. The opulent grandeur of the house, garden and stables, with all its fine furnishings, is a wonderful way to rediscover this charming aspect of colonial Sydney.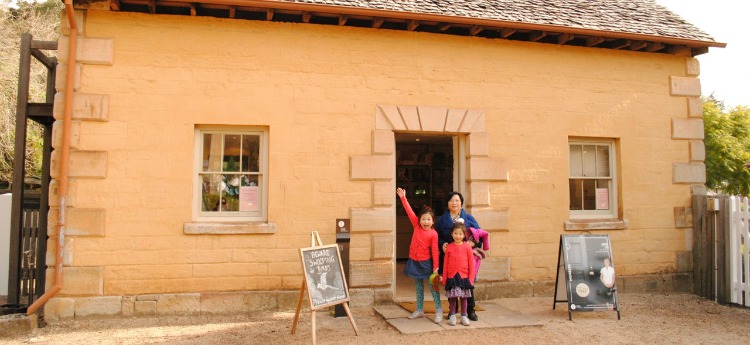 Six Top Tips for Visiting Vaucluse House
1. Children 4-10yo
The butter and damper workshop would be most suitable for children aged 4-10. They will get the most out of the experience if they can listen and follow simple instructions. If your child is younger than this, be prepared to help them a little bit. If you are bringing a stroller, you may need to carry your baby into the garden section, or up the stairs in the main house.
2. Explore the House
DO explore the main house after the workshop is complete. You will be fascinated by the paintings, sculptures and furniture. There are many props that have been laid out to simulate the Wentworth's Victorian style of living and one room that is dedicated to explaining the history of Wentworth family. Use these as a springboard to engage in conversations with your children.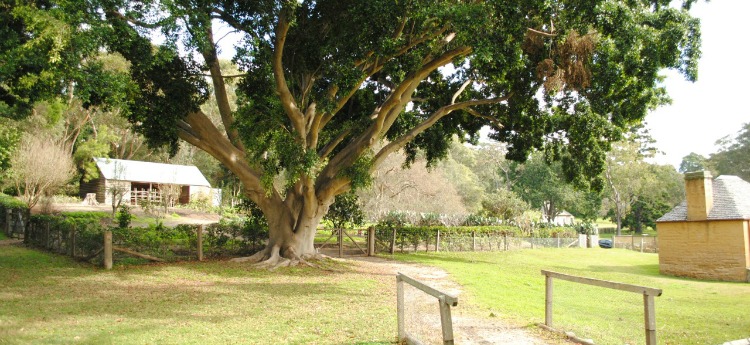 3. Browse the Souvenir Shop
Here you will find some cute little knick-knacks including cards, jewellery, picture books and delicious honey, collected from the bee hives on the estate!
4. Stables and Animals
If your children like animals they will like to say hello to the goats, chickens and ducks on the farm. Also explore the impressive stable house where the Wentworth's kept their prized horses and carriages.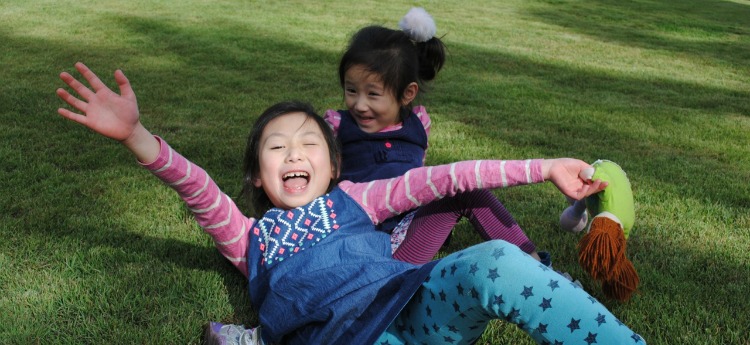 5) Pack a Picnic
A lovely way to spend the afternoon is to enjoy a picnic in the tranquil gardens at the front of the main house. There is a beautiful fountain and lush, soft lawns.
6) Visit the Beach
If you are keen, you could even visit Queen's Beach, a stone's throw away from Vaucluse House. Paddle in the quiet waters and play in the sand.
Book a Workshop
Check out all the fabulous family foodie fun happening at Sydney Living Museum's these school holidays.
Making Damper & Butter
Kids in the Kitchen at Vaucluse House and Elizabeth Farm teaches them how to make colonial foods from scratch. From making damper and churning butter to picking fresh lemons from the garden for traditional lemonade.
Where: Vaucluse House & Elizabeth Farm
When: Monday 11 July (5–8yrs) & Wednesdays 13 July (8–12yrs); 11am–1pm
Who: 5-12yrs
Cost: General – $20; Members – $18 (includes one child and an accompanying adult)
ABOUT HELENA

Helena Leung is a high school English teacher who gave up the glory of classroom teaching for a quieter home life. She has two little girls, Alisa and Sofia, and is married to a Nissan Pulsar driving, Garage Band singing, Top Gun pilot wannabe husband. When she is not tutoring students on the finer points of Shakespeare and T.S. Eliot, Helena can be found stalking the haberdashery section of Spotlight in order to feed her fabric addiction. She also loves to make beautiful handmade hair clips, which she sells for practically no profit on eBay. Despite her lack of business acumen Helena enjoys her family life and exploring everything that Sydney has to offer. Weekends are often filled visiting parks, cafes and catching up with friends. One day Helena hopes to become very, very famous for writing a very, very good book (or review on ellaslist.) One day.