Kid Friendly Cinemas- We Need One Of These In Sydney!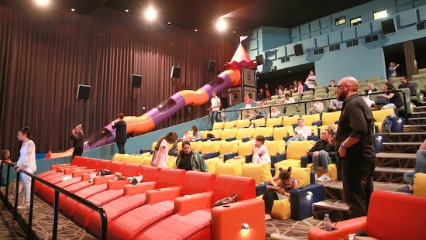 By: Phoebe Ackland, ellaslist
This makes us wish we were kids again! Check out Melbourne's Vjunior cinema- designed by kids, for kids. Parents and children are going crazy for it, and we can understand why.

An Australian-First
Designed by the collaboration of Village Cinemas and Mattel's Hot Wheels, this Australian-first can be found in Westfield Southland's Village Cinema complex. There'll be no scrambling to the cinema just in time to see the last movie-preview before the shows starts at this cinema. In fact, parents are encouraged to get kids through the doors at least an hour prior to movie time to enjoy all the
cool facilities.
So, what are they?


In the foyer: Hot Wheels activity tables, Mega Blocks Wall, interactive digital screens, giant Scrabble, colouring-in (artworks of which are then projected onto the wall)


A giant slide- the way kids enter the cinema


Dance floor under the big screen for some partying down as the credits roll and music plays


Modified volume and lighting levels


Pre-show and intermission to give kids a wriggle break


Kids menu- complete with milkshakes, hot dogs and fruit snacks


Beanbag and cushioned recliner-style seating options, normal seating up the back for parents to watch over their kids
[caption id="attachment_114972" align="alignnone" width="750"]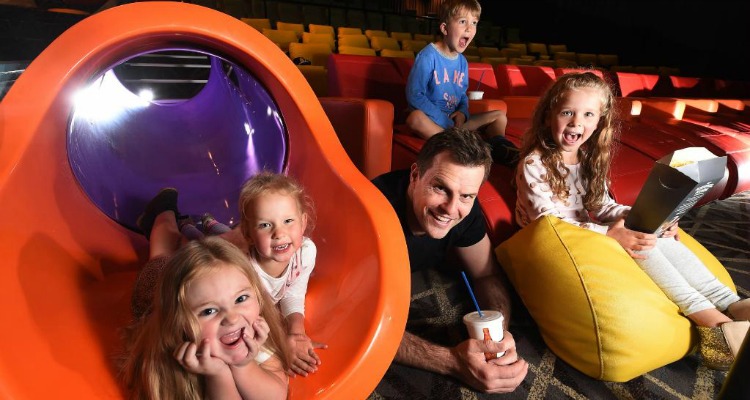 Source: Rob Leeson/Herald Sun[/caption]

A Hit With Parents Too
We understand why families have been showing up to the flicks in droves- particularly for the first ever movie screening: Trolls, on 1 December. The cinema is designed for kids aged 3-10 years, and is a total God-send for parents who struggle to keep kids still, quiet and entertained during an entire show.
"Vjunior, driven by Hot Wheels is a place where children can let their imagination run wild and share in the joy of creativity and learning in the ultimate interactive cinema experience," Chedney Rodgers, marketing director at Mattel told
Mumbrella.
Movies + Play = a winning combination!
Now all we need is an adults only cinema with a wine fountain…


More On ellaslist