Junkyard Beats AT HOME
One person's trash is another person's treasure, and with a bit of rhythm and imagination, that treasure can make music! That is what Junkyard Beats is all about. The music-education group fuses sustainability and sound, drawing inspiration from everyday life, to turn the mundane into the musical. Household objects are repurposed and discarded items are reclaimed to deliver a soulful symphony bursting with interactive fun.
Normally, Junkyard Beats perform sold-out theatrical shows throughout Australia and run award-winning workshops for kids. Now, adapting to the new normal, they are hosting these clever classes online.
In a series of videos that will strike a chord with music lovers and eco warriors alike, Junkyard Beats AT HOME actively engages kids in projects that foster their musicality and teaches them the joy of artful recycling. Hosted by the amazing Junkyard Beats performers, the team brings their energy, ingenuity and wit to three virtual courses, packed with lessons, games and challenges, to offer a truly unique experience at home.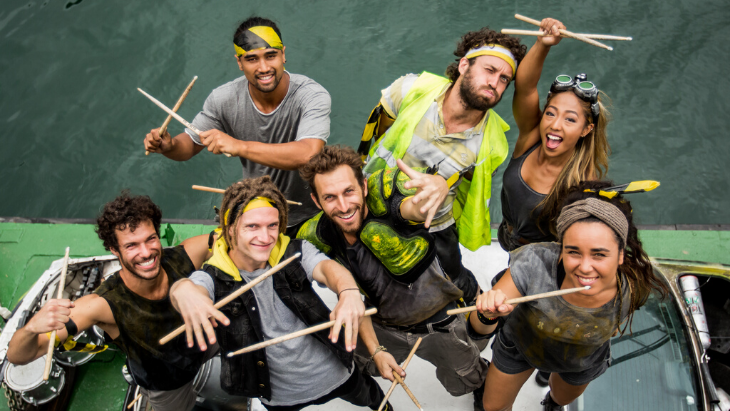 If that's not enough music to your ears, NSW residents can use their $100 Creative Kids Voucher and get a special Junkyard Beats AT HOME Creative Kids Pack including:
Full access to all three Junkyard Beats AT HOME online courses
A pair of professional Junkyard Beats signature drum sticks
A Junkyard Beats tote bag
A Junkyard Beats sticker
VIP access to the full length show THE BOX SHOW on YouTube.
Click here to get your free Creative Kids Voucher.
That's unBEATable value, plus you'll never look at a plastic bag or kitchen utensils the same way again!
Junkyard Beats AT HOME is based on their most popular real life workshops. If you don't have a Creative Kids Voucher you can choose from one of three individual courses - at only $15 each - or bundle them all in a discounted package.
Through a hands-on journey of creativity and discovery, kids will march to the beat of their own drum, learning basic body percussion skills, how to perform rhythms using a range of tools such as melody pipes, broom sticks, plastic bins, drums and more, and how to transform junk and recycled materials into musical instruments.
Body Percussion will get you up and moving, with music and movement using your own body and nothing else - the possibilities are endless. This is an age-old art form rooted in many global cultures, and with some awesome techniques you can bring your one-man-band to life! It's also a fun fitness activity and great for coordination.
Junk Percussion will teach you to see the world around you as an orchestra waiting to be played. Transform everyday objects in your home into unique musical instruments and start jamming! You will create a plastic bag orchestra, build the world's coolest drum kit out of kitchen utensils and learn how to make beats in the bath!
Make Your Own Instruments will show you how to transform everyday objects and recycled materials into extraordinary musical instruments with crafty classes that turn junk into funk!
Take a peek and find out more at junkyardbeats.com/jb-at-home