How To Avoid Chocolate Overload This Easter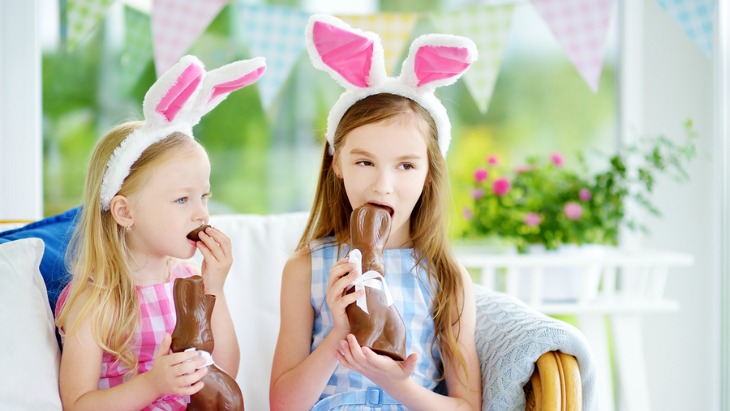 By: Phoebe Ackland, ellaslist
The most delicious time of year is rolling on 'round again: EASTER! If you have toddlers and children, a large focus of the Easter period is probably going to be chocolate, naturally. BUT- it doesn't have to be. Why not start some new traditions this year? We spoke to leading paediatric nutritionist Kathryn Hawkins, who has recently designed a new nutritious and delicious menu for Little Learning School Early Learning Centre. She shared with us some top tips on how to avoid chocolate overload this Easter period with kids:
Get your children involved in making table decorations for Easter lunch.
Involve your children in the cooking and make special Easter treats like chocolate coated fruit skewers, hot cross buns or banana cupcakes.
Make it a family rule not to buy and eat Easter eggs prior to Easter! They are available from January, which is alarming! Just savour them on Easter Sunday.
Limit the number of eggs in the Easter egg hunt to 4-5 mini eggs and one medium-sized egg per child and then pool the eggs together and distribute 1-2 each after dinner over the long weekend.
Go for quality over quantity – buy good quality chocolate eggs and try to include some dark chocolate too to reduce sugar intake. Good quality eggs cost more, but you simply buy less.
Start an Easter tradition of the Easter bunny leaving a book, or some pyjamas or slippers as a gift for your children.
Eat real eggs on Easter morning – a great start to the festivities and full of goodness for little tummies.
Try blowing eggs and decorating the egg shells (for slightly older children) or painting whole boiled eggs for younger kids.
This article was brought to you by Little Learning School. LLS operate in 22 centres across Sydney. For more visit their website.