How Clever! Check Out This DIY Sensory Bag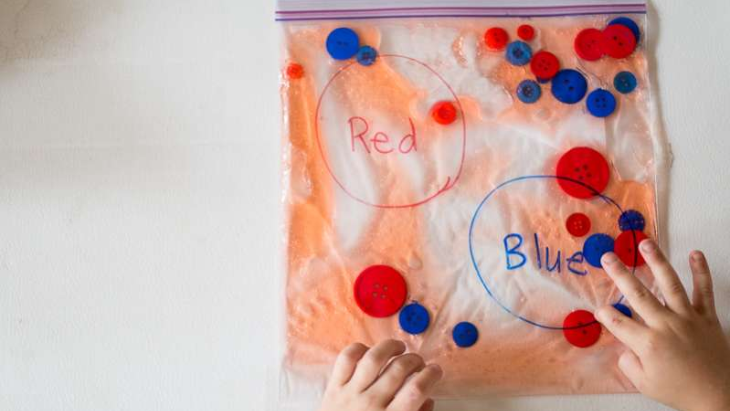 By: Phoebe Ackland, ellaslist
This is such a cool idea! This 'sensory bag' recipe will have little ones using their little fingers, counting, and sorting according to colour. It encourages dexterity, patience, and the learning of numbers and colours. The best part? You'll only need some buttons, some hair gel or the like, and a ziplock bag!
Source: Hands On As We Grow: Activities For Toddlers & Preschoolers
Just stick it to your kitchen bench and voila! Your little ones are entertained, and learning! It's from the imagination of Hands On As We Grow, who also offer 7 Day challenges consisting of a new home-made activity for you to try with your toddler at home each day for a week. Seriously inspiring stuff.
What You'll Need
A ziplock bag (or two to double-reinforce it)
Hair gel (we suppose hand sanitizer would work well too)
Coloured buttons (of two different sorts)
A disappearing marker ( so that you can play one game, rub it out, and play another!)
Sensory Games & Squishy Bags
Make different bags with different coloured buttons, and increase the number as your toddler progresses! They might just start out pushing the buttons around the gel and engaging their senses and fine motor skills.
Another popular sensory bag is the squishy one- sensory play with none of the mess. Here's what you'll need:
1 cup of flour
6 tablespoons of water
food colouring
zip-lock lunch bags
sticky tape
All you have to do is mix the ingredients together, spoon them into the ziplock bag and leak-proof it with sticky tape! You'll be surprised how long little ones can spend with one of these bags in their hands- make them a range in different colours!