Horrible Harriet: The Kid❜s Show You Must See That❜s Anything But Horrible!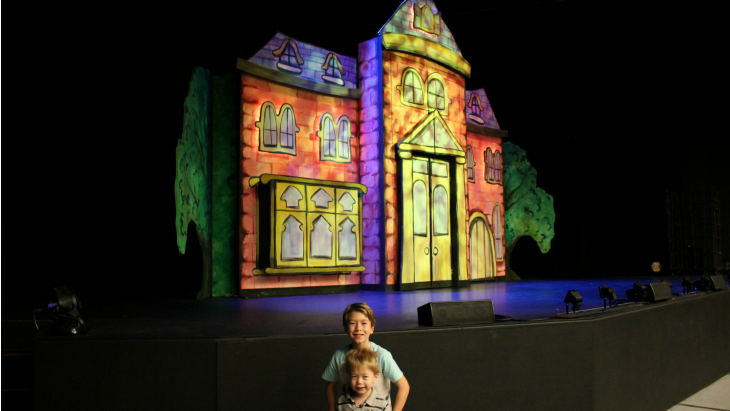 By: Vanessa Mah Chut, ellaslist explorer
I still get excited every time I see a show at the Opera House, even if it is one for the kids. Walking across the forecourt with the Harbour Bridge backdrop, along with a mighty large ship, just added to the anticipation of seeing Horrible Harriet at the Playhouse. The Playhouse is also a fabulous venue because of its small size, which means you can't get a bad seat there.
Meet Horrible Harriet
The character of Horrible Harriet really is pretty horrible. She lives at the school and keeps teachers chained up in the cellar to do her homework. She sets up other students to get in trouble and is anything but welcoming to the new boy at school, Athol. However, Athol's polite and positive demeanour means that he doesn't get scared off by Horrible Harriet's bat-ear and monster-tail brew or when she shuts him in a cage. Then the unlikely friendship begins and Horrible Harriet isn't so horrible after all. I personally found the beginning of the show a bit slow but once the plot got going, everyone was engaged in the performance.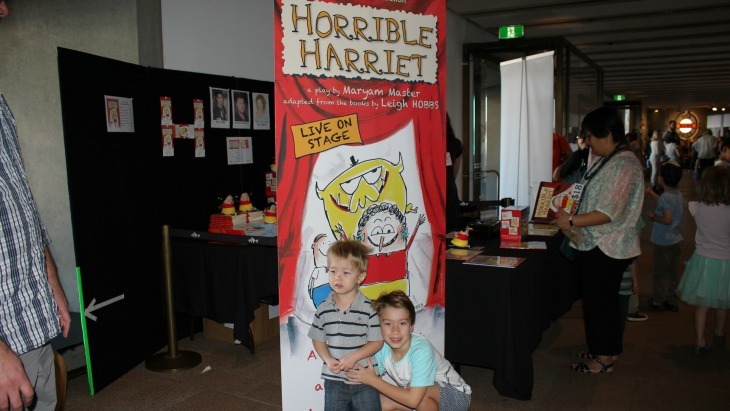 Slapstick Humour, Beautiful Sets & Engaging Acting
While the show had dancing, singing and great acting, it was the slapstick humour that had the adults and children alike laughing. Horrible Harriet and Athol would run into each other and fall down, and at one point Athol was told by Horrible Harriet not to move but of course then had an itchy bottom. The acting was amazingly done by just three actors who did a great job of keeping us entertained at all times. I personally loved Athol's lisp. The costumes were bright and fun, especially that of the roly-poly Athol, and the show was set against a beautifully painted schoolhouse. I liked that illustrations from the book were integrated into the show through Harriet's 'show'.
Bust A Move
My six-year-old son's favourite part was when Horrible Harriet and Athol were becoming friends and had a dancing competition. He is just at the age when you get excited about big numbers and so was terribly thrilled about Harriet's high score of over four hundred thousand and Athol's low score of only two and a half. We even found that when we got home, my son was scoring us for our own dancing when the music came on.
Prepare For Mr Chicken
The funniest part according to my son was when Mr Chicken appeared, who was competing for attention with Horrible Harriet. Horrible Harriet had instructed the audience to let her know if Mr Chicken tried to get onto her show, which of course he did. He appeared from behind the schoolhouse set in all sorts of places which had the kids of all ages pointing and screaming throughout the show. They were loving it.
This Show Will Bring The Beloved Books To Life
Noone in our family had read the book Horrible Harriet by Leigh Hobbs prior to the show. Had we done this, and also read the Mr Chicken book series, I think we would have experienced another level of enjoyment. However, on the flip side, we could still follow along and enjoy the show. We also purchased the book and really enjoyed reading it after seeing the show. Either way, I recommend reading the book if possible if you plan on seeing the show. I imagine that fans of Leigh Hobbs, who writes and illustrates his books, have read many of his books again and again.
Bring The Whole Family Along
The show has been recommended for children aged four and over. I agree that this show is best suited for children aged between 4 and 10 years. Given that many children in this age bracket have younger siblings, we found that plenty of families had babies and children younger than four years with them. We also took my 2-year-old son so that we could have a family day out in the city. While he couldn't verbalise what he'd seen, he was mesmerised by the music, lights and action on the stage from start to finish. Given that the show length is less than an hour, it is fine if you need to bring young ones along. Children under 2 years are free if they sit in your arms.
Overall, watching Horrible Harriet was a funny and enjoyable family outing and the show is certainly worth a look these holidays.
What You Need To Know
When: Saturday 8th April to Sunday 23rd April
Location: Sydney Opera House
Getting There: The Sydney Opera House Car Park is located at 2 Macquarie St. The Sydney Opera House is a six-minute walk to Circular Quay which is regularly served by public buses, trains and ferries.
Prices: Standard tickets from $29 + $8.50 booking fee