Get Your Skates On For The New Sydenham Green Skatepark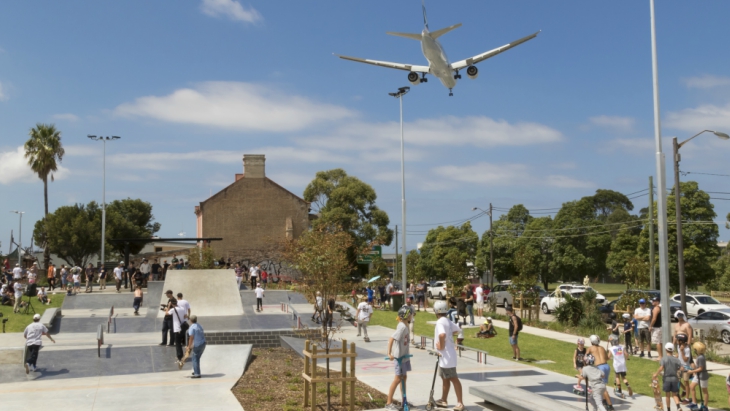 By: Alex Harmon, ellaslist
Inner west skaters have been frothing over the launch of a new skateboarding park in Sydenham Green. And even the most novice of skateboarders will love the atmosphere of the park - it lies directly under the flight path as planes make their descent into Sydney airport. So close the aircraft passengers can almost see you perform your first kick-flip.
The skate park is for kids (and adults) of all ages and is inclusive and accessible for anyone. There are ramps to all platforms, which were developed with Wheel Chair Motor-cross sports, and they have a range of skate types. These include a transition ramp, street skate and a bowl ramp.
The new $2 million facility also has parking, accessible car spaces, lighting, a drinking fountain and seating.
Lives Up To Its Green Name
The park is super eco-friendly with 'Green concrete' and to minimise electricity consumption, LED lighting has been implemented, as well as over 20 new trees planted which will increase the urban tree canopy. And parents will love the new playground shade structure to make summer skates a breeze.
The design was developed with input from the community and skaters are already singing its praises saying it's the inner west's first "real skatepark."
We hear there is a Roller Derby track line making too. Awesome!
The Details
53 Railway Rd, Sydenham NSW 2044
Main image via skateboard.com.au