Gate-Crashed Professor Speaks Out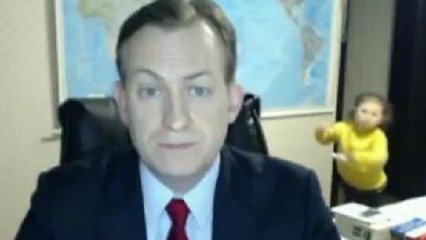 By: Phoebe Ackland, ellaslist
Who hasn't seen that video. The moment an expert on East Asian relations was giving a very formal, incredibly intelligent interview about the impeachment of the president of South Korea to the BBC via Skype….until his children came crashing into the room. It has since gone viral around the world, proving that kids, no matter the situation, will be kids.
"Surprise and embarrassment and amusement"… that's what Robert Kelly, professor and dad, had to say about the headline-making hilarious video. Check out the initial video that streamed live:

Source: Ryan Northover, Youtube

That's Life
So what exactly lead to this hilarious video, that's pretty much the funniest home video we've ever seen? According to Kelly, he simply
forgot to lock the door of his study!
Trust two little ones to find an unlocked door in a house if it means trouble. In this
"comedy of errors",
Kelly's wife Marion was in the next room, watching the interview on her phone. The children, who were under her watch at the time of the incident, could then be visible bursting into the room, the youngest rolling in on his walker, sending Marion flying into action. That's when Marion burst through the study door, frazzled, and, we bet, in shock at what was unfolding on live television.
Kelly told The Wall Street Journal, his eldest daughter was "in a hippity-hoppity mood that day because of the school party", following her birthday party celebration at school. He casually attempted to push her away, but when his son James rolled on in, "Then I knew it was over."
Despite initial fears Kelly had ruined his ongoing relationship with the BBC, the humorous and light-hearted reaction to the video proved that you can't be so serious all the time. That's life with kids, for you.

Source: PoliticoL, Youtube