Free Festive Kids Fun At Royal Randwick Shopping Centre 2016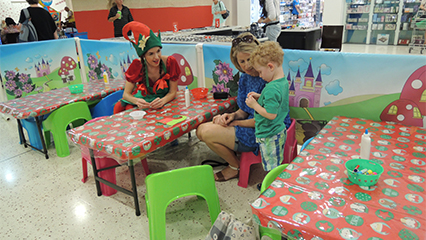 By: Marie Ashworth & Sabine Dawson, ellaslist
I've discussed this with Mum friends and most agree, boys have an innate dislike of shopping. It doesn't matter whether it's food shopping, clothes shopping or even present shopping, my son loses interest as soon as he sets foot in a shop unless that is, it's a toy shop!
I need a raft of bribes under my belt to get us both through a shopping experience relatively unscathed so I was super-happy to hear about Royal Randwick Shopping Centre's fantastic program of kid-friendly festive themed activities running throughout December. The perfect reward for amazing behaviour!
An Awesome Program of Free Kids' Christmas Activities

We decided to tag a 'Christmas Card Making' workshop onto our weekly fruit and veggie shop. It was great to be able to dangle the carrot of 'let's make a cool Christmas card with Santa's Elf helpers' when we've finished the shop.
Santa's Little Helpers On Hand

The 'Christmas Card Making' workshop was a drop-in activity, set up on the ground floor of the shopping centre just outside Dick Smiths and Cotton-On. It was run by two incredibly bubbly and friendly elves who had set up a pop-up craft studio complete with mini tables and chairs and stock of sparkly, glittery and colourful stuff to decorate the pre-cut elf shoe cards.
The Power of Persuasion

My son was not that into it to begin with but with some gentle coaxing from Mrs Elf, he eventually started his creation, announcing he was making it for his best friend ' Edie'. He was incredibly proud of his handmade card.
Christmas Cupcake Decorating

Unlike boys, girls are mostly keen to enjoy a bit of shopping. If doing groceries comes with an after shopping treat – even better! ellaslist's Sabine dropped in with her daughter and 2 friends to Randwick Shopping Centre's 'Christmas Cupcake Decorating workshop' on Saturday 12 Dec and were warmly welcomed two smiling elves.
'In no time at all, we had our aprons on and were equipped with all we needed for our fun, festive cupcake experience. Marshmallows, pretzels and wine gums were all included in the colourful decorating kit. Only half of which actually made its way onto the cupcake – the other went straight into the girls' mouths!
The beautiful little Christmas cupcakes were eaten as quickly as they were made. Keep this in mind…we left with a big smile on our faces and a bit of a sugar hit, so don't go shopping after the workshop!
Baubles & Rudolph Coming Up

The Christmas program of activities kicks off from 5th December, every weekend with special events also running on 5th, 14th, 17th and 21st. Events include Christmas Cupcake Decorating, Christmas Bauble Making, Christmas Storytime and Meet Rudolph, with heaps more fun events planned throughout the month of January.
Find out more about Royal Randwick Shopping Centre's program of Kids' Christmas activities and events here.
For more information on Royal Randwick Shopping Centre's Rascals Kids Club click here.