Laverton Favourite Snake-themed McCormack Park has Had a Makeover!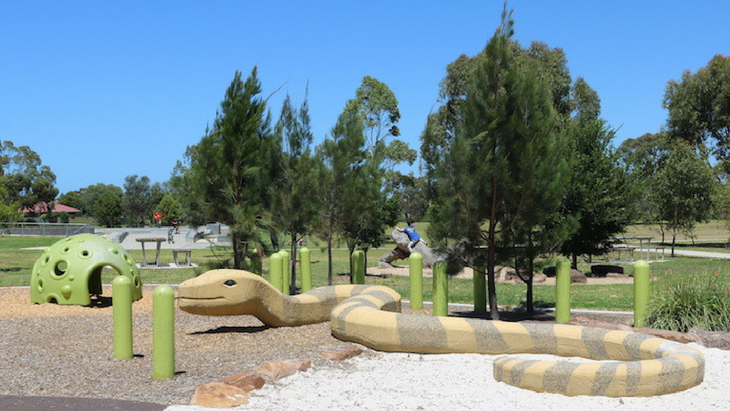 The favourite playground of Laverton locals has had a bit of a spruce up recently - and the main attraction is a giant, stripy, climbable snake.
The playground is probably more suited to younger kids, and is small and simple in a quiet area. There's plenty to keep youngsters occupied, including a climbing pyramid, bird swing, small merry-go-round, sandpit with digger, musical instrument area, small slide on a gently-sloping hill kitted out with climbing holds, and wooden/natural materials to climb, jump, and run on.
There's plenty of seating, but little shade (only a BBQ/picnic shelter), and lots of grassland to run around on and where you can spread out a blanket under the shady trees.
Our kids loved this great big log to climb on and run along, and loved the big oval with the eucalpytus trees - one of which they made their cubby!
There's also a small plastic dome for hiding under or clambering on, and a smallish birds nest swing.
Interesting little sculptures and images are set into the winding footpath.
And a decent-sized skate park close by.
What you need to know
Where: 62 Jennings Street, Laverton, just past the Jennings Street School and alongside the Laverton Swim and Fitness Centre
Opening Hours: 24 hours
Toilets: Yes, two public toilets
Other amenities: picnic tables (some shaded, some unshaded), sports oval, BBQs (cleanest we've ever seen!), park benches, water fountain, and plenty of parking in the surrounding streets.