Family Sunday Drives: Kangaroo Valley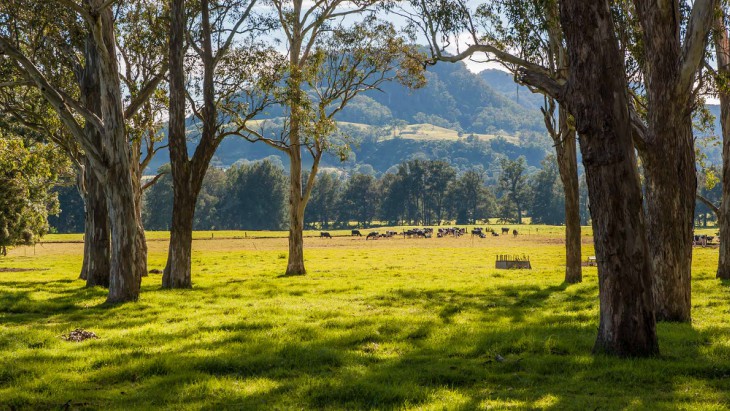 Discover A New Destination With The Family

ellaslist is bringing back the good old Sunday Family Drive. Have a relaxing screen-free day with the whole family where kids can check out some new scenery and parts of Sydney (and beyond) that iPads and XBoxes just can't match. A family drive will have you bonding in no time, the perfect opportunity to get some uninterrupted chat and car games underway as you give the kids a truly new and exciting experience. So, where to this week?
DESTINATION: Kangaroo Valley
THE DRIVE: 2 hours, one way
LOCATION ON GOOGLE MAPS: https://goo.gl/maps/ztIw0
Kangaroo Valley is a gem of the Southern Highlands NSW that you and the family should not miss. With a scenic two hour drive to this historic little village, it's best to be on the road first thing in the morning to make this destination worth the day trip.
Located 140km south west of Sydney, this historic picturesque village with a temperate climate lives within a deep river valley carved into the southern end of the Sydney basin. Surrounded by towering sandstone cliffs and rolling hills, early European explorer George Evans described the view as one that "no painter could beautify."
Why We Love It

With views so awe-inspiring, this is the perfect road trip destination for screen-free time and the opportunity to connect with nature or have a good old-fashion country experience. You'll feel as though you've been transported back into time.
What To Do

Canoe - Take a canoe tour on an easy 5km paddle down stream the Kangaroo River and witness the amazing wildlife against a peaceful valley view backdrop. Watch out for kangaroos, wallabies, harmless water dragons, wombats, abundant bird life, and if luck is on your side, you may even spot a platypus. Ellaslist paid for a 2-hour tour with Kangaroo Valley Canoes and loved every minute of the experience. Every child needs to be in a canoe with an adult but there are also 3-person canoes to choose from. They help you launch and then come and collect you at the other end and drive you back to your start point.
Delve Into History & Do A Bushwalk - If you've got younger kids in tow, enjoy a trip back in time at the Pioneer Park Museum's eight hectare open air museum grounds that includes colonial buildings and natural bushland. A leisure walk through the grounds will take you through a discovery of a dairy, forge, timber cutters hut, bush school, settler's cottage, Archie Chittick Museum and war remembrance room. Then relax with picnic at a magnificent park with gas BBQs and toilet facilities. The kids will especially enjoy crossing the 72m swing bridge which leads to two marked easy bush walks on the property's natural reserve.
Source: Kangaroo Valley Museum
Rest & Relax - If you and the school aged kids fancy a swim, there are safe swimming spots on the serene Kangaroo River at Hampden Bridge and at the Bendeela Campground.
Explore - A walk along the beautiful heritage listed buildings in the Kangaroo Valley Village alone is a welcome sight for the concrete jungle city folk. The kids will be over the moon when you take them to the woodcraft store to check out all the amazing wooden toys and the fudge and ice-creamery shop for treats!
Places To Eat

Kangaroo Valley village ellaslist patronised The Friendly Inn pub and enjoyed lunch in its enormous beer garden out the back. You could graze on a hearty pub lunch schnitzel or burgers and kids meals.
Picnic Spots If you're taking the canoe tour, it finishes at a lovely picnic spot. But there are also various picnic and BBQ facilities along the Kangaroo River, like the Bendeela Camping and Recreation Area, and on either side of the Hampden Bridge. So pack a picnic lunch ahead or purchase something from the village and enjoy the scenery.
Highlights Nearby

If meandering around the Kangaroo Valley area isn't enough to sate your family's day trip itinerary, explore a bit further outside the valley to these spots we think are worth stopping.
Tallowa Dam – About 40 mins west from the valley, this gorgeous man-made lake is a fabulous alternative for a picnic or fishing activity if the family is into it. It's also home to the largest fish lift of its kind where the native fish species are transported over the dam wall in a 2,500 litre bucket to help them migrate between the lower and upper Shoalhaven River.
Gumnut Patisserie, Bowral – Ellaslist reckons that this bakery sells the best almond croissants in the world, hands down. But even a stroll around Bowral shopping area is worth it for a browse of its antiques and homewares.
All Aboard Braemar Model Railways, Mittagong (with huge indoor/outdoor operating railway) – 45 mins north of Kangaroo Valley, this railway paradise will blow your train loving child away. There are a few indoor and outdoor model railway tracks with miniature towns so detailed, you'll think you're Lilliput.
Fitzroy Falls – An easy 16 mins north of Kangaroo Valley, Fitzroy Falls has several easy walks which the kids can do that leads up to a spectacular 81-meter tall waterfall that plunges into the lush eucalyptus forests.
Source: National Parks NSW
Accommodation

If you're planning on making Kangaroo Valley a weekender, our favourite place to stay is Cedars Cottages. The Cedars is the largest private wildlife sanctuary in the Kangaroo Valley. The farm is spread over 1,100 acres breeding horses and cattle and is home to a multitude of wildlife including the Echidna and the Platypus. Other wildlife you can spy are wallabies, wombats, goats, deer and of course kangaroos.
Check out your other options on AirBnB or Stayz. ellaslist has stayed at Bundaleer which was spectacular, with grazing wombats and kangaroos, and a lovely fire pit.
Reviews
We LOVE the Kangaroo Valley!!! We went for a weekend farm stay at a great little cottage, 3mins from the village. We have two 20 month olds and they had a ball watching kangaroos and enjoying the open space! Totally recommend x