Ever Wondered What It Would Be Like To Have A Billion Dollars?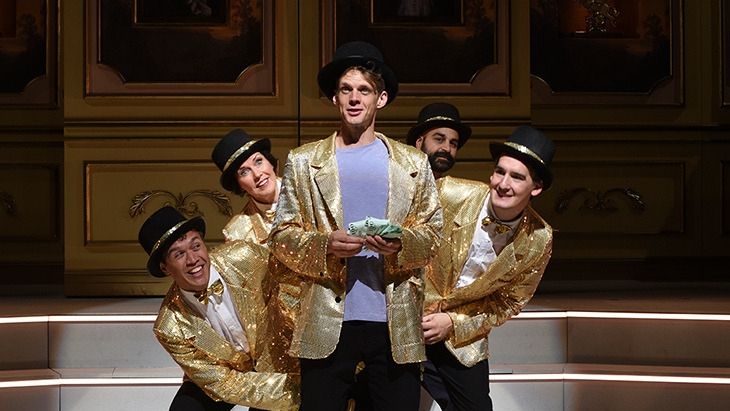 "Joe Spud has a lot of reasons to be happy. About a billion of them, in fact. You see, Joe's rich. Really, really rich. Joe's got his own bowling alley, his own cinema, even his own butler who is also an orangutan. He's the wealthiest twelve-year-old in the land. It's clear to everyone that Joe has absolutely everything he could possibly want. But there's just one thing he really needs: a friend…"
David Walliams' best-selling book has been adapted from page to stage, and the themes will prompt some important conversations between you and your child. From wealth and poverty, bullying and friendship and navigating difficult family situations, Billionaire Boy is a hilarious yet important show that kids will learn big lessons from; not least that being a billionaire isn't all it's cracked up to be.
Money Can't Buy Happiness

Image credit Heidrun Lohr
In a world where screens are king and kids can spend days on end watching other children unbox their new toys on YouTube, it's no wonder that 'things' are such a popular commodity for the young generations.
The issue with Joe Spud, however, is that despite his wealth and having everything that any child could dream of, he's miserable—and all he really craves is friendship. The importance of kids understanding this message cannot be overstated, and parents can use the show to prompt conversations around having gratitude for what you already have, and how lucky your child is to have friends to play with. After all, friends are much more fun than toys.
Family Situations
With a money-centric relationship with his dad and the threat of having a stepmother that cares only about the gifts his father bestows upon her, Joe is certainly not in the best of family situations. His plight is another opportunity to highlight how important family is and how lucky children are to have a close, loving family that cares for them deeply—billionaires or not!
Friendship And Bullying

Image credit Heidrun Lohr
Despite his wealth, Joe has experienced a lot of bullying, in both his posh private school and the local high school he attends when his father grants him permission to start over without telling his peers about his fortune.
The clear line between right and wrong is evident when Joe and his new friend Bob encounter awful bullying at the hands of school-bully Grubb. Whether or not your child has experienced bullying themselves, the show can spark conversations on how to deal with it if it arises, and why bullying should never be tolerated.
For The Parents
While it's easy to focus on what children can get out of this enthralling, hilarious and touching performance, we can't overstate the benefits for parents, too. All of these lessons—particularly about money not buying happiness—are just as important for adults to remember as well. In such a fast-paced world where we're all being encouraged to do more, be more and achieve more, remembering the importance of friends, family and being kind has never been so crucial. Amen to Billionaire Boy!
You can see Billionaire Boy live on stage at Arts Centre Melbourne from 6th - 14th April. Don't miss it! Book tickets here.
Hero image: Heidrun Lohr
More Kids Shows Here:
Have you signed up to our newsletter? Join ellaslist to get the best family and kid-friendly events, venues, classes and things to do NEAR YOU!