Escape Hunt: Solving Clues and Family Tensions in a Small Room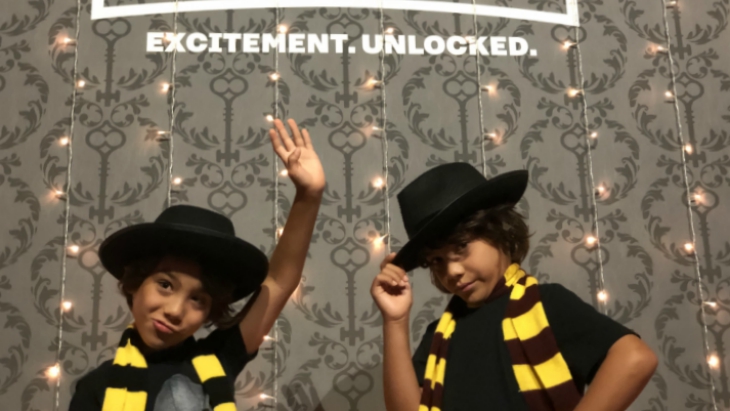 This weekend, our family dabbled in some wizardry, witchcraft and magic spells over at Escape Hunt's newest room, "The Young Wizard's Quest".
Having kept our trip a surprise from my 9 year old twin boys, when they first walked into the foyer filled with props and special equipment, there were mixed emotions of excitement and anticipation. Discovering the costume box with hats, scarves and capes, they soon got the hint there was some unique fun waiting ahead.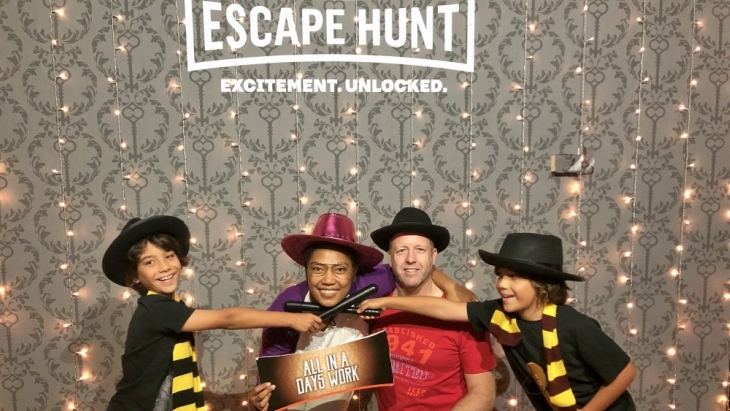 Warmly greeted by the Game Masters, we were given a quick introduction to the setting of our game and the rules. Once our personal belongings were locked away in a box (no mobile phones allowed!), we were handed a clipboard, pencil and paper as well as a Walkie Talkie to communicate back with the Game Masters for clues and tips.
Then it was straight into a wizard's lair!
A Test Of Team Work
With 60 minutes on the clock, it was game on! Full disclosure: I'm not an expert on scavenger hunts. In fact, I'm clueless when it comes to clues. So this was a true test for our family to work as a team.
While racking my brain to crack the codes and my husband trying to piece the puzzles together, the boys were proving to be top super sleuths, carefully reading out the riddles and successfully finding secret doors.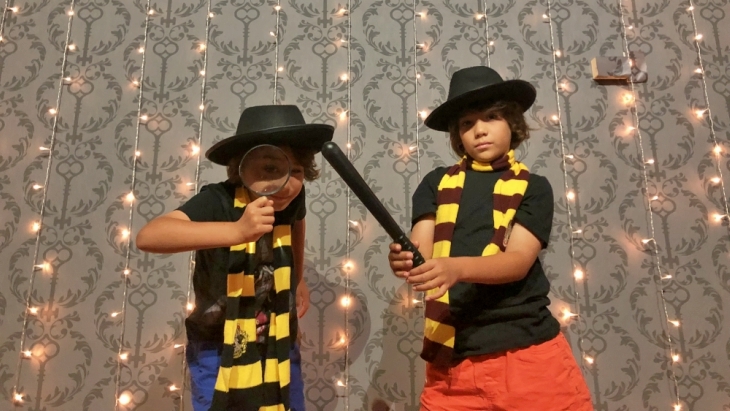 There were some hairy moments where tensions rose a little high among certain family members (ahem) but we managed to recalibrate and get back to the task.
I must also give a special shout out to the Game Masters who were super helpful and ever so patient. There were countless times we used that Walkie Talkie for answers, only to call back seconds later and have them repeat what was just explained. It was close to embarrassing. But they never faltered, even cheering us on, assuring us that we were doing great.
Mission Possible
Eventually, we completed our mission (phew!).
We left feeling accomplished and upbeat…with our family bond still intact.
It may have taken us just a wee over the designated hour but the Game Master mentioned it was a Level 2 room, which for first-timers, is a huge challenge. She suggested that next time, we try Level 1 which incidentally, is the other new room, Secret Service Mission.
With feedback from my son saying he "loved the mysteries, problem solving and teamwork" we're sure to return!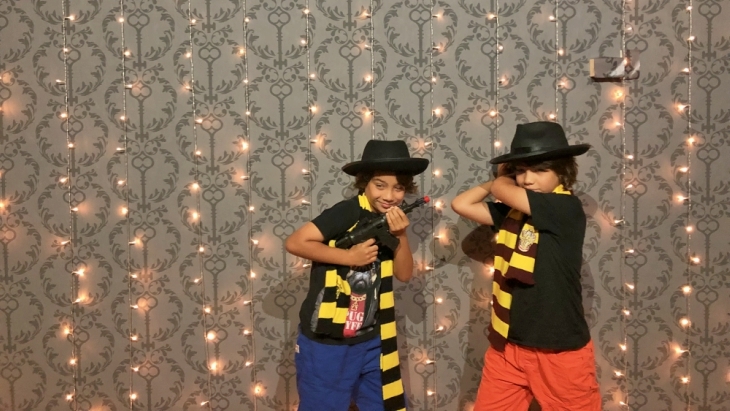 Location and Facilities
Located in the heart of the CBD on George Street, Escape Hunt is only 5 minutes away from Town Hall Station. The lounge area is licensed so parents can enjoy a quiet glass of wine after their hair raising session. Complimentary tea, coffee, hot chocolate and biscuits are also available.
Birthday Parties
Make your child's birthday one to remember! The party includes a fantastic escape room experience (including The Young Wizard's Quest), a free puzzle for the birthday kid and a dress up photo shoot for $29 per child.
Tips from ellaslist
For first timers, best to try a Level 1 room such as Robbery In The Cottage or Secret Service Mission.
Do arrive 15 minutes early to listen in on the brief from the Games Master.
5 people per group is most ideal. While all rooms are suitable for children ages 7 and up, there must be one adult in the group.
Cost: $36 per person (use code ELLA15 for 15% off. Not valid with birthday packages or other discounts / promotions). Kids Birthday Party Packages (ages 7-14) $29 per child.
For more information and to book, head to the website.