ellaslist visits The Christmas Warehouse
Preschoolers
Family
Kids
Mums & Bubs
Parents Only
Teens
Todders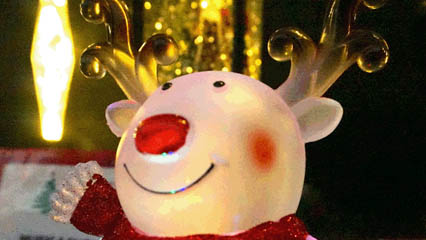 By: Yvette DuBourdieu, ellaslist
It's THAT time of year again – Christmas is a-coming, and we adore it. In our house it can't come early enough – we LOVE that you can buy and scoff a mince pie or six on 1st November, that Jingle Bells is playing on a loop from the 10th. By mid Nov we're itching to get decorating and every year we enjoy building up on festive loot in our ultimate attempt to replicate a northern hemisphere village snow scene in the blistering Sydney Summer. (and for the record it's going well so far!)
Getting the old decorations down from storage and dusting off the (artificial) tree is the first Christmas activity that the kids really look forward to. A trip to buy new decorations, shinier baubles, fluffier tinsel, brighter lights is an annual and exciting affair for everyone.

The Buzz on the Coolest Christmas Decorations
This year, in prep we caught up with Chris from The
Christmas Warehouse
in Alexandria to get the heads up on what's cool for 2016.
The Christmas Experts
The Christmas Warehouse
has been around for a
very long time
and is the most established warehouse supplier in Sydney – they've been helping Australian families
bring in Christmas for 30 years
and now have eight stores across Sydney &
NSW
(Alexandria, Castle Hill, Penrith, Campbelltown, Erina, Wollongong, Auburn & Prospect) with all products available online.
Each year they work with over 40 suppliers sourcing thousands of products that ensures the latest trends, collections and colours are available and affordable for everyone.
The Alexandria Store specially opens up from 1 November right up until Christmas Eve. Chris says "it's always a family affair – everyone comes to the warehouse; mum, dad, aunts, uncles, and kids from bubs in prams to teens will easily spend an hour or more carefully selecting their decorations. A trip here is more than a shopping trip – it's an experience and something to be looked forward to. The same customers have been coming back to us year after year. It's lovely to see"
A Festive Fantasy Land
If you haven't been to the Christmas Warehouse before – it is a real delight for little kids. You may not be able to budge them from the entrance complete with Santa, reindeers, sleigh and a big red chair – the perfect scene to snap a festive selfie.
Inside the store, you'll find everything from Tinsel and Baubles, Christmas Wreaths, Santa's with Surfboards, Trees of all shapes and sizes and the black room showcasing all the indoor & outdoor lights, animations and giant inflatables. You'll be able to dress your Christmas Table with Runners, Ribbons and Candles, and even get the furrier members of the family involved with treats and cute costumes. Too much to mention – you really need to visit for yourself.
One Stop Christmas Shop
The store is laid out in colours and collections, so it's easy to find something to match what you already have or go for a whole new look. Copper, Bronze and Gold colours headline this year and you'll find those earthy tones in their extensive Country Collection. There are also a lot of nature inspired products such as cinnamon sticks, pine cones and spice scented candles making an appearance. You'll also find all the traditional collections, from white and silver, red and gold and beach themed of aqua and green. You can shop their entire online store by colour.
HOT
TIP
Best tip from Chris – if you want to avoid the rush, weekends are busy. So with very young kids, bring them during weekdays – there's easy parking and wide aisles for prams to navigate.
Ready to visit? You'll find stores in Alexandria, Campbelltown, Erina, Castle Hill, Penrith, Auburn, Prospect, & Wollongong. Find a Store Near You
No time to visit the store? The complete Christmas Warehouse collection is available online. Search by product, colour, collections and specials.