ellaslist Spends A Morning At The Justice & Police Museum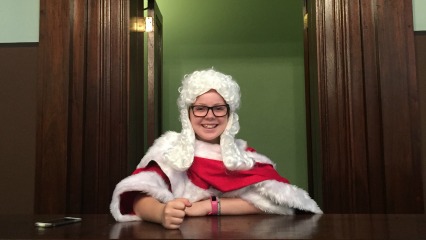 Nestled discreetly on a quiet corner a stone's throw from Circular Quay, you could be forgiven for having passed by the demure sandstone Justice & Police Museum buildings already without noticing them. Historically the Museum has only opened on weekends, however the kids and I headed into town this week for a visit to take advantage of the new weekday openings (daily until Jan 29 2016).
For any child 5-12yrs who enjoys thrills of a different kind (this Museum relies on substance over gimmickry), it's an utterly fascinating place to visit.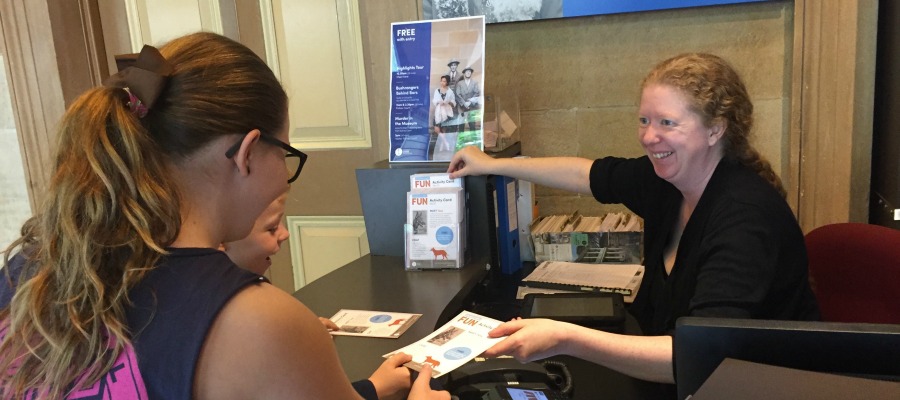 A daily half-hour tour, which we joined and during which the Guide skilfully modified the content to suit the handful of kids who'd joined in, commences at 10.30am. To be honest the Museum is small and straight-forward enough to wander through without one if you preferred. Either way, kids are presented with activity cards to help them navigate their own way throughout.
Infamous Criminals

First we wandered through the Notorious Criminals room to learn of some of Sydney's most notorious criminals, like Caroline "Aunty Carrie" Grills, who took a morbid delight in poisoning some of her closest family and friends with rat poison, eventually being charged with four murders and a further 3 attempted murders, and dying in prison in 1960.
Can You Crack The Code?

This lead into the Breakers room, dedicated to the art of safe-breaking. My 8yo son was mesmerised by the wooden combination lock* in this room, eventually solving it long after my annoyed 11yo daughter had given up!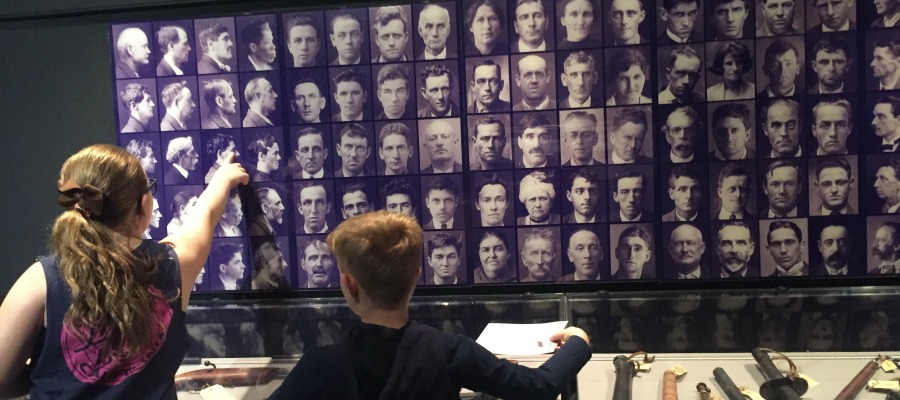 Weapons!

Through the Police Court (still in use as a courtroom until the 1980s!) to the Crime Museum, another highlight for my kids; a small room filled to overflowing with weapons of all sorts, knives, pistols, numchukkas, brass knuckles and more, many of them makeshift, all confiscated by police on Sydney's streets in the line of duty and neatly labeled with spooky little descriptions in inky long-hand. Above the weapon display cases sits a wall of mugshots, mostly men, and my kids spent quite some time assessing who they thought looked the most evil/friendly/scary/weird/all of the above.
Imprisoned

On we all went to through to the Cells, the Guide inviting everyone who was game to pile into one together to give us an authentic glimpse into what life might have been like in a crowded cell on a Saturday night in the early days. Bare stone floor and a bucket, barely any natural light, no thanks! The other cells contain more displays describing prominent local crimes (who could forget the sad case of the Graeme Thorne 'Lotto' kidnapping in the 1960s), a history of bush-ranger crime, and more.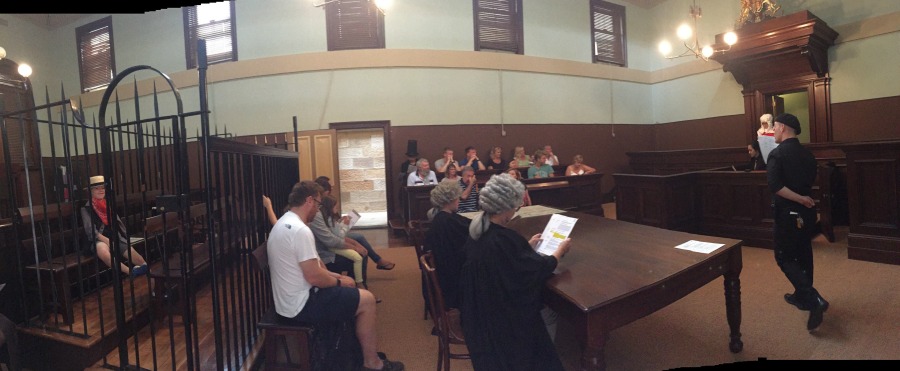 Fingerprints

In the former Water Police Station charge room the 'constable' took the children's fingerprints on a kids activity card. Using a magnifying glass the children could then analyse the patterns their fingerprints make and compare them with the rest of the family's prints. Fascinating!
THE

MOCK

TRIAL

– 11am & 3.30pm daily!


All the Museum visitors are then invited to participate in a mock trial, based on the actual transcript of the trial of bush ranger John Vane, who was charged with robbery and attempted murder of a police officer in April 1964. Both my kids volunteered for roles, my daughter (the Chief Magistrate) eventually gleefully sentencing her brother (John Vane) to 15yrs hard labour. Participants are given easy scripts to follow and a Museum staff member leads the proceedings, stepping in whenever necessary to assist.
Behind The Scenes

The final room, City of Shadows, is quiet. Dark and quiet. The Guide was careful to mention to us when we arrived that if the children were likely to be sensitive of graphic imagery, to avoid this room altogether. Here you can view many police photographs, taken at a time before DNA samples, before scientific investigations, and as criminal profiling was only just starting to develop. Prior to this, people's domestic lives were incredibly private, so this series of observational crime scene photographs represents a rare and thrilling record of historic Sydney.
As it's a small Museum, I hadn't expected to spend more than an hour or so there, but the three of us were thoroughly engaged for over 2hrs.
ellaslist's Tips:

*Code spoiler alert: 0-9-5 back to front in case you need a hand while you're there ;)
Kids' highlights – 11yo's was the trial, the 8yo loved the code cracking.
Parking - you can book Wilson Parking at the Opera House online for a discount – it's only 5mins walk away. We visited on the New Years Public Holiday Monday though, so just grabbed a nearby street park for $3.50/hr.
Public Transport - the Museum is only 200m from East Circular Quay, so any transport that arrives nearby is perfect.
Coffee stop - Grab a cuppa from the Governor's Table, a block away and next door to the always-engaging Museum of Sydney.
Dining - being moments from the spectacular Royal Botanic Garden, Sydney, we'd recommend packing a picnic and making a day of it.
Open 10am-5pm: Saturdays and Sundays.
Admission: Adults $12, Concessions $8, Family $30, Members & Under 5's FREE
Tell them ellaslist sent you!