ellaslist Reviews The Emporium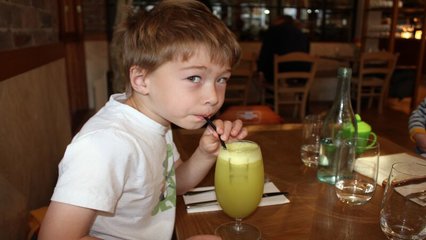 By Vanessa Ward, ellaslist explorer
There's a buzz in the air in Parramatta at the moment with the opening of a number of new restaurants and cafes. One of these new restaurants, The Emporium, opened in April and it was here that my husband and I headed, one and five year old boys in tow. Access to The Emporium is easy as secure parking is adjacent to the restaurant. The loop free city bus also stops in front of the The Emporium. Both inside and out The Emporium has a European charm which sounds out of place in the middle of Parramatta. But it's not. It's a relaxing restaurant and the whole family was made to feel welcome from the moment we entered.
Urban Garden Setting

We had a choice of dining inside or in the covered alfresco area. The flowers, greenery covered walls and sun streaming in the front made the alfresco area attractive but with the trucks out the front working on the new Meriton apartments opposite we opted for a quieter table inside which is also not short of charm with its open kitchen and rustic decor. A high chair was provided for my youngest son and we were soon enjoying the good coffees and fresh juices. We were selecting from the brunch menu which runs from 8:30am to 3:00pm. The lunch menu is available from 12:00 to 3:00pm, a bar menu from 12:00 to 10:00pm and the dinner menu from 6:00pm.
Fresh, Delicious Menu

The Emporium prides itself on its use of fresh produce and there were lots of delicious sounding options to choose from. I had the 'Crushed avocado, rocket, feta, chilli bacon, toasted sourdough', my husband the 'Smoked bacon and egg roll, grilled tomato, watercress and chilli tomato jam', and the kids had the 'Ricotta pancakes, mascarpone, poached blueberries'. The servings were a good size, beautifully presented and absolutely delicious.
Helpful Staff

We were all very content with our choices and would like to visit again to try the 'Brioche French toast with banana, salted caramel, hazelnuts and chocolate'. The service was impeccable and while I assume they normally pace the meals they could see that we had small children and asked if we would like our meal as soon as it was prepared which we readily agreed to.
There was plenty of space to get prams in and out if required and for our one year old to stretch his legs and have a walk around before the meals were served, without getting underfoot of the waitstaff. If you are bringing young children note that the toilets are upstairs and only 2 people can go in the lift at a time, so make sure that the kids let you know when they need the bathroom with plenty of time. There is also no baby change facility.
Helpful Hints

Given that at night this is a classy restaurant with a range of a la carte, degustation and set menus along with champagne, cocktails and wine I can understand that this may not marry well with malodorous nappy bins and fold down change tables. So be prepared to change bub in the pram in the neighbouring public space.
For me this was a delicious and easy morning out with the whole family and I'd recommend it for when you're looking for something a bit different. If it all sounds too hard there is a hole in the wall espresso bar and bakery on the side of the building with seating in the public space. Grab something delicious and sit outside or head to the nearby Parramatta River and the CBD River Foreshore Park.
I'm excited be one of the new ellaslist explorers and am looking forward to exploring Sydney further along with my mini-explorer boys Hal, aged 1, and Madden, aged 5, and the other big explorer, my husband Brad.
I'm a primary school teacher and when I'm not working we all enjoy getting out and about. With two active boys we can often be found at Sydney parks with our current favourites being Lakes Edge Park at the Ponds and the Blaxland Riverside Park at Newington. We live in the Hills district and spend a lot of our free time at the parks (and the James Ruse Reserve Water Playground), cafes and along the river in Parramatta. We enjoy going to shows together with Madden's favourite being The Gruffalo at Glen Street Theatre. We love to travel and have enjoyed recent family trips to Warren, Wagga Wagga, Bermagui, Burleigh Heads and Kangaroo Island. We have nicknamed Madden the jock thanks to his love of all sporting events so as well as watching his Saturday soccer matches we are often cheering on teams at a variety of sporting events. I just asked Madden what we do as a family and his response was 'relax', which is what we like to do after exploring all of the above.