ellaslist Reviews The Art of the Brick: DC Comics at the Powerhouse Museum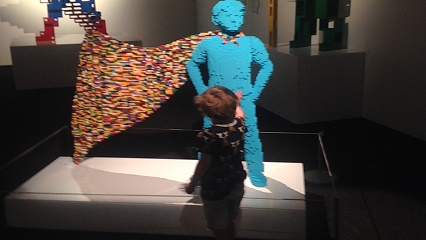 By Sarah Stores, ellaslist explorer
If you have a little superhero lover in your house or a Lego lover or, as in our household, a child who speaks about either Lego or superheros all day long then I highly recommend The Art of the Brick: DC Comics, a new exhibition at the Powerhouse Museum. I took our Master 4 and Master almost 2 over the weekend and Master 4 is still demanding we go back immediately (this demand was particularly endearing at 3am this morning). But I can see why he was impressed!
Awe-Inspiring Lego Fun!
After purchasing our tickets at the Museum's entrance we got side-tracked (like we always do!) by the excellent train selection at the front of the museum. But it wasn't long before Master 4 was demanding to see the superheros that he was promised. We entered the exhibition which was expertly designed in a series of black, selectively lit rooms.
First we watched a video about the making of these amazing creations. It was a great taster of what was to come but nothing really prepares you for the incredible pieces of art that the Lego artist Nathan Sawaya has created. We walked through a series of rooms each of which had their own theme and each of which was more impressive than the last.
Having spent many an afternoon trying to create something more elaborate than a Lego house I was in awe of the skill and talent that had gone into the creations. My boys were equally impressed and loved seeing all of their favourite superheroes in one place. Each room got bigger and better. I thought the superman room couldn't be topped until we walked into the Batman room complete with a life size Batman and Batmobile all made of Lego!
Interactive Lego
The exhibition ended with an interactive space where my kids spent a long time building Duplo and then Lego creations. There was also a shop which was a treasure trove of potential Christmas presents (and tantrums…but we managed to hold strong. This time…)
If you can handle the taunts from your kids about why you can't create such amazing Lego creations for them then I would highly recommend this new exhibition. The rest of the museum is equally fabulous for the kids and the rest of the morning was spent exploring trains, space ships, planes and the excellent Wiggles section.
What you Need to Know about The Art of the Brick: DC Comics
Ages: All ages
Location: Powerhouse Museum, 500 Harris St, Ultimo NSW 2007
When: 21 November 2015 – 1 May 2016, 10am – 5pm
Cost: Adult – $26.00
Junior (4-16 years)- $16.60
Under 4 – FREE
For more information visit https://maas.museum/powerhouse-museum/, call +61 (02) 9217 0111 or email [email protected]
                                                             ABOUT SARAH STORES
I'm Sarah. A Mum of two over-active boys and a self-confessed Sydney tragic. I love living in, exploring, discovering and experiencing all Sydney has to offer.
Having lived in Sydney most of my life I have loved exploring it as a grown up but now as a Mum I'm relishing re-discovering my passion for Sydney through the eyes of my boys. I love planning and executing our regular family outings to explore new things in Sydney. As a working Mum, it is a great way for our family to stay connected and have fun together. I would love to spend all my time travelling the world but given I live in the real world of mortgages and jobs we see exploring Sydney as tourists as the next best thing. You can follow our adventures on Instagram at SarahStores