ellaslist Reviews Sweet Addictions At The Calyx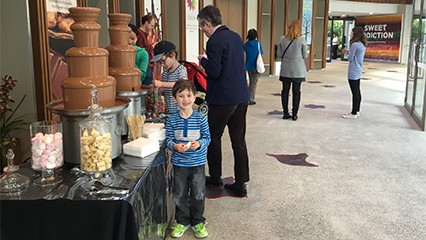 By: Amanda Lieber, ellaslist explorer
We followed the signs through the Royal Botanic Garden Sydney to 'Sweet Addiction', a sensory exhibition about the botanical story of chocolate. As we entered into The Calyx, we were greeted by the delicious scent of chocolate and two chocolate fountains. There were a choice of marshmallows, (which our young one ate before dipping, and just had to have another one to hold under the flowing chocolate) and for a 'healthier' option there were strawberries and bananas. I must say at 10 in the morning a chocolate covered strawberry is actually quite delicious!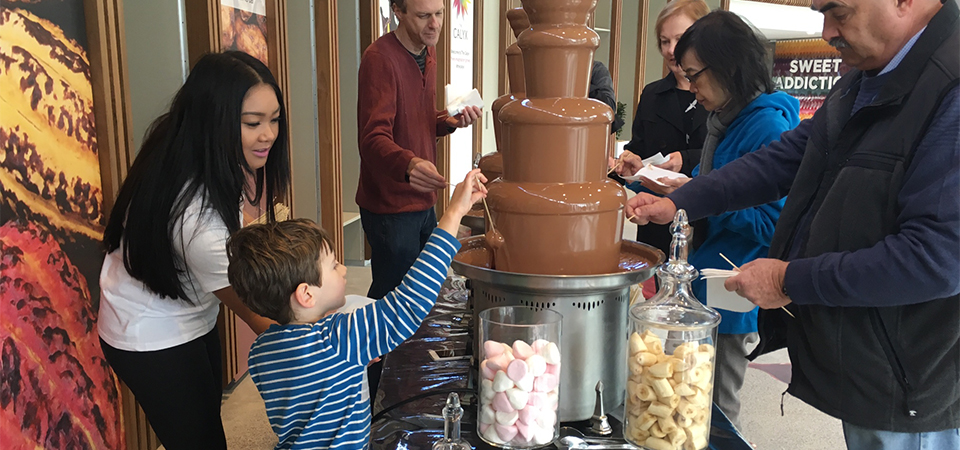 What Is The Calyx?

The 'Calyx' (pronounced kal-iks) is the green base of a flower that holds the petals together. An apt name for this new horticultural exhibition space situated in the Botanical Gardens. It's a large building that will house various exhibition and events in the future. The Calyx officially opened on the 11th June, in time for the Garden's 200th birthday year.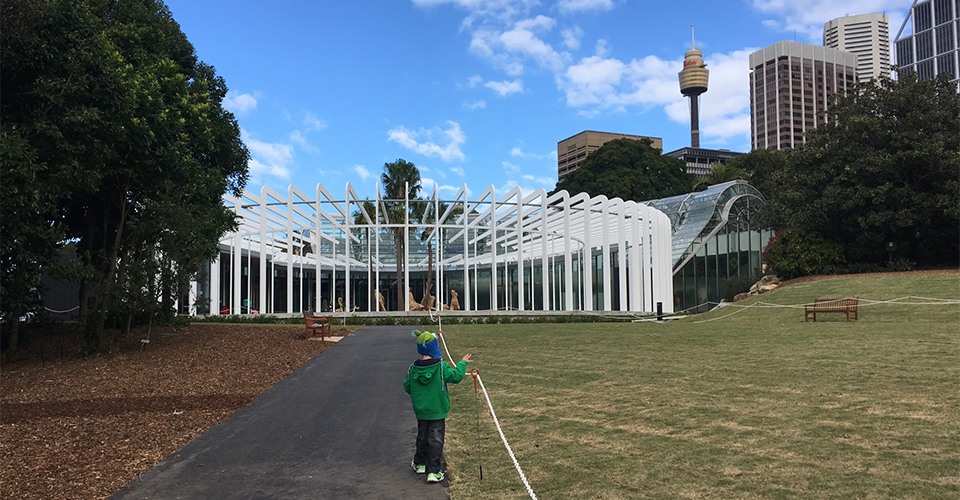 Sweet Addiction – The Launch Event

Sweet Addiction is the first exhibition to be held in the Calyx. It's a delicious, interactive exhibition which involves all your senses; sight, touch, hearing, smell and best of all, taste! As you walk into the room it feels like you have been transported into a South American rainforest, complete with humidity and sounds.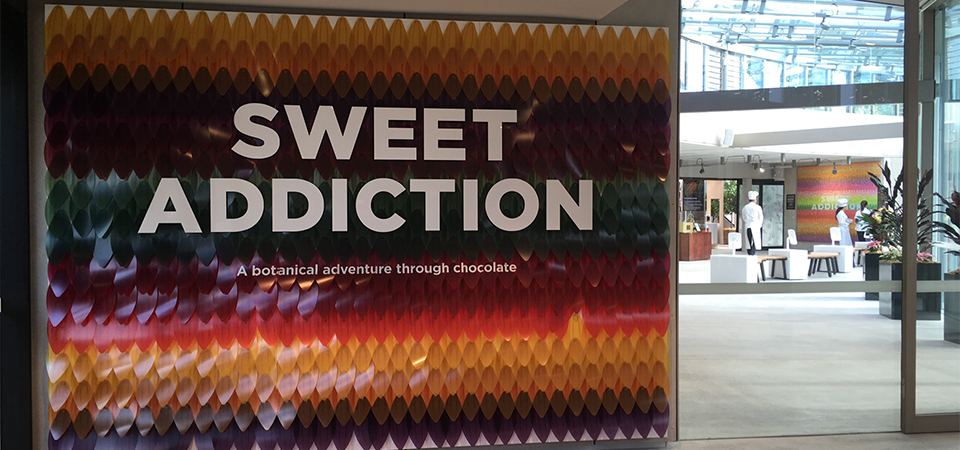 The Immense Tropical Living Wall

You are completely surrounded by trees and plants, wall to wall! In fact, it's the largest contiguous green wall in the southern hemisphere with over 18,000 plants. You will see a cocoa bean tree with real cocoa pods growing on it, a vanilla bean orchid and other plants found on a chocolate plantation and in a tropical rain forest. If you're lucky, you'll meet Phil Kodela or 'Dr Phil', a Botanist who has been working at Gardens for 20 years, and holds a wealth of plant information if you have any questions.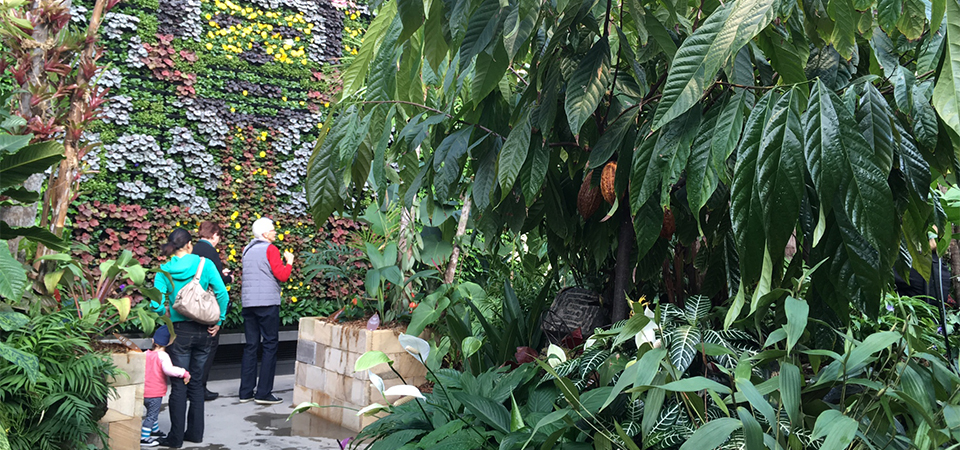 Heaps For The Kids

We were given a 'Chocolate Forest Kids' Trail', a list of questions and things to look for, listen to and smell whilst walking through the exhibition and mark them off on the sheet. There are spots on the floor to direct the trail, 'Look Spot, Smell Spot and Noise Spot' (if you want to release your inner Jaguar!). 'The Mill' has a great section with 'sniff this' and 'sniff that', different herbs and spices, lift-the-flap information points and a fabulous 'wall of jars' filled with different items from fruits to syrups, creating beautiful rainbow colours. The self-guided tour suggested time is 45 minutes, however with a child it took us about 20!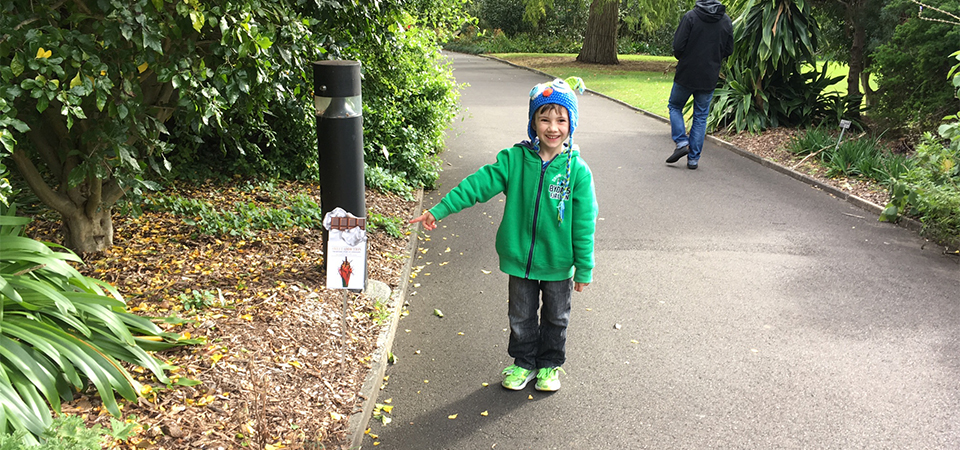 Now For The Chocolate

When you exit the exhibition space, on your left is a wall covered in what looks like Lindt chocolate balls with 'Sweet Addiction' written into it. There's not actually any chocolate in the wrappers (as they would melt) but volunteers have wrapped thousands of substitute balls just for this wall! I wonder if they had to eat the chocolate to empty the wrappers.
We were lucky to be there on the opening weekend and got to meet Thomas Schnetzler, Lindt Master Chocolatier. He explained the chocolate making process to us from picking the cocoa pod to mixing the chocolate for 3 days before its smooth enough and ready to use. We sampled chocolate in its very raw state as cocoa nibs, melted dark chocolate and then the final product as Lindt Balls. It was a truly delicious experience.
The tastings are only offered for special occasions, the opening weekend, Christmas and Valentine's Day. There are other events, see their website for future tasting events.
Another Treat Afterwards

After the chocolate experience, we wandered down towards the Opera house (to walk of some of the chocolate!). I always forget how wonderful the Botanical Garden are, it felt like we had been transported into another world. We hopped on the Choo Choo Express and had a very informative tour around and about the Gardens.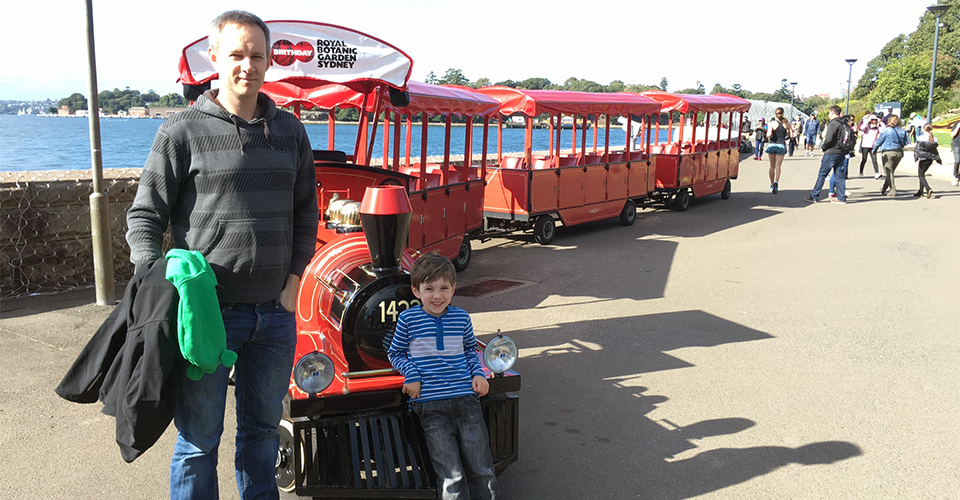 Our Highlights

For my son, it was eating chocolate at 10.30am although a close second was the Choo Choo Train ride. He also loved exploring the gardens and the Fernery (now named the Dinosaur Jungle) and feeding the fish and eels at the pond (take some snacks to feed them). He also found my Howler Monkey impersonations hilarious!
I love anything that keeps the young one focused and amused for a period of time so I was a very happy mum! I also loved learning about the gardens and look forward to showing off my new-found knowledge to our next lot of international guests.
My husband was incredibly impressed by the living rainforest plant wall in the Calyx. He's is a bit of a DIY man, I just hope he doesn't create one in the bathroom!
It was a fabulous family day out, we had so much fun exploring the Gardens, riding the Choo Choo Express and learning all about various plants, and of course, the journey of chocolate from plant to mouth. We can't wait for our next adventure at the Royal Botanic Garden Sydney.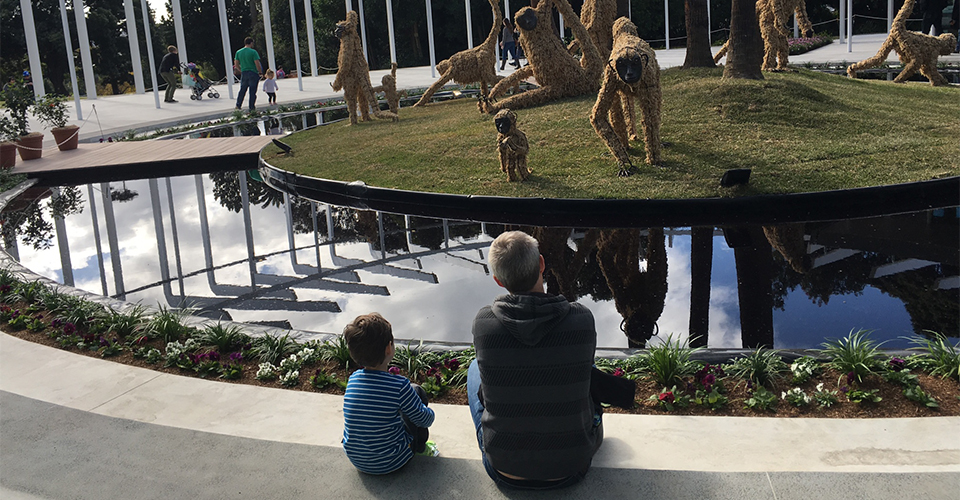 Getting There

It's very easy to get there via public transport. If you are driving there is limited parking. Domain Carpark, which we chose, has a $10 weekend flat fee. It's about a 5 minute walk to the Botanical Gardens, past the NSW Art Gallery (which is also a fabulous outing, and they have a great café), through the Woolloomooloo Gates and follow the 'Sweet Addiction' signs to the Calyx.
Essential Information About Sweet Addiction

Dates: Sweet Addiction is on from 11 June 2016 to 17 April 2017
Prices: Family pass $40 (online), purchase ticket at the door is: $48; Adults $15 (online), purchase ticket at the door is: $17.50, Children/students: $8 (online), purchase ticket at the door is: $9.50
Times: There are two session times: 10.00 am: you can enter any time between 10.00 am and 1.00 pm; 1.00 pm: you can enter any time between 1.00 pm and 4.00 pm
Pram accessible: The whole area is paved and very well suited for prams/strollers and wheelchairs
Toilets: there is one at the entrance to the exhibition. The Gardens are quite large so make sure the little ones go to the loo before exploring as it's a bit of a walk to the next toilet facility.
Lunch: you can take your own packed lunch and have a picnic or go to the Botanic Garden Restaurant which has an extensive menu.
Essential Information About The Choo Choo Express

Where: The tours start and finish at the Queen Elizabeth II Gate (by the Opera House). You can hop on and off and on at any of the 4 stops (see website for details of stops). Tickets can be purchased before getting on the train from the desk near the gate.
When: Tours run in summer (1 October to 30 April) from 10am – last tour starts at 4.30pm, and leave every half hour on the hour and half hour. Tours run in Winter (1 May to 30 September) from 11am – last tour starts at 4pm. The tour lasts about a 25 minutes (if you don't hop off at one of the 4 designated stops). The Choo Choo Express DOES NOT operate during WET WEATHER.
Prices: Adults $10, Children: $5 (3 to 17 yrs). Keep your ticket as you can get a coffee for only $2 at the Botanic Gardens Restaurants located at the Palm Grove Centre and 10% discount in the garden shop. Restaurant is open for lunch, daily 12.00 pm – 3.00 pm and weekend breakfast, 9.30 am – 11.30 am.
Other: It was quite a busy day and the driver/tour guide, Ami, warned it would be a 30 min wait for the next train and it might be too full to get on. We decided that with a child it was best to stay on! After the tour we back-tracked to places we thought were interesting.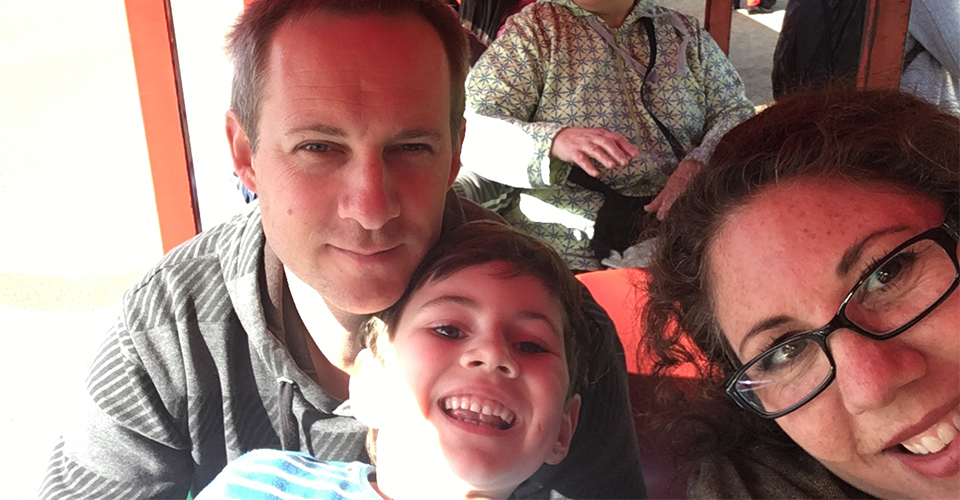 For more information, visit our event page on Sweet Addiction and our venue listing on The Calyx and The Royal Botanic Garden Sydney.