ellaslist Reviews Queens Park Shed - The Kid-Friendly Playground Cafe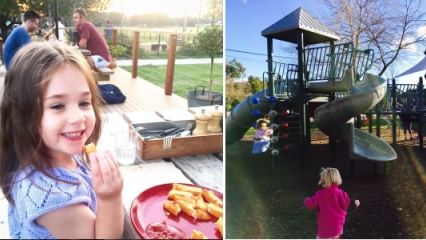 By: Lisa Wolff, ellaslist (Thanks to Melanie Walsh for the gorgeous feature photo)
We love a good café next to a park. And Queens Park Shed is one of the very best. It is literally footsteps from one of the best playgrounds in the Eastern Suburbs, which offers fun equipment for all ages, a large sandpit, swings and a cute baby climbing gym.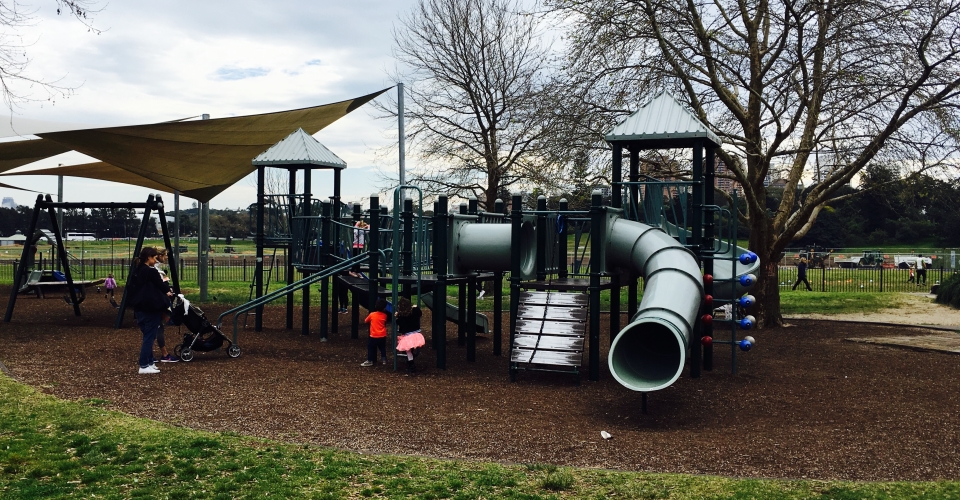 Breakfast, Lunch…
On a weekend, the café is buzzing. There are a number of sports fields surrounding the playground and soccer mums and dads stream in for their coffee and brekkie fix. One of our favourite spots in the whole world is the Shed's sun drenched deck where you can enjoy a delicious meal while getting a perfect view of your kids playing in the park.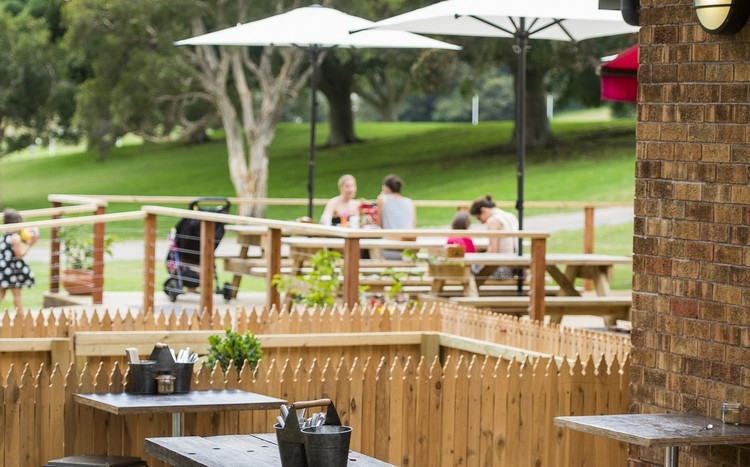 And Dinner…
But I bet you didn't know that Queens Park Shed is also open for a family friendly dinner Thursday through to Saturday. Now there's no need to rush off after a playdate in the park – stay for a bite to eat and don't worry about cooking when you get home.
Four years ago, this rustic-styled café was an old tool shed that was given a complete makeover with an airy, spacious interior, exposed concrete walls, quirky lampshades, wooden tabletops and cast-iron chairs. It has a long countertop at the entrance where you order your food and a glass display filled with tempting pastries and sandwiches on offer.
After an energetic session in the Queens Park playground on Saturday afternoon, it was such a relief that I didn't have to put up with grumpy hangry kids on the drive home. Within steps of leaving the gated playground, we were welcomed into the Shed and found a spacious table to seat our brood.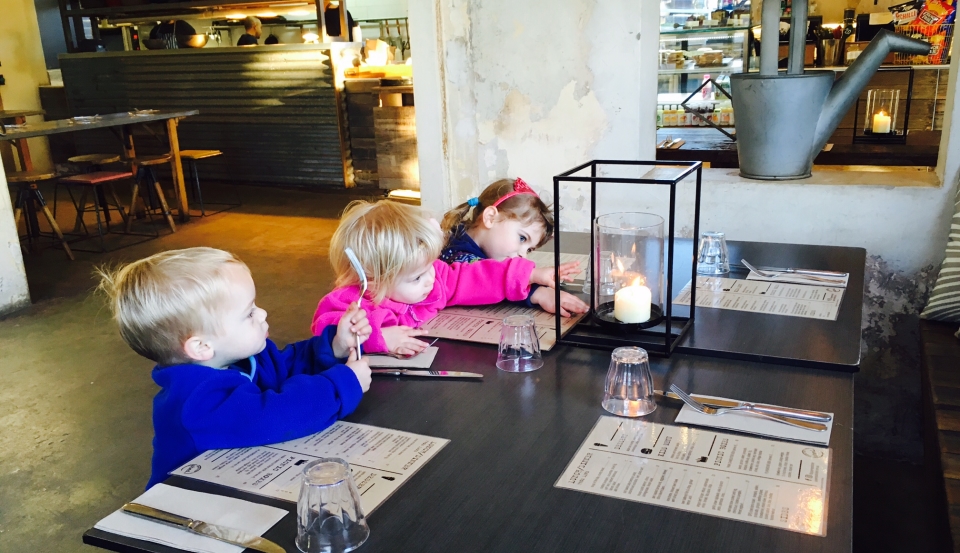 Sunset Dinners on the Deck
It was a slightly chilly evening so we chose to sit inside but I can't wait for those long summer days where we'll be planting ourselves on one of those deck tables and won't leave until sunset!
What's On Offer
The dinner menu is the same as lunch and offers a good mix of more sophisticated salads together with popular café staples like the burger and fish 'n chips. There is also a generous Charcuterie board packed with different cold meats, cheese and accompaniments – perfect for sharing (there is also a charcuterie box which you can nibble on in the park).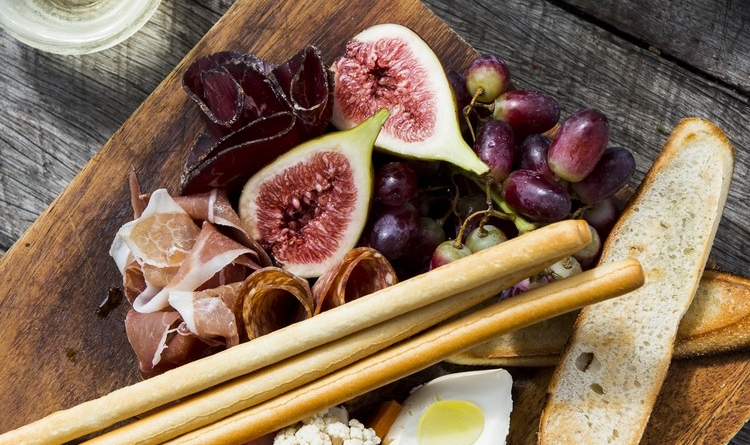 The kid's menu is well priced and offers a toastie ($8), fish 'n chips ($9), pasta ($9) and chicken schnitz, chips and salad ($12). We also liked the idea of grabbing a playground box which serves 2 for $25 and comes with fruit, crisps, cheese, crackers and muesli bar. This would be great for a light snack in the park if your kids aren't so hot on sitting at a table.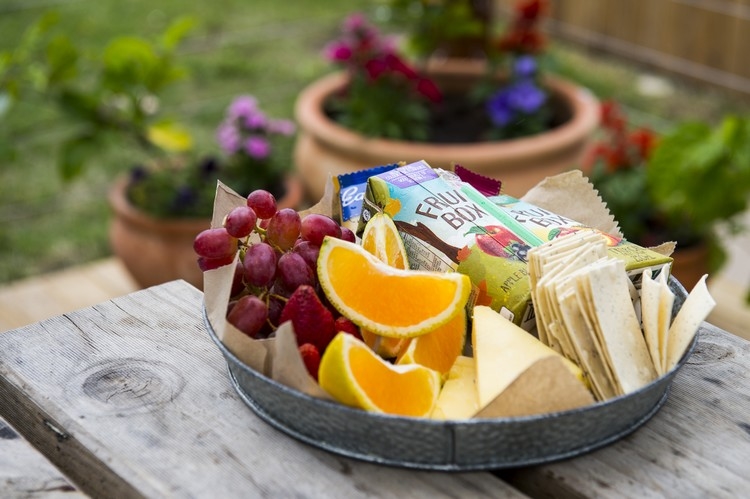 Two Thumbs Up
We decided to try out one of each of the kids meals and they all got a big thumbs up from our little clan. The portions were very generous so could easily be shared between smaller eaters. The schnitzel was crispy and served on a bed of crunchy chips and salad leaves. The fish was crumbed and presented in a basket with fries. The pasta was large easy-to-eat spirals with a delicate napoletana sauce and cheese.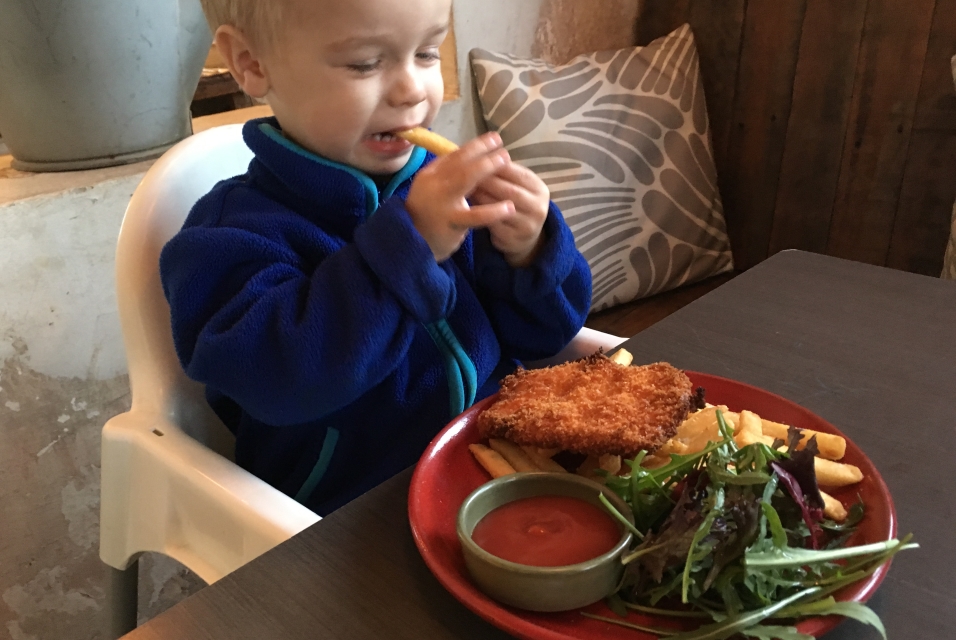 The growns-up went for the Angus beef burger, caramelised onions and bbq sauce served with chips ($23). The burger was big and juicy and those chips were simply scrumptious (fluffy melt-in-the-mouth potato goodness surrounded by the perfect crunch). There were three salads to choose from but we picked the most popular at the Shed – Roasted Pumpkin, Cucumber, Dried Fig, soft herb, toasted hazelnuts, labneh salad. ($17) with chicken for an extra $4.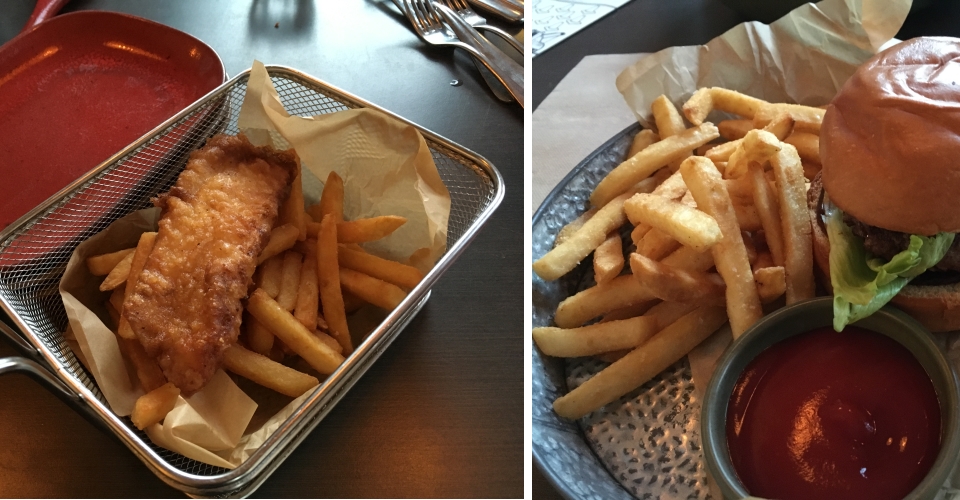 The salad was a meal on its own packed with complementary flavours and different textures. The pumpkin was sweet and the nuts added a crunch. The soft labneh cheese was smooth and delicious and the pomegranate seeds added a zing. Yum!
We ended off the meal with a small scoop of vanilla ice-cream for each kid which let the adults enjoy a bit of conversation in relative quiet.
Perfect for a Family-Friendly Meal
Finding a kid-friendly spot for dinner can be a challenge. But Queens Park Shed definitely gets five stars for this. The kids were noisy and at times a bit boisterous but no-one gave us critical looks…maybe because all of the other customers dining at 5pm were families too.
So be sure to check out Queens Park Shed for a welcoming spot for an enjoyable meal with your kids – breakfast, lunch or dinner.
Top Tips
Queens Park Shed is also a fantastic party venue and you can book out the deck for a child's birthday or a private function and the café will do the rest.
Kids Eat Free: Take Advantage of this amazing special. Kids eat free for dinner on Fridays during NSW school holidays! More details here.
In a Nutshell
What makes the cafe kid-friendly - Cafe adjacent to a fantastic playground, kid's menu and sun-drenched deck.
Atmosphere – Relaxed, easy going and welcoming
The Food – Excellent. Food was delicious and enjoyed enthusiastically by kids and grown-ups
Value-for-Money – Good. Portions are generous
Special features and Fun bits – The soon-to-open herb and veggie garden, the deck and proximity to the playground
Who is the cafe best suited for? - Singles, couples and families with kids of all ages
What did you love – How close the Shed is to the playground, The food, the welcoming atmosphere.
What You Need to Know
Opening Times – Monday to Thursday: 7.00 am to 4.00 pm ; Friday & Saturday: 7.00 am – late (dinner from 5.00 pm) ; Sunday: 7.00 am to 5.30 pm
Phone: (02) 9380 9350
Address: 31 Darley Rd, Queens Park
More Info: www.queensparkshed.com.au or Queens Park Shed on Facebook
ellaslist was a guest of Queens Park Shed