ellaslist Reviews: GLOW at Sydney Zoo - a Dazzling New Festival of Light!
Toddlers
Preschoolers
Kids
Teens
Family
All Ages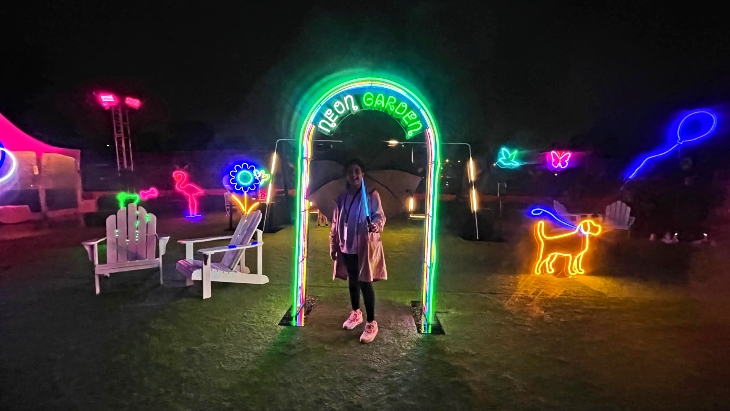 It was the opening night of the highly anticipated GLOW at Sydney Zoo light festival and not even the rain couldn't dampen our spirits. In fact, the awesome light-up umbrellas the crew had on hand (complete with a torch in the handle) made it completely worth it.
Through the gates, and armed with our Secret UV Safari Map and light pen (included free with a children's ticket), we couldn't wait to be dazzled by Sydney's newest light spectacular - and it did not disappoint.
Welcome To The Carnival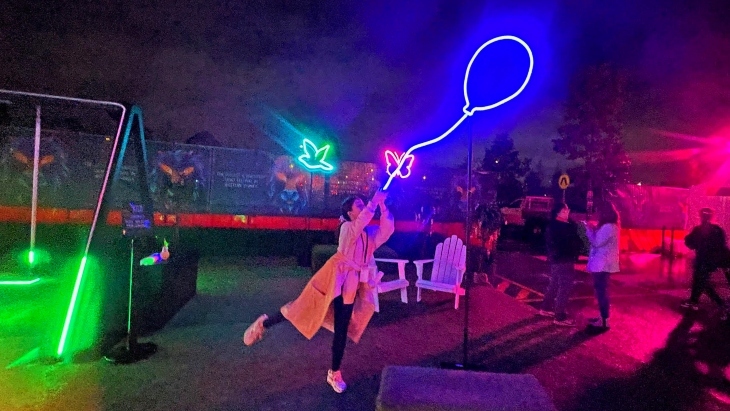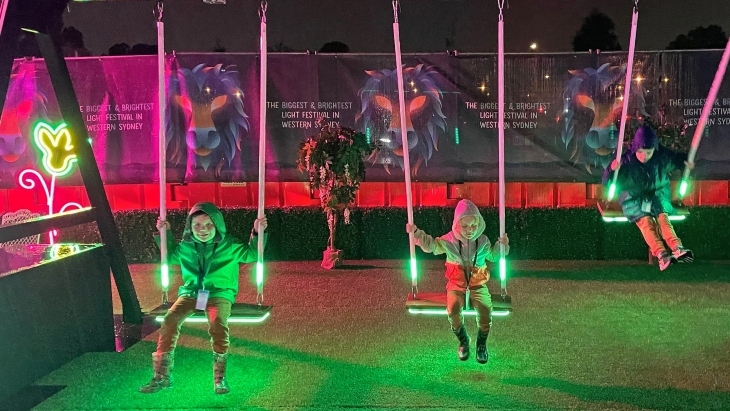 As soon as you enter the grounds, the festival atmosphere comes to life. The forecourt of the zoo has been transformed into the GLOW Zone - a carnival experience abuzz with illuminated fairground fun. First, we explored the Neon Garden - a whimsical wonderland of vibrant fluorescent light sculptures designed for taking fabulous Insta-worthy photos. Float away with a balloon, take a puppy for a walk or fly high on the kinetic swings - all in a rainbow of iridescent technicolour.
There are two interactive installations in the GLOW Zone to explore, each emitting a symphony of colour, music and light as you engage with them - the eight-tentacle Octopoda and the giant Trumpet Flowers.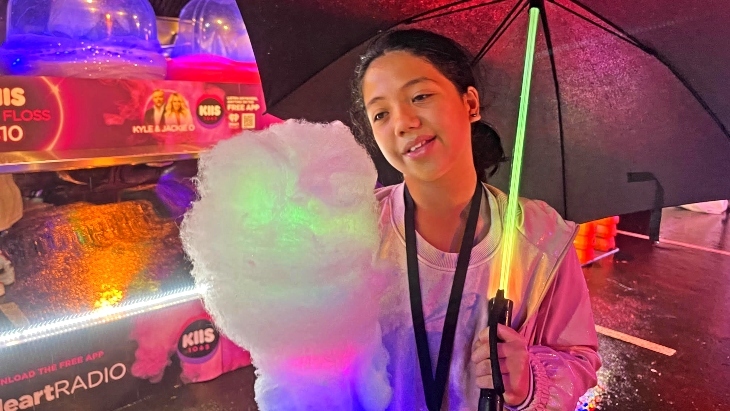 Next up, my little one strapped on her skates to carve up the ice under the stars. With a cool soundtrack, a halo of sparkling lights and a waddle of helpful (albeit plastic) penguins, The GLOW Ice Rink was a popular playground for excited kids and grown-ups keen to show off their skills. Pop-up ice-skating rinks are always a winter highlight, and getting our first opportunity to hit the ice was amazing. We came back for seconds before the night was done!
Kids are always up for putt-putt, and the Glowy Golf mini-course added a kaleidoscopic radiance to the beloved challenge! The vivid maze of animal sculptures adorned with bold designs popped under the UV lights creating a striking visual scene that made it even more fun.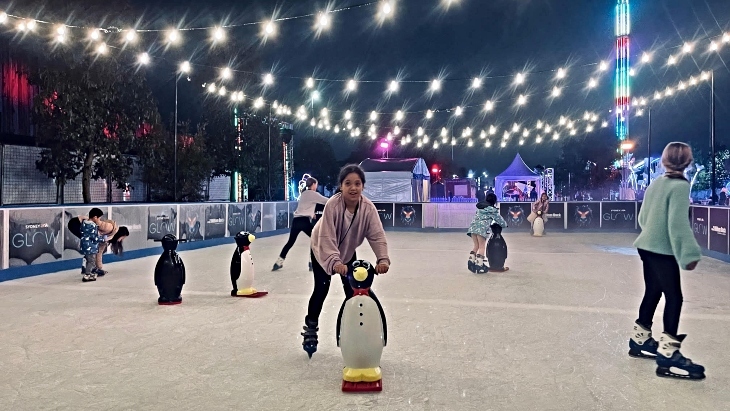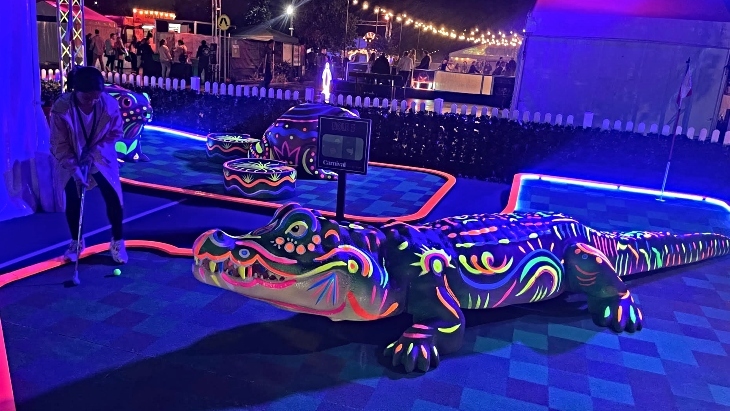 The pinnacle of the GLOW Zone is the Space Jam - a 'flying chairs' ride where you can take in the epic view of the festival from a dizzying height!
The GLOW Zone is also the place to refuel. There are several food trucks including the delicious BlackBear BBQ (their brisket was divine!), Cluckn Chicken, Waffle Popz & Churros, the 4 Pines Bar and Streets ice cream. After my daughter devoured her nuggets and chips, she wasted no time getting her hands on the incredible light-up Fairy Floss and the GLOW Light Bulb drinks in an array of fun flavours.
There are also two lounges - one at either end of the GLOW Zone – which makes perfect undercover retreats to eat your food or escape the drizzle. Of course, these too are replete with colour-changing lightbox seats!
A Light Walk Fairyland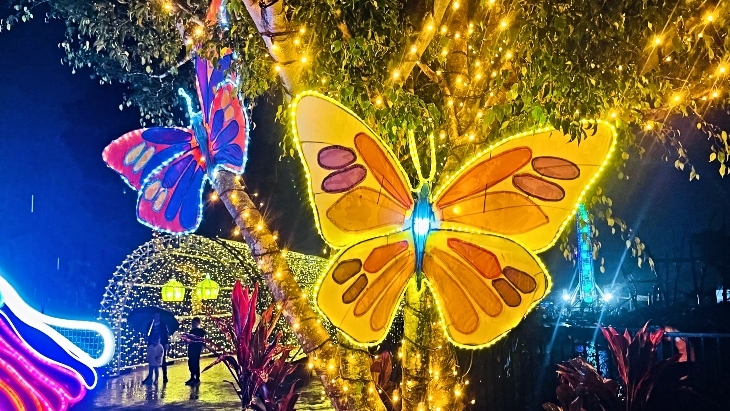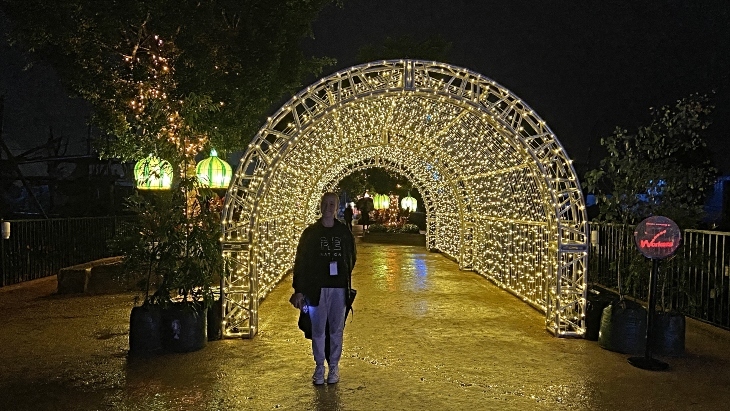 With the spark of the festival spirit now ablaze, we ventured into the heart of Sydney Zoo for the GLOW Light Walk. This is where the Secret UV Safari Map and pen come in handy! Not only did it guide our journey, but my daughter got straight into her undercover detective adventure, using the UV light to unmask clues on embellished wooden posts along the path.
As soon as we crossed the threshold into the serene space of the animal sanctuary, we were surrounded by glittering butterflies, luminous fairy wings and a twinkling light tunnel. Pure enchantment! And the magic continued as we walked through the tunnel and meandered along the magnificent Lantern Walk.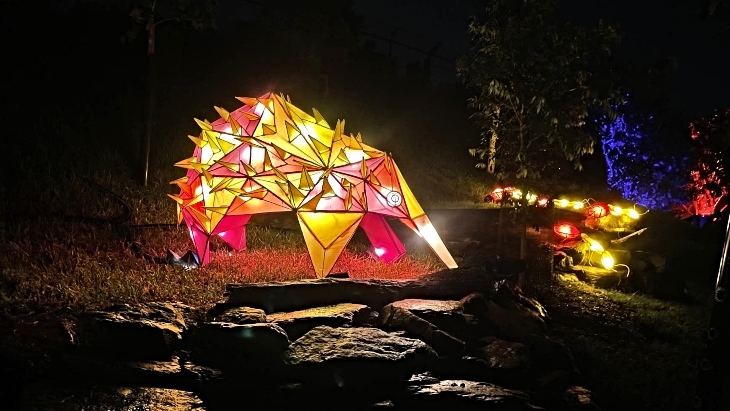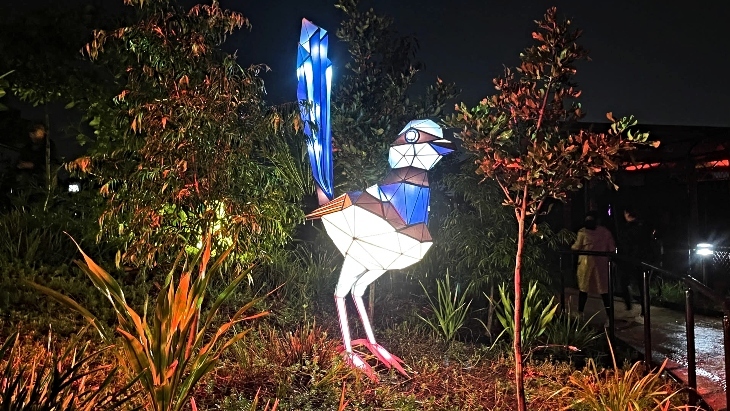 Among the animal habitats and natural bushland of Sydney Zoo, a dazzling display of illuminated animal sculptures lined the pathway. The impressive collection of gorgeous, detailed artworks included Tiddalik the frog (a firm favourite), a goanna, possum, spider, butterfly, emu, snake, echidna, birds and so many more.
Sydney Zoo is home to the largest reptile house in Australia and we were thrilled to have unique after-hours access during GLOW. We got up close to fascinating snakes, lizards and scorpions. Not to be outdone by the inanimate animals outside, one slithery serpent was determined to put on a show in an awe-inspiring encounter with my daughter.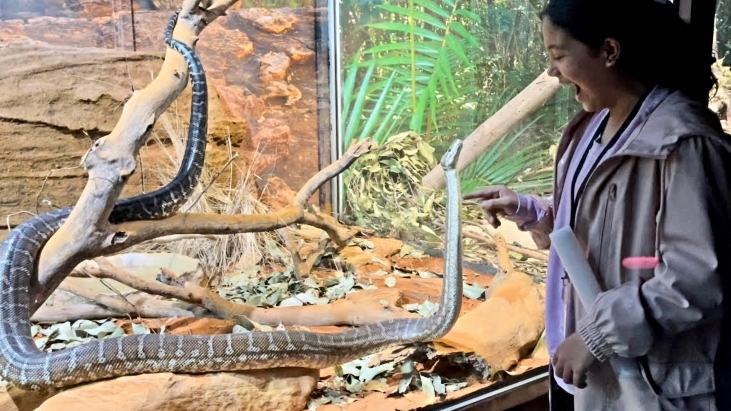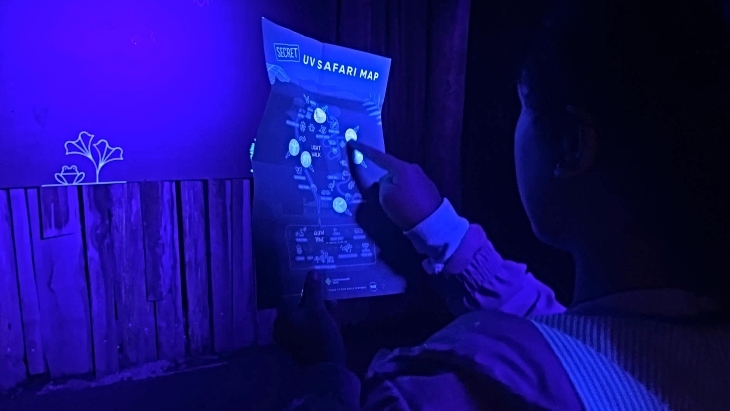 The Light Walk was also dotted with lovely little hubs of activity where we got our faces painted with glowing ochre by our Aboriginal guides, made a pledge to the UV wildlife wall, experimented with the cool effects of the Shadow Play screen and took a ride in a gleaming gondola on the brilliantly blazing Ferris wheel rising high above all the illuminated action.
Even in the semi-darkness, there was a real sense of how peaceful and open Sydney Zoo is, and having exclusive nighttime access to wander among the sleepy creatures was a beautiful experience. Our detective skills were put to use here too as we tried to spot any animals still awake amidst all the excitement - and there were! We found Kangaroos, a Tasmanian Devil and Dingoes on the prowl, and came face to face with a huge crocodile in his underwater lair.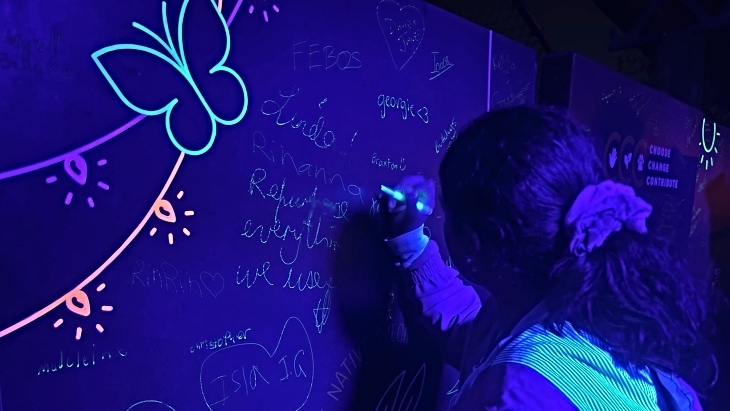 A Delightfully Illuminating Experience
Sydney Zoo has done an extraordinary job bringing Western Sydney its own epic light festival and the inaugural event was a spectacular display of culture, creativity and community. All of this was within the manageable parameters of the zoo grounds making it easy for families to navigate.
Starting out in the GLOW Zone, weaving through the Light Walk, and then returning to the GLOW Zone for more food and fun, it was a magical evening from the time the gates opened until they reluctantly shut. I couldn't get Miss Eleven off the ice rink at 9:30 pm!
Visiting GLOW at Sydney Zoo on opening night, with a spattering of rain, has actually created an unexpected silver lining – the perfect excuse to go again before the season is through!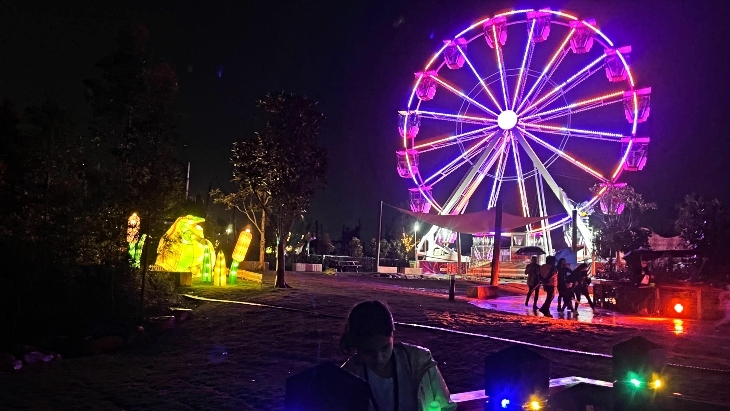 GLOW at Sydney Zoo Details
Due to overwhelming demand, GLOW at Sydney Zoo is extending by two weeks! GLOW at Sydney Zoo is on NOW until Saturday 18 June from 5:30 to 9:30 pm nightly.
Tickets are $25 each online or $30 at the gate, plus you can redeem a Service NSW voucher for FREE entry. Infants under 2 are FREE and parking is included.
Sydney Zoo is located at 700 Great Western Highway, Bungarribee.
Get more details and book now at GLOW at Sydney Zoo.
More of Sydney's Best
Where to see Cherry Blossoms Near Sydney
The Best Places to go Skiing Near Sydney
Whale Watching in Sydney & Surrounds
Have you signed up for our newsletter? Join ellaslist to get the best family and kid-friendly events, venues, classes and things to do NEAR YOU!