ellaslist's Thrills and Spills at Fisher's Ghost Carnival 2016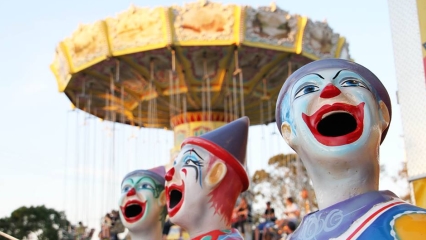 By: ellaslist explorer
Check out this review of last year's Fisher's Ghost Carnival. Gemma, our ellaslist explorer, along with her two daughters, took in all the fun of the fair in Campbelltown in 2015. The 2016 Festival of Fisher's Ghost kicks off for 2016 on 4 November until 13 November.
As we drove towards Bradbury Oval, Miss 5 spotted the Fisher's Ghost Carnival; excitedly pointing out the lights and rides and Miss 10-Months joined the excitement feeding off her sister! As we pulled in to the parking area, we were met by a well organised parking system (my fears we would need to park miles away quickly disappeared), and we were directed to parking behind the carnival which was well lit and had plenty of spaces.
Carnival Atmosphere

The carnival was absolutely buzzing with positive energy; families chatting and laughing, kids squealing as they went on thrilling rides and music from the various stalls. We couldn't wait to get started!!
As it was a Friday night we had the option of an unlimited rides wrist band which is excellent value ($30 pre-purchased or $37.50 if purchased onsite). One other nights, you can buy single coupons ($1) or packages of 30 ($25) or 60 coupons ($50). The carnival had an amazing variety of rides for all ages and the rides all appeared to be in great condition.
Rides for Babies

Miss 10-Months had a ball on the merry go round and was beaming smiles and squealing as she went around and around on the motorbike and cars (she had several turns).
I Believe I can Fly

Miss 5 was in carnival paradise as she hopped from one ride to the next – mini ferris wheel, bumper cars, water boats, ghost train, Jurassic coaster, bungy trampolines, fantasy cups, giant slides, flying planes, sea circus, rockin tug as well as the tummy-turning pirates revenge.
Her absolute favourite was the fantasy flyer (swinging chairs) and she too had several turns on this attraction. While operators in most fairs are stony-faced and bored, the ones at Fisher's Ghost had great engagement with the kids – telling riders to flap their arms, run with their legs and move faster. Miss 5 was super excited that she "really was flying".
Adrenaline Thrills

Older children and grown-ups aren't forgotten and there is a great selection of rides for the more daring. Hubby loved the racing simulator and the adrenaline-pumping Phillip Island Superbikes and Bathurst V8's. Wait times for rides were reasonable, with the longest wait time being approximately 10 minutes for the bumper cars.
The carnival has many side show attractions; laughing clowns, raffles, fishing ducks, darts, bottles and basketball, just to name a few.
Time for Dinner

There were several food options to choose from and they didn't disappoint. There were the traditional hot dogs and chips as well as pasta's, fresh donuts, gourmet German sausages, ice creams and the biggest frozen drinks I have ever seen (it was literally 2/3's of the size of miss 5!!).
Grab a Show Bag

The show bag truck is filled with goodies for all ages. Miss 5 took her time picking "just the right show bag" and the staff were helpful and patient. There was a great selection ranging from traditional chocolate and lollies, Sydney Swans, choices from various Disney movies, favourites from ABC kids and even something for mum and dad with a Big Bang Theory bag. Show bags begin at $4 and range up to $30.
The Fisher's Ghost Carnival was a fantastic night out and had a great family friendly atmosphere. We would definitely recommend the Fisher's Ghost Carnival and it is absolutely worth the drive down the M5 (take either the Campbelltown road or Narellan road exit).
Top Tips


Pick up an ID bracelet for younger children. These are a great way of quickly reuniting children and parents/carers who may become separated at events. ID bracelets can be picked up from the information tent which is located at the main entrance (opposite the cricket field) near the amenities.


Pack some wet weather gear. There are no stalls selling these (take note the Monster High show bag has a great umbrella in the event you forget like we did!). On the night we attended we experienced a few showers but these quickly passed and ride operators and side show operators were very accommodating allowing people to take cover during the rain.


Wear closed-in shoes. Wearing closed in shoes will keep your feet dry and on your feet (during those thrilling rides).


Take the pram. Prams are fabulous for so many reasons when out and about with kids (I'm not sure how I lugged all of my things about before kids!). The pram is great for giving little legs a place to rest, holding drinks while on rides and to hold the show bags. I would suggest taking a pram that is suitable for use on grass as the carnival is held on the oval.


The carnival has an onsite

ATM

which is located opposite the show bag truck.
Find out more about the Festival of Fisher's Ghost and the Carnival, including ticketing prices for rides (entry is FREE!) and other events running during the festival.