ellaslist Reviews Baulkham Hills Sports Club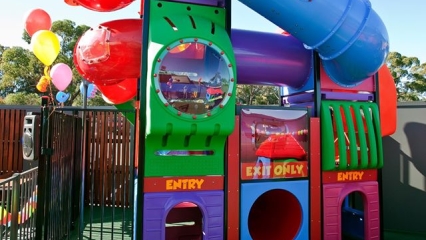 By: Vanessa Mah Chut, ellaslist explorer
I was recently part of a group of three families having Saturday lunch at Baulkham Hills Sports Club to celebrate a birthday.
As soon as we arrived my one year old son was off and running. Luckily The Gallery restaurant is spacious with plenty of room for prams and kids to move about. It has a relaxed atmosphere and a spectacular bushland view. First stop was the bar for our very cheap drinks.
Delicious Pub-Style Menu
We then found a table easily and studied the menu which has a range of options including sharing plates, burgers, pasta and more. We ordered at the counter and our meals arrived promptly.
The steaks from the grill, served with potato and vegetables or chips and salad, were particularly popular amongst my group and looking around, with many of the patrons. The prices are all very reasonable. The kids selected either steak, chicken nuggets, a cheese burger or a mini chicken schnitzel from the kids menu. These were all served with chips with an option to add an ice cream and topping for $2.50. All kids meals include a complimentary colouring in book which certainly kept our kids busy for some time. We were even able to slow the one year old down for a while with his lunch in one of the restaurant's many highchairs.
Children's Entertainment
Once our kids needed another outlet for their energy they headed outside to the gated playground. It has some large slides for the big kids as well as some smaller activities for the toddlers. There's plenty to keep them busy and in good weather you might like to get an outdoor table for easy supervision of the kids.
Helpful Hints
The restaurant is open from 12:00 to 2:30pm for lunch and dinner service starts at 6:00pm.
There's plenty of parking available and a courtesy bus if needed.
Note that if you live within the 5km radius you will need to become a member or be signed in by a member. Membership is $12 per year, $30 for three years or $50 for five years. Baulkham Hills Sports Club members are also automatically members of Bankstown Sports Club, Bankstown Sports Bowls and Birrong Sports clubs.
This club's relaxed atmosphere, affordable prices and range of activities for kids meant that it ticked a lot of the 'eating out with kids' boxes for us, and made for a very enjoyable birthday celebration.
I'm excited be one of the new ellaslist explorers and am looking forward to exploring Sydney further along with my mini-explorer boys Hal, aged 1, and Madden, aged 5, and the other big explorer, my husband Brad.
I'm a primary school teacher and when I'm not working we all enjoy getting out and about. With two active boys we can often be found at Sydney parks with our current favourites being Lakes Edge Park at the Ponds and the Blaxland Riverside Park at Newington. We live in the Hills district and spend a lot of our free time at the parks (and the James Ruse Reserve Water Playground), cafes and along the river in Parramatta. We enjoy going to shows together with Madden's favourite being The Gruffalo at Glen Street Theatre. We love to travel and have enjoyed recent family trips to Warren, Wagga Wagga, Bermagui, Burleigh Heads and Kangaroo Island. We have nicknamed Madden the jock thanks to his love of all sporting events so as well as watching his Saturday soccer matches we are often cheering on teams at a variety of sporting events. I just asked Madden what we do as a family and his response was 'relax', which is what we like to do after exploring all of the above.