ellaslist Puts An Inflatable Birthday Party Venue To The Test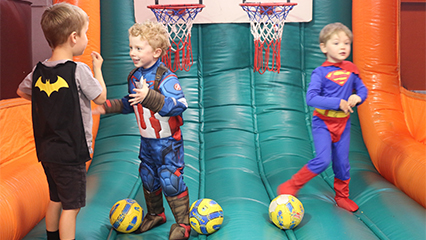 By: Marie Ashworth, ellaslist
It's the annual challenge. Organising a birthday party that your child will love without it costing you the earth and your sanity.
For my son's 4th birthday, I decided months ago that for I wanted to make things easier than last year. His 3rd birthday party involved an entire weekend of shopping and cooking and a last minute panic to find an indoor venue when the stormy weather scuppered our outdoor park party plans.
I knew at 8 months pregnant I was going to find hauling my bump around the shops and kitchen in the lead up to this year's party pretty exhausting and, even more daunting, the energy needed to keep a lively bunch of preschoolers entertained for 2 hours!
So, I started looking for somewhere that promised maximum enjoyment for my son and his buddies, while taking care of the hard work for me.
That's when I came across Cool Cats, a Randwick-based indoor birthday party venue and play centre for kids aged 4-14 years old. This huge hall on Randwick Boys High School campus transforms into an inflatable bouncing, jumping and sliding paradise for kids at the weekends.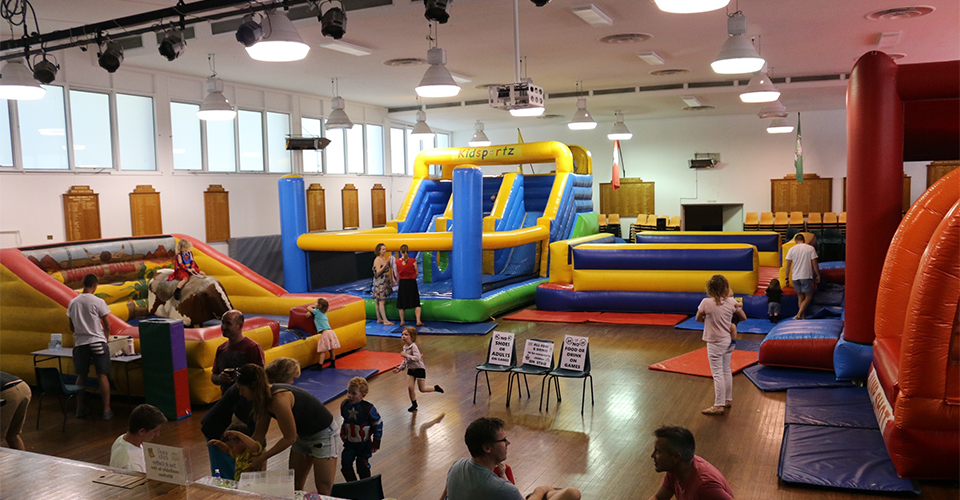 Exclusive Or Non-Exclusive Parties

I enquired about the party around 6 weeks before. The super-friendly Janine who gave me the lowdown on the different options. I wanted to book a non-exclusive party and was keen to find out how this works. My biggest concern was my son's preschool friends feeling overwhelmed among older kids but as Jeannine explained, she always matches parties with similar age ranges. I had originally wanted to book for a Sunday but when she said there was already a booking with older kids, I decided to move the date to the Saturday.
Your Party, Your Choice

As I discovered, there really isn't much to organise when you book with Cool Cats. Most parents choose the catered packages that include snacks (popcorn, crisps, lollies), pizzas and water for the children. Self catering options are available, but frankly, why would you do that to yourself when there's an easier way! There are also a number of optional extras such as a Tattoo Bar, Tea & Coffee for adults and party bags. The only thing left to take care of is the invites and the cake. What a breeze!
Stress Free Enjoyment Beforehand

Last year, the most stressful part of our DIY party was the set up. It took much longer than we anticipated ferrying everything to the venue, finding a parking space, disabling the fire alarm we set off, putting up the decorations and laying out all the food. Needless to say our 1 hour extra venue rental was not enough time. People were arriving while we still at the top of ladders blu-tacking Happy Birthday banners to the wall.
Flip to this year and it couldn't have been a more different experience. There was a feeling of calm on the day of the party that happened to be on my son's actual birthday. That meant we really got to enjoy his birthday morning at home – watching him open and play with his presents and brunching with family – without any rushing around.
All we had to do was get there 10-15 minutes before the start, remember a bag of snacks for parents and the cake. There is ample free parking within the gates of Randwick Boys High School just in front of the hall so no mad rush to find a space or worry over whether you'll get a ticket.
Let's Get This Party Started!

We arrived to find the room full of inflatable equipment pumped up to the max ready for a troop of lively preschoolers to bounce and slide to their heart's content over the next 2 hours. The set up includes jumping castles of all shapes and sizes with slides, as well as a series of inflatable games including the Big Red Balls obstacle course, Basketball Challenge, Gladiator Joust and even a mechanical bull.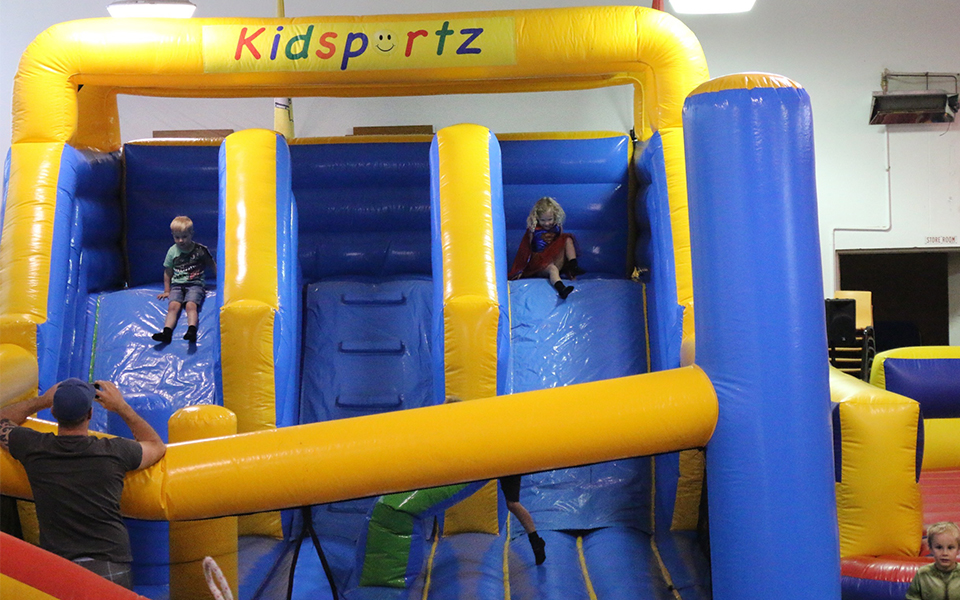 As well as Janine keeping a close eye on things, Cool Cats has a number of staff dotted around the room watching over the children and the equipment.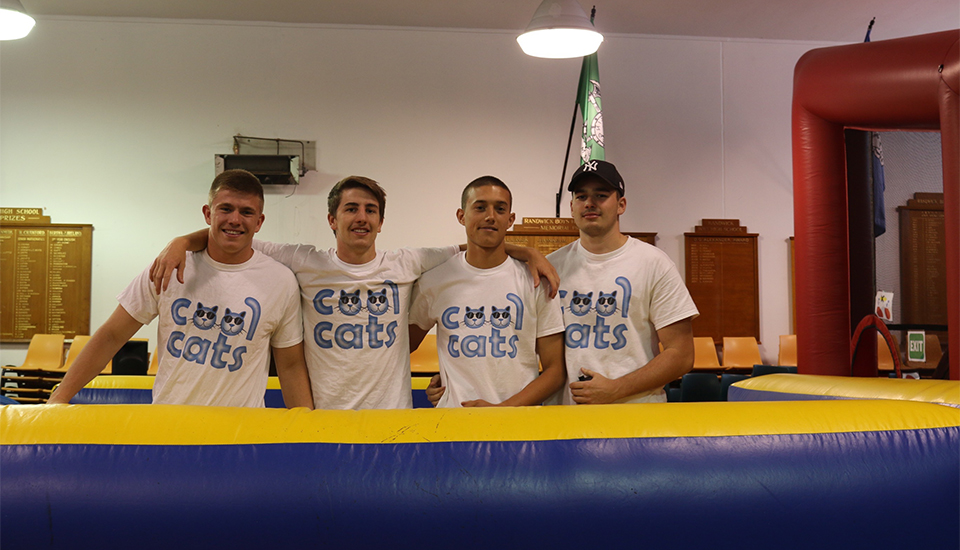 My son's partygoers started arriving and wasted no time in putting on a pair of Cool Cats grip socks and diving straight into the action. Before long, the whole room was full of bouncing, flying. slipping, sliding boys and girls with huge grins on their faces.
Refueling Station

Up on the stage there was a designated party table full of snacks and jugs of water (replenished regularly – bouncing sure is thirsty work!). Children made their own way up when they needed to rest and refuel. Around an hour into the party, the pizzas arrived and the staff went round letting everyone know.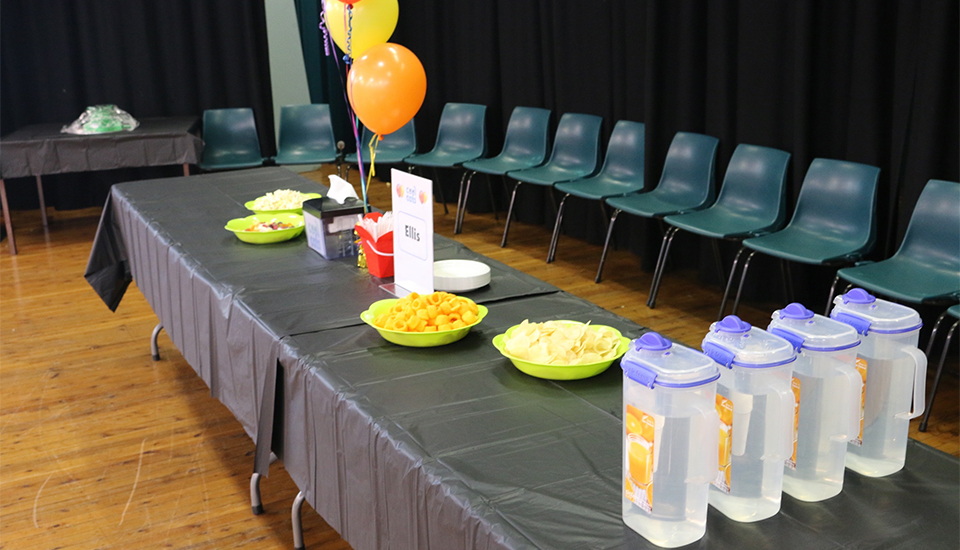 The Perfect Party For My Son

My son is not a huge fan when it comes to being the centre of attention. He found his 3rd birthday a little overwhelming because of this. I knew Cool Cats would be different. All the kids are playing and having fun on the different equipment rather than gathering around the party boy/girl. My son can also find noisy environments just as overwhelming. I'm not saying Cool Cats is quiet – they have music playing and of course squeals of delight from kids but compared to parties I've been to at larger indoor play centres, the noise levels are nowhere near as loud and didn't bother my son at all.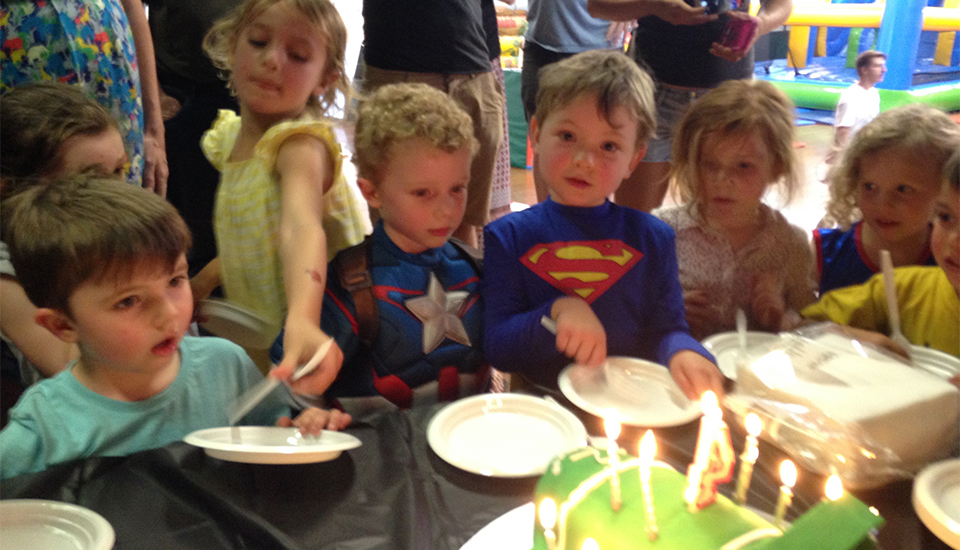 Great Value

So here's the thing. Our DIY party last year cost us heaps more than we'd budgeted. Once we'd paid for an entertainer, a last-minute indoor venue plus all the food and drinks we didn't see much change from $1000. The beauty with Cool Cats is there's a set price per child for a non-exclusive catered party – $29 per child (minimum 15 children) with some optional extra if you wish e.g. tea and coffee for parents ($50), tattoo bar ($50), party bags ($3). For an exclusive catered party (maximum 40 children), the cost is $1080.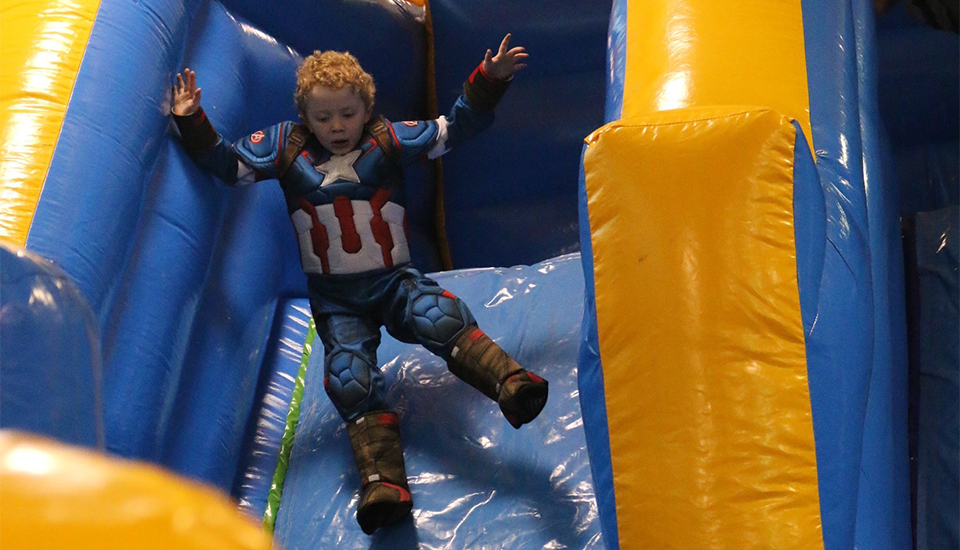 The Highlights


The obvious enjoyment beamed across all the kids faces during the entire party


Hearing my son say it was 'the best birthday ever!'


Watching a bunch of 4 year olds ride the mechanical bull (the staff operate it super slow for little ones and the landing is soft if they fall off


Very little pre-party preparation required on my part


The most relaxed lead up to a party on the day


Not having to do anything apart from enjoying the party and catching up with other parents
Useful Information
Party Times - Saturday 2:30 pm to 4:30 pm; 5:00 pm to 7:00 pm; 7:30 pm to 9:30 pm; Sunday 10:00 am to 12:00 noon; 12:30 pm to 2:30 pm; 3:00 pm to 5:00 pm; 5:30 pm to 7:30 pm
Casual Visits – as well as parties, Cool Cats is also open for drop in visits at $14 per child per hour. It's essential you call in advance to confirm availability as hours do vary for casual visits due to exclusive parties. Saturday 2.30-4.30pm, 5-7pm & 7.30-9.30pm. Sunday 10am-12pm, 12.30-2.30pm & 3-5pm.
School Holidays – Cool Cats are also open during the school holidays Monday to Friday for casual visits and parties – don't forget to call ahead to confirm availability and opening times.
Disco/Glow Parties – perfect for a special occasion, the new Cool Cats Disco/Glow parties are proving to be popular with older kids

Cool Cats – The Essentials
What's On Offer: Kids Parties and Drop-in Play Sessions at weekends and during school holidays
Where: Cool Cats is situated on the corner of Avoca & Rainbow Streets in Randwick – entrance is via Rainbow Street into the Randwick Boys High School campus.
Find Out More & Book Now at www.coolcatsfun.com.au, phone 0413 772 771
 or email [email protected]