ellaslist Has A Family Adventure High Up At The Trees Adventure Yeodene Park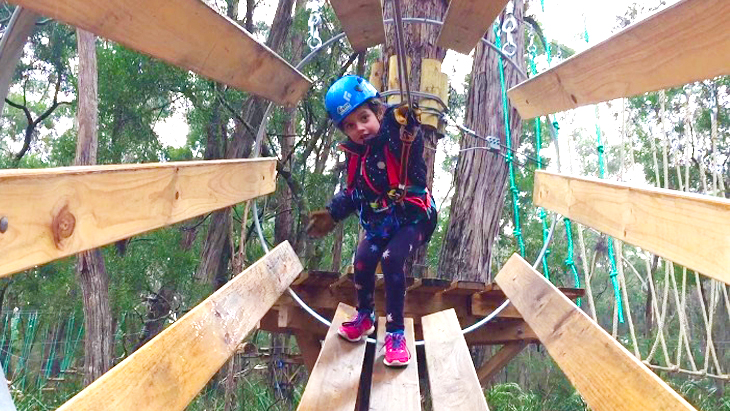 By: Natalie Roach, ellaslist
In search of high charged adventure, we decided to get airborne at the Tree Adventure Yeodene Park during the winter holidays. Trees Adventure Yeodene Park is a fun filled place to let the kids burn some energy and challenge themselves as they fly high through the trees, swing through giant loops and hoops and take on various other tree-top obstacles for some serious thrill seeking.
There is something for every depending on how daring you are and even a bit of rain didn't stop us having loads of fun. Tree Adventure Yeodene Park is an easy 1.5 hours drive from Melbourne and or even closer if you are already in the Otways or surrounding regions.
Getting Started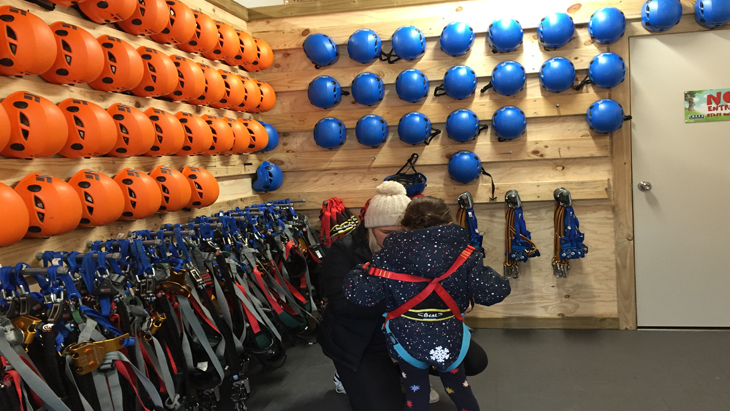 The Trees Adventure Yeodene Park, though slightly off the beaten track, is easy to find and there is ample parking. Lockers are free of charge to keep your valuables safe and sound. The staff is very easy going, knowledgeable and helpful making the entire orientation process easy breezy.
All equipment is supplied and the staff is there to ensure you are fitted properly and well briefed on how to use the lock on/off safety system which is very simple. The instructions were simple enough for our children, 4 and 6 years old, to understand straight away. The locking mechanism means you are safely locked on at all times and cannot accidentally unclip during a course. Once you are confident enough in the harness, it is a short 5-minute walk to the Home Tree where all 8 courses start from.
The Courses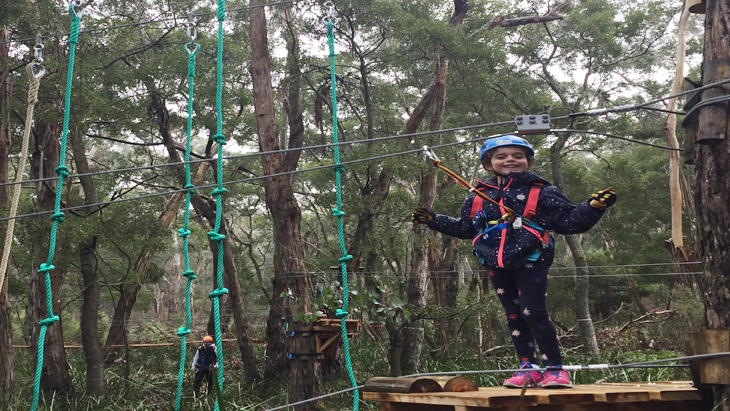 There are 8 different coloured courses some with multiple options depending on age:
- 2 x yellow for 4-7 year olds
- green for 8+
- 2 x blue for 8+
- red for 10+
- red for 13+
- black for 16+ & 150cm+
Let The Games Begin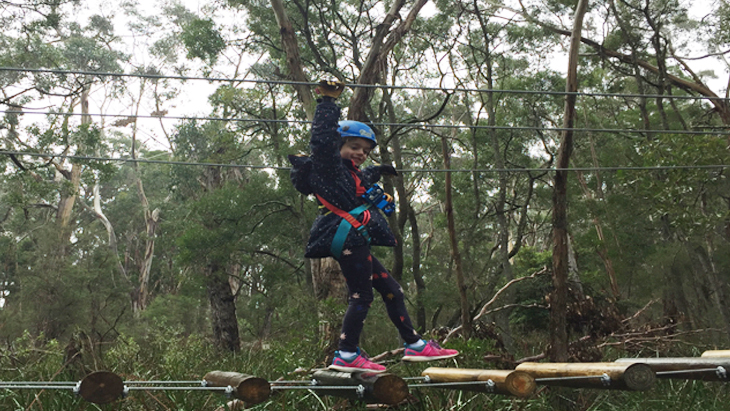 All the courses we did were lots of fun yet challenging at the same time. The kids even loved watching us have a go and boy did we have fun. You are under no pressure to do any particular course and can choose whichever you please and can repeat it as many times as you'd like.
With children on the yellow course, you'll need to follow them around at ground level. This allows you to give them verbal assistance if they need it which we had to especially early on. They finished both yellow courses twice and enjoyed the challenges of each obstacle, but the highlight was the zip lining on the flying fox sections. The kids felt victorious after completing the courses and clipped off happily.
My husband and I had a lot of fun on the blue, red and black courses. Black is definitely for the daredevils and it was funny watching my husband try and maneuver through some of the swinging bollards. We loved the flying foxes as well. One of the blue courses has a lot of flying foxes so it's perfect for those wanting to show off to kids how cool mum can be as you swing through the trees like Tarzan. Some upper body strength is needed for red courses, and especially the black course, so be aware.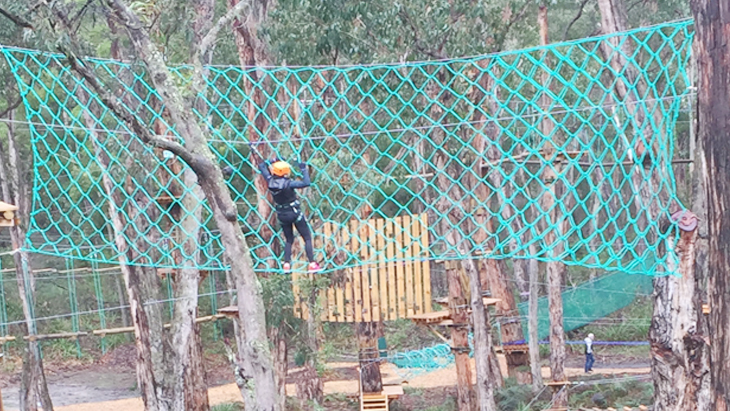 We were on the course for longer than the allotted two hours and weren't told to move on. The staff at the Home Tree were very helpful even offering to watch our kids while we had a go. This place would be a great idea for a child's birthday party from 8 years and up.
Our Verdict
This is a fantastic day out for families young and old. It's great for kids to see their parents challenge themselves and sometimes work in teams whilst the kids do the same. Our children worked together with us to listen to instructions before attempting a tricky obstacle, and there was a great sense of achievement when they completed a course or section. We felt safe all the time and our children loved the experience; we would definitely go again.

Top Tips
Take a change of clothes - we had a lot of fun in the rain and the kids didn't complain once, but when we finished it was cold so the spare pants and socks in the boot were a great idea. There are also a few mud puddles around so a pair of spare shoes is a good idea
Take a lanyard to hang your phone on if you want to take pictures that way your phone is safe from any nasty falls.
A short 4-year-old may struggle to reach the locking system easily so I'd recommend your child being at least 110cm tall.

Facilities
There isn't much around but the toilets are clean and easy to access from the parking area but they are a long way back from the Home Tree.
Drinks and a few small snacks are sold at the front desk but I'd pack some more filling food for the kids in the car or head into Colac for more options.
The venue is part of the Planet Mud Outdoor Adventures complex which also includes paintball, globe riding, and off-road Segway rides.

What you need to know
Location: 70 Possum Ridge Road, Yeodene, Victoria 3249
When: Wednesday - Friday 10am - 5pm
Sat - Sun 9am-5pm
Public and school holidays open 7 days a week 9am-5pm
Phone: 0429 374 653
Cost: $48 Adults, $43 Concession, $38 kids aged 8-17, $25 kids aged 4-7

For more information, visit the website.