ellaslist gets an Exclusive Preview to AttracTivity's Halloween Party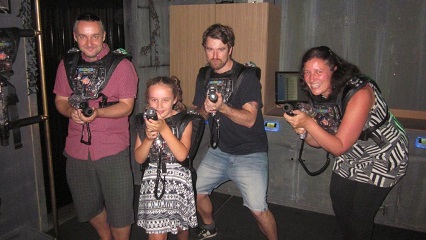 By: Jo McPherson, ellaslist explorer
At Sydney's best new attraction, AttracTivity, a HALLOWEEN PARTY is being held. It is going to be AWESOME! This indoor entertainment area is for those young at heart and you're being invited to the spookiest event in Sydney for kids. The staff are going to be dressed up and they hope you will be too (prizes for best dressed)! If you've been here before, then you may want to revisit and see what new features they have for Halloween. This time around, at every attraction there will be a trick or treat opportunity. We went along to get a taste of what you might expect.

A Thrilling Collection Of Rides!
The suspended
climbing rope course
was first up. Friendly staff help you put on a harness, give you a safety talk and away you go. Ellie was in her element hanging high in the air as she manouevered herself around a variety of obstacles.
Scare Factor
– Medium (unless you are afraid of heights)
The Lazer Frenzy delighted Ellie as she pushed herself further to move through the levels of difficulty. The movie Entrapment springs to mind as you have to manouvre yourself between a maze of lazer beams. Once you reach the end a bright button must be pushed, the light beams change and you have to make your way back, hit the finish button and then find out your score. You can earn tickets on this attraction which can later be used in the prize shop.
Scare Factor – Medium (you enter a dark room)
My favourite activity was the Frightmare Laser Tag. We put on our Lazer Tag vest and gun (each spookily named e.g. Dracula, Voldemort, Herman) and enter the dark maze. Ellie was a little anxious but the staff encouraged her and soon she was hunting me down whilst I squealed at the characters that suddenly moved. We were all laughing when the game finished and wanted to go again. Which we did.
Scare Factor – Medium to High (a dark space and spooky animatronics)
Another Fun activity is the Shooting gallery. This looks amazing! Animatronics sit up, move and you have to shoot the target on them. It's great just to watch them move too.
Scare factor – Low (some spooky animatronics)
Extreme 4D is the first of its kind in Australia. Your seat moves and wind blows whilst you're trying to shoot at targets. The movie choice varies to suit participants. We chose the non-scary cowboy but later we tried the scary adult movie; both Dave and I screamed. It was brilliant and certainly a high in our visit!
Scare Factor – Low to High (depending on your movie choice)
Dodgems were a great hit for all of us too. Ellie has now mastered driving a dodgem. If, like me, you feel anxious letting your child go solo this is the perfect place to practice. The amazing staff were ready to encourage and help if necessary. I love how the staff really want everyone to have the best time possible. The staff interact with the children/adults and have a blast!
Scare Factor – Zero
We needed to quieten down a little so we chose to do some bowling. It is a great set up, with bumper bars and ramps for the kids if you want them. The leather sofas are a great touch and if you come later at night there is a cocktail bar to get a drink too.
Scare Factor – Zero
To finish off, we played a few arcade games. These games award tickets which then can be exchanged for some brilliant prizes. You don't have to spend them that day, if you visit again you can accumulate the points to choose a better prize.

Time For A Lunch Break
We stopped for something to eat in The Munchery. They have a variety of food to suit all tastebuds at reasonable prices too. We really enjoyed our food – chicken nuggets and chips, Zaatar Chicken Sandwich and Smashed Avocado with poached eggs.
As soon as we got into the car Miss E was asking "when are we going to AttracTivity again?" I have to say I can't wait to visit again too! We think the Halloween party is going to be brillant! Get your tickets before they sell out!
Top Tips
1.
Book
to go to their Halloween Party on Saturday 31 October 5:00pm - 9:00pm
2. Go after school and avoid the busy weekend party days.
3. Take a bottle of water but purchase the food there after you have finished your time playing.
4. Wear long pants for the climbing rope course.
5. Parking – If coming from Bourke Road, go past The Rocks Bar, under a bridge, Sky Zone is just past this and on the left there is parking. There is some parking spaces for AttracTivity. If you're parking in one of their spots you can put your receipt on the dash to get free parking.