ellaslist Takes Flight at iFLY Downunder Indoor Sky Diving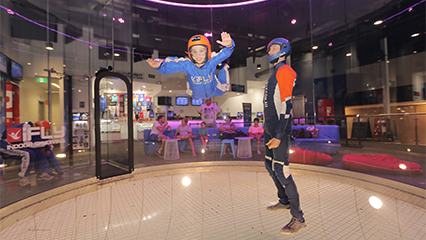 iFLY Indoor Skydiving is like the holy grail of family experiences. It's the kind of activity that offers every bit as much fun, excitement and thrills for the grown-ups as it does for the kids….and that is simply priceless.
It's The Real Deal!
iFLY Indoor Skydiving in Penrith is the first of its kind in Australia and the wind tunnel is one of the largest in the world. Basically it is skydiving but in a big vertical glass tube. Instead of jumping out of a plane, a massive wind generator propels you into the sky, so the sensation is very similar to the real thing but without the need to actually launch yourself out of an aeroplane!
What Happens On Arrival
We checked-in and then had a short wait before the commencement of our training session. While we were waiting we took the opportunity to watch some of the other flights. The tunnel is surrounded by comfy lounges and bean bags so you can take a seat and watch everyone take their turn in the tunnel. There is a café, however, we flew at night and it had already closed. Toilet facilities are also available and it's a good idea to use them now before everyone gets zipped into their suits!
Getting The Lowdown
We were asked to watch a short instructional video and then our instructor (Zack) got us to practice the body position we would need to adopt for our flight. He also explained the hand signals he would be using as you can't hear each other in the tunnel so all communication is done via gestures. The hand signals are quite simple and the kids picked them up with no trouble.
Getting Geared up
All jewellery and loose items in your pockets need to be removed before donning your flight suit. We left most items at home, and then left our phones and wallets with my Mum who had come to watch, but there are lockers available for use. The kids were able to zip up their suits themselves and then Zack assisted them with their goggles, earplugs and helmets.
Time For Take-off
Once we completed our training it was time to fly! Everyone who will be flying in your session is seated in a glass-enclosed alcove next to the wind tunnel. When it is your turn you walk to the doorway that opens onto the tunnel, lean into the wind, and you're off!
What's It Like?
This is the hardest part to explain and why you really need to try it for yourself! The wind is really dense and quite loud. The feeling of flying is amazing. Maintaining the body position that seemed so easy in the training session was actually really hard in the tunnel! Zack kept gesturing at me to straighten my legs but it really required concentration.
Assisting The Kids
The kids found it difficult to keep their legs straight against the force of the wind, and Zack needed to assist them to float. The older and/ or the more adventurous the child the less assistance they would need. Our 8 year old son was the most adventurous of our kids and by his second flight, Zack was able to let go of him a couple of times. He was incredibly proud that he flew by himself!
Zack On Hand
Your instructor assists you throughout the flight, re-directing you if you are getting too close to the wall and helping you to control your movements. Those in the session who pick it up quickly are also given additional instruction, such as how to move up and down in the airflow or how to turn 360 degrees.
A Fantastic Instructor
I honestly cannot speak highly enough of our instructor, Zack. Our group was a very mixed bag consisting of my husband and I, our sons (8 and 6yrs), our daughter (4yrs) and 4 other adults of varying ages and abilities. Zack personalized every flight experience to suit the individual.
Confidence Building For Little Ones
I wasn't sure what our 4-year-old daughter would think. She said she wanted to try it but I was actually expecting her to pull out at the last minute as she takes a while to warm up to new experiences and new people. Sure enough, when it was time for her to enter the tunnel she balked and didn't want to go in without me.
Again, Zack was fantastic. He asked for the wind to be turned down a little (the airflow can be adjusted to suit the experience level of the person in the tunnel) which enabled me to step out onto the net with her. She, Zack and I had a little bounce on the net and then Zack gestured for me to step back and he took over.
By the end of her 2nd flight, she was smiling and waving at everyone as she zoomed around with Zack. I was so proud of her for trying something new and she was justifiably very proud of herself. She can't wait to go back to pre-school so that she can tell them all about it!
Watching the Pro
At the conclusion of our flights, Zack showed us some of his skills in the tunnel. The kids felt like they were watching a real-life super hero as he flew and zoomed, flipped and dipped before finally flying backwards out the doorway. We could see why indoor skydiving has earned its reputation as a highly addictive, exhilarating action sport.
Our Best Bits
I asked everyone in our family for a thrill rating. Their answers ranged from 9 to 10+ out of 10 and these were their favourite bits:
Mr 8: Flying by myself!
Mr 6: Watching Zack do his tricks at the end!
Miss 4: Wearing a special suit and earplugs.
Hubby: Being flown by Zack up to the very top of the tunnel. An awesome thrill!
Me: Trying something new and a little outside my comfort zone.
Our Top Tips
Our package consisted of 2 flights each, and each flight was approximately a minute in length. This doesn't feel like a very long time! Apparently it's longer than the free-fall period in a traditional 14,000 feet skydive but still, it will be over before you know it!
Sessions are very popular and advance bookings are recommended. The time you book is your scheduled flight time but flyers are requested to arrive 1 hour before their scheduled flight time to complete check-in, get geared up and participate in a training session.
My husband (and a few of the other participants in our flight group) absolutely loved the experience of being flown up to the top of the tunnel by the instructor. This is an optional extra which can be added to your package for an additional $10. It is only available at certain session times so if you are considering it then it is worth specifically booking one of those sessions. My husband

HIGHLY

recommends it!
During the flight, I had a strange sensation like I couldn't breathe properly. I was the only one in the group who experienced it. We had a chat to Zack and some people do get that feeling. Apparently there are things you can do to counteract it (mind over matter) so if you get that sensation, tell your instructor after your first flight and they can give you some advice before you go back in.
If you are flying as a family then I would recommend bringing a friend or relative with you who won't be flying. We brought my Mum and she looked after all our gear, took some photos for us and enjoyed watching all the excitement from the viewing area.
Photos and videos are available for purchase after your flight experience.
iFLY also run kids birthday parties for 3-16-year-olds and Junior iFLYER clubs where kids can develop their skills with 5+ minutes of flight time each week.
Who Would I Recommend iFLY To?
Before we flew, I thought our 4-year-old daughter was probably a little young and timid to enjoy the experience. I was proved wrong! I was amazed by how much she got out of it- you could not wipe the smile off her face. I would really recommend it for kids of any age (the minimum age to fly is 3).
All the adults in our group got an absolute thrill out of their flight and would go back in a heart-beat. I am not a thrill-seeker but I loved it and it gave me a real buzz! I don't like heights but you don't feel like you are up high, or like you are falling. My husband is prone to motion sickness but nothing about the flight made him feel ill.
On the way home my husband and I were chatting about how a gift voucher to iFLY would be the perfect present for a few hard-to-buy-for people in our lives. iFLY really does offer something for everyone.
There is no denying that as far as family experiences go, indoor skydiving is on the expensive side. However, it is an experience that makes memories that will last a lifetime.
Where: 123 Mulgoa Rd, Penrith (on the front doorstep of the Penrith Panthers Entertainment complex)
When: Monday - Friday 9am - 10pm, Fri 9am-10:30pm, Sat 9am - 10pm, Sunday and Public Holidays 8am - 8pm
Cost: From $89 for the basic introduction package. The cost varies depending on when you fly, how many flights you take and how many people you are flying with. Discounts are available for return visits.