ellaslist Finds the Best of Centennial Parklands
Family
Kids
Mums & Bubs
Todders
Preschoolers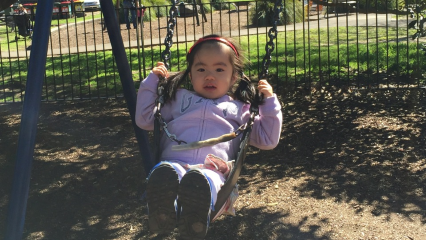 By: Karina Lee, ellaslist explorer
Centennial Parklands is an amazing place full of spacious lawns, beautiful bike trails and playgrounds. It's so big that it's easy to miss some of the best bits of the park. Luckily for you, our explorer Karina has trekked the parklands to bring you the best of Centennial Parklands!

Paddington Gates Playground
Location:
Adjacent to Paddington Gates
There are two playgrounds here – one is open and the other is enclosed within a fence. It's relatively quieter here than the other two playgrounds. There are BBQs, benches, toilets and parking nearby.
The open playground caters for younger kids and includes cubby houses, a small slide and swings. It's not sheltered by trees so you can work on your tan while your kids are playing! Not so good in summer as you would probably fry and sizzle like a vampire. We had a good time hanging in the cubby house and having an afternoon snack on the table and benches.
The enclosed playground is much bigger and contains an accessible swing, a double see saw, various climbing frames and wooden structures, a large slippery slide, and 2 swing sets. Baby swings are plentiful here so there's no need to wait! This playground caters for both younger and older children. Being in an enclosed playground means that once we're in and the gate is slammed shut behind me, I can set my two year old free to run around like a free range chicken!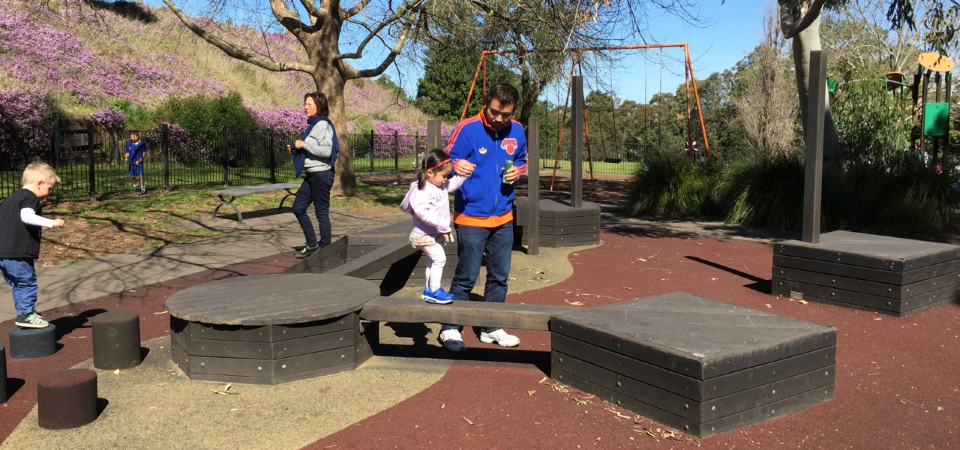 Learners Cycle Playground
Location:
Fearnley Grounds on the Southern edge of Centennial Park
This is one of our favourite playgrounds! It's located next to the Greenhouse Cafe which is a popular hang out during the week for mother's groups and pet owners. This fabulous playground caters for children of various age groups and is a great spot for picnics while watching the kids play.
The playground is jam packed full of play equipment including two slippery slides, swings for both babies and older children, climbing apparatuses, a flying fox, bridges and see saws. There is also a kids bike track (Learners Cycleway), water views in the background from Kensington Pond, benches, BBQs and toilets nearby. There's even a kids crossing that operates between 9 – 4.30pm daily. This place has definitely been designed with kids in mind! It's a great place to have a kids party!
If you happen to come here after it's been raining, watch out for the puddle of dirt water awaiting every unsuspecting child as they slide down the twisting slide…and you can't help but cringe as kids attempt to walk back up the slide with their muddy shoes, and then have another child slide down and wipe it clean with their pants! There is another slide on the other side of the playground but it has no steps to take you to the top so if your little one cannot climb, you will need to lift them up. It's a work out for the arms, especially if you are short! I had very little patience or energy for this one so I sent my girl back onto the other slide…her pants were muddy anyway!
On weekends, it can get quite busy so come early or be prepared to park further away. I noticed some 3 hour parking zones nearby so watch out for those too. We arrived around 10am and found a spot not far from the children's crossing but by 11.30am every parking bay in sight was taken. Some cars were even double parking to off load kids, prams and bikes before they went on the hunt for the next available spot.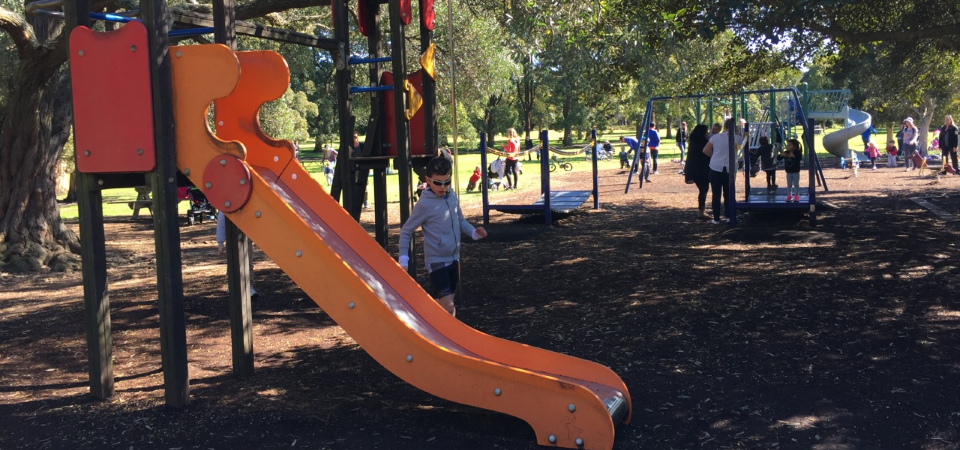 Restaurant Playground
Location:
Next to Centennial Parklands Restaurant and a kiosk
This covered playground contains climbing and balancing equipment, a sandpit, sculptures, hug-me poles, a cubby house, slippery slides, swings and raised timber decking with bells that my daughter loved stomping on! She also had a great time in the sandpit while I chilled out on the timber decking, basking in the sun like a chameleon.
There is not a lot of bench space here, but you can sit on the decking or have a picnic on the grass. The best thing about this playground is having both a restaurant and kiosk next door so you can easily grab some take away or have a fancy pants meal while you are here. And you can use their amenities too!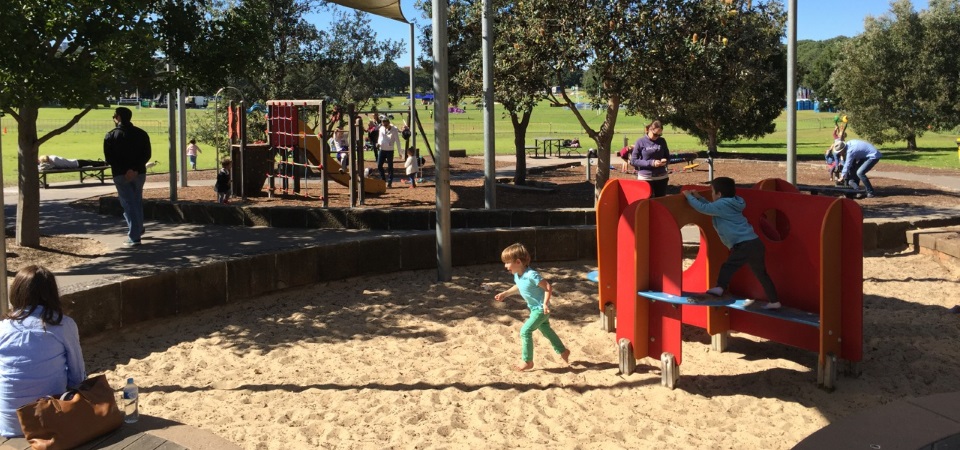 Opening hours:
Same as Centennial Park opening hours which is sunrise to sunset! For more details regarding gate opening times visit their website.
Getting here:
Driving is probably the easiest, especially with kids. There is ample parking, most of which is
unlimited but there are pockets of zoned parking around so check the signage. Alternatively you can catch public transport.